Inside Bannon's plans for a GOP civil war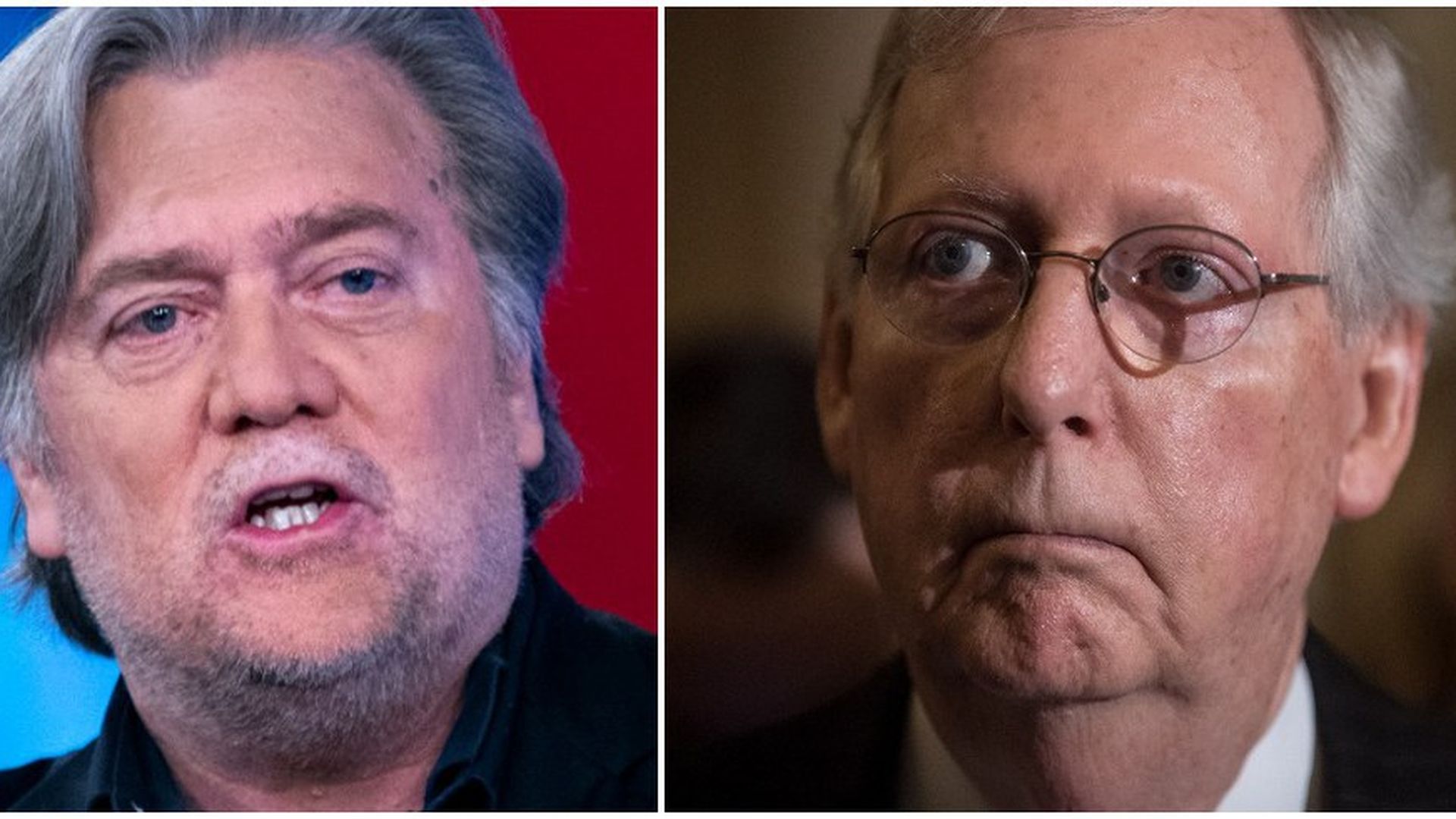 Establishment Republicans are getting squeezed to death from within. In what should be nirvana — all-party control of Washington — they instead are jammed daily between a president who routinely ridicules them for ineptitude — and Steve Bannon, who's recruiting hardliners to extinguish their very existence.
Why this matters: The Breitbart News chairman and former White House chief strategist is building a nationwide coalition that — in the words of a former Trump White House official — could "wreak havoc" across the map "if Bannon is even halfways successful."
Bannon's plans are more ominous than publicly known, sources tell Jonathan Swan and me:
Some of Bannon's candidates for Republican primaries have privately pledged they'll oppose Senate Majority Leader Mitch McConnell. It's becoming a de facto litmus test in Bannon's recruitment.
Bannon vows to support primary challengers against every incumbent Republican senator running for re-election in 2018 — with the sole exception of Ted Cruz. So that could mean seven Bannon GOP challengers, and he has as many as eight Democratic senators in his sights.
Bannon is also exploring gubernatorial and House races.
As Bannon told Fox's Sean Hannity this week: "Nobody's safe. We're coming after all of them."
"Steve views this thing as a coalition," says a source familiar with his plans. "It's a coalition of populists, constitutional conservatives and more libertarian types. But they all agree on Bannon's core issues of trade and immigration."
The GOP establishment is skeptical but scared. Bannon has juice with the base, and feels emboldened about his "House of Pain" after his candidate, former Alabama Chief Justice Roy Moore, took down incumbent Sen. Luther Strange in last month's primary.
A former official in the Trump White House, dumbfounded and irritated, sent Swan a blitz of text messages: "You watching Bannon [on] Hannity? Most parties descend into civil war following defeat. We're about to have one 11 months after we won everything. How do you get tax reform, infrastructure or health care done in that climate? It's Bannon who could wind up nullifying Trump's presidency."
"It's Bannon who could hand a house of a Congress back to Dems."
Andy Surabian, a political adviser to Bannon, responded by saying this person was recycling a "tired talking point" that the Republican establishment got wrong in 2010, 2014, and 2016, when grassroots conservatives delivered Republicans the House and the Senate, and White House.
One of the most in-demand Republican operatives says of Bannon: "One year from now everyone is going to reminisce about this in the same way 90s kids do about Ini Kamoza's 'Here Comes the Hotstepper' — 'Oh, yeah. I remember that song. What the hell happened to him? Just that one song, huh?"
This operative continues: "Steve Bannon has made himself the center of the campaign at this point and as with all vanity projects, they rise and fall rapidly. He is the single biggest impediment to the Trump agenda, period. Four months from now, it will be a liability beyond comprehension to be associated with Steve Bannon. And every candidate with any aspirations at all will experience that one way or another."
Be smart: Bannon can sound delusional about his power to disrupt the party. But make no mistake: the combo of his fame with the base + access to Mercer money + true belief in America first policies = big trouble for establishment Republicans in 2018 and beyond.
If Bannon were to field the slate he envisions, the Republican Party would have a civil war on its hands that makes 2010 look like a tea party.
Go deeper