Indianapolis bucks the trend to become a hotbed for startups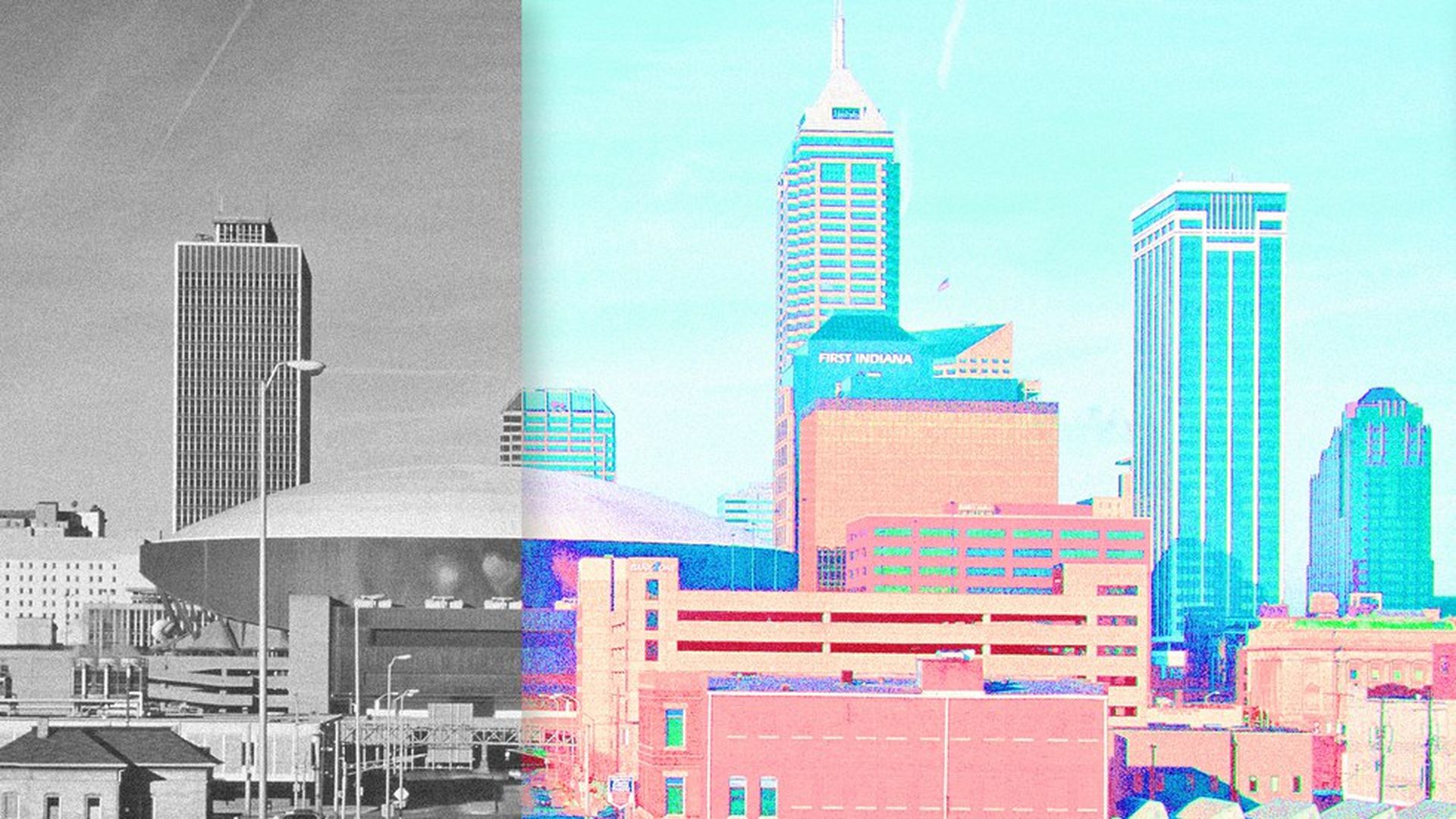 INDIANAPOLIS — Four years ago, Salesforce bought the email marketing company ExactTarget for $2.5 billion — an enormous payout for the Indianapolis-based firm. Instead of moving it to its own headquarters in San Francisco, Salesforce committed to growing the business in Indianapolis. Since then, it has doubled its employee base, it has its name on the city's tallest tower, and its alums have invested in a new wave of startups.
Why it matters: While startup activity in the Midwest tends to be much lower than the rest of the country, Indianapolis is a star performer, ranking alongside Minneapolis and just below Chicago. The question is how to replicate that success in other struggling, manufacturing-dependent places.
Where it stands: Indianapolis is a thriving business center where the startup rate far outpaces the rest of the state — 7.3% vs. 6.2% statewide. That high rate likely helps explain its resilience and growth during what has been a rough recovery for much of the region, according to an analysis of Census Bureau and Bureau of Labor Statistics data by the Economic Innovation Group.
The formation of new startups is a key ingredient to a diversified local economy that is more likely to benefit from the modern economy. AOL co-founder Steve Case is highlighting the successful ecosystems in areas that are largely overlooked when it comes to investment and attention on his "Rise of the Rest" tour of Midwestern cities this week.
The big break: Indianapolis has had a more diversified business community for several decades, with the headquarters of Eli Lilly, Anthem and Angie's List here. But Salesforce's acquisition of ExactTarget was a turning point for the city — because the wealth generated by the sale stayed in town instead of flowing back to a coastal hub. And Salesforce just kicked off a campaign to get more workers to move to Indianapolis.
Scott Dorsey, who was ExactTarget's founder and CEO, launched an incubator called High Alpha across the street. He and his partners create and invest in other fledgling companies.
Chris Baggott, another former ExactTarget exec, recently started a company called ClusterTruck to disrupt the third-party food delivery services like GrubHub and UberEats.
Companies have clustered around downtown's Monument Circle, creating the density of people that is key to most successful tech hubs.
That re-investing of money and mentorship back into the community has had a big payoff: $7 billion worth of transactions for Indianapolis tech companies in the past 10 years, according to Mike Langellier of TechPoint, an organization that supports the local tech community.
Having an ecosystem of serial entrepreneurs who have found success "creates a wealth of experience and confidence" that the next generation of entrepreneurs can draw from, Langellier said.
Public-private partnerships: Indianapolis is also unique in the collaborative relationship between the local government and business leaders. For example, established companies like Eli Lilly have set aside endowments to help foster business growth. Meanwhile, Indiana Gov. Eric Holcomb's administration is preparing to invest $250 million to support entrepreneurs with its "Next Level Fund," the largest of its kind in the country.
For contrast: Despite the bright spot for startups in Indianapolis, 79% of the state's jobs are in established incumbent companies that are at least 16 years old — the third-highest share in the country.
Coming home: The city has been lucky in attracting a new crop of engineering and business graduates from area universities. It's also benefited from an influx of "boomerang" talent who grew up in Indianapolis, moved away for jobs in San Francisco or Chicago, and are now moving back home. But it's still struggling to attract more senior-level workers, said Bob Stutz, Salesforce Cloud Marketing CEO.
"We've been able to recruit more and more people from places like Oracle and Microsoft," Stutz said. "Once they get here, they love it. But when you first tell them they have to move to Indianapolis for a job, they have a blank stare in their eyes."
Go deeper