How Trump and Brexit could predict the French elections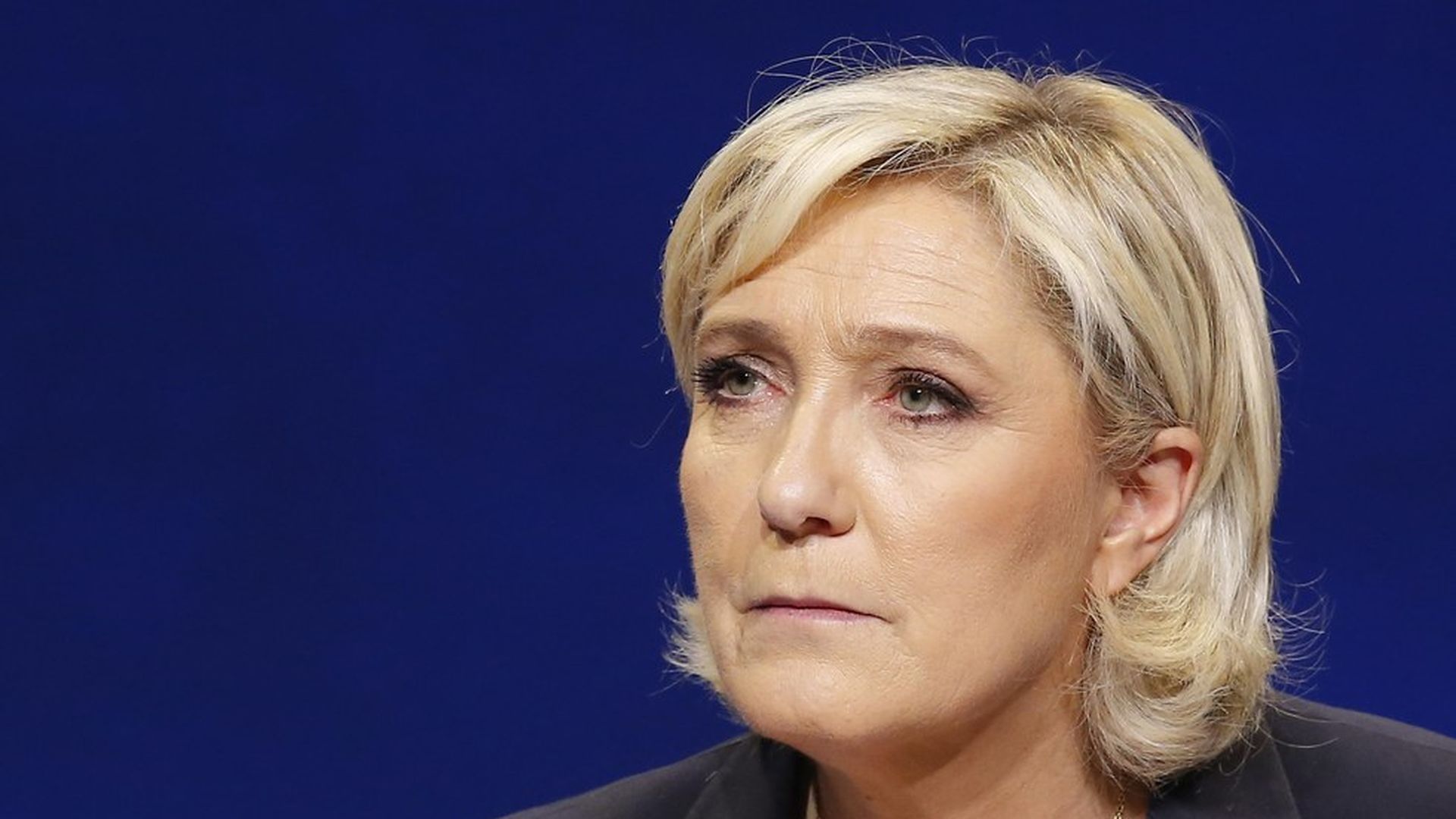 With the Islamic State claiming responsibility for the shooting death of a policeman on Paris' iconic Champs-Élysées just ahead of Sunday's first-round French elections, social media and commentators see a change in the voting atmosphere that could benefit the far-right populist Marine Le Pen.
Why it matters: If she won the runoff May 7, it would be a seismic manifestation of the global populist and nationalist trends that propelled Trump and the Brexit.
On the Twitters: "Another terrorist attack in Paris. The people of France will not take much more of this. Will have a big effect on presidential election!" Trump tweeted this morning.
Axios' Shane Savitsky says she could win, and notes she has promised a referendum to leave the EU:
"If Trump's victory taught us anything, it should be that Le Pen certainly might win the French presidency. But Trump taught us something else — talking the talk is easy, but following through once in power can be much harder. Le Pen's call to destroy the 'anti-democratic monster' of the EU works well as a sound bite, but implementing it won't be easy."
For one thing ... Frexit would be more difficult than Le Pen lets on because France's participation in the EU is codified in its constitution.
Axios' Steve LeVine, a longtime foreign correspondent for the big papers, sees a "better than 50-50 chance" LePen goes all the way, based partly on the "rule of threes" following the upset victories for Trump and Brexit. Steve emails me:
A wild card: "The first round is a tight race among four candidates, and one of them — Jean-Luc Mélenchon — is every bit [the firebrand] as Le Pen, only from the far left. It's conceivable that the second round will pit [them] against one another. Like Le Pen, Mélenchon threatens to abandon the euro — which would likely lead to a collapse of the unifying monetary union. In addition, Mélenchon vows to quit NATO, the IMF and the World Trade Organization."
The takeaway: "These positions are why the French election ultimately is more important to the U.S. than Brexit."
Go deeper