How Tom Price could pull plug on health care savings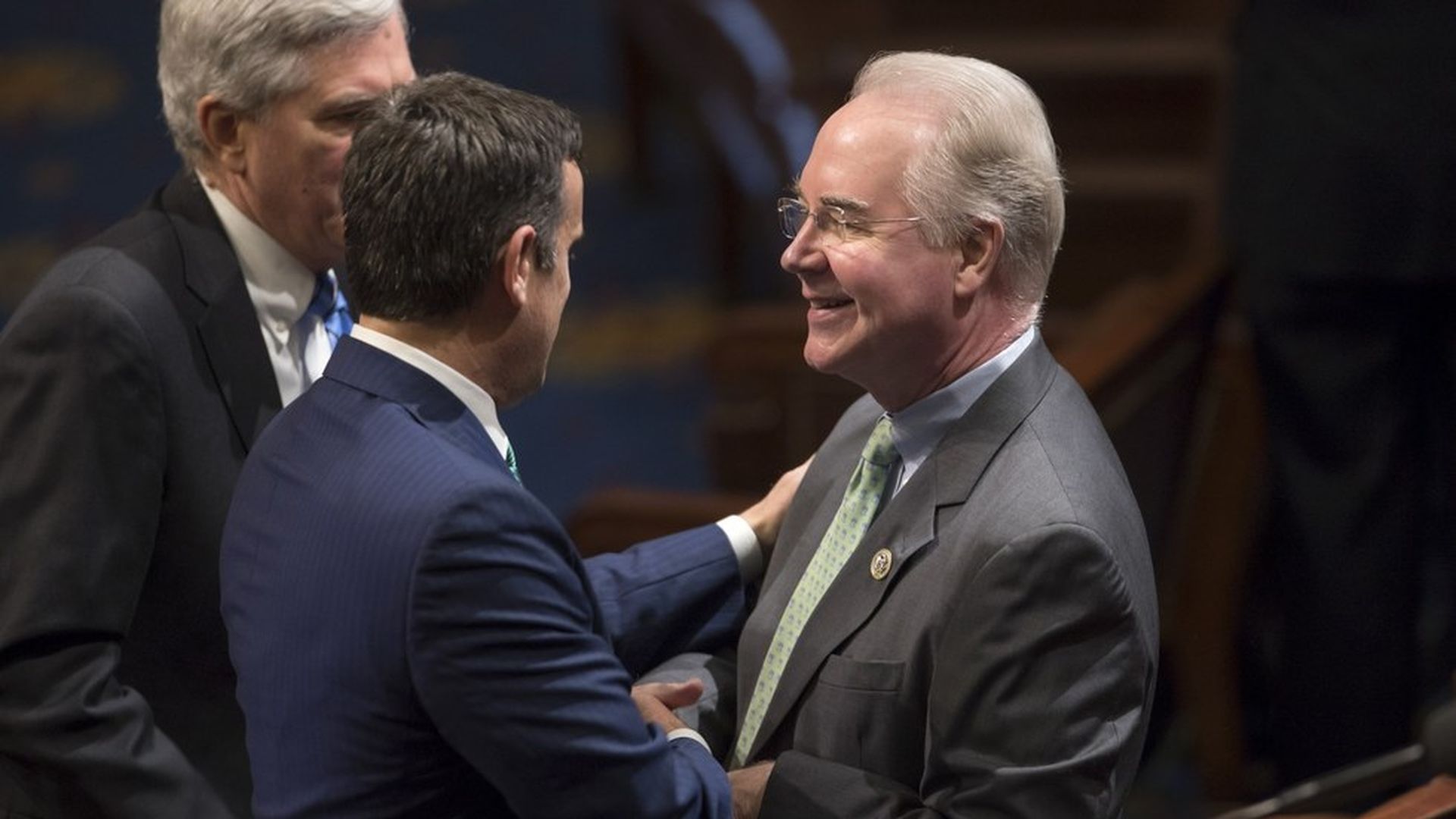 If Health and Human Services nominee Tom Price survives the conflict of interest and insider trading charges swirling around him as his confirmation hearings start today, he will soon have the power to eliminate the Obama administration's cost-savings initiatives that have been bitterly opposed by the most powerful players in the health care industry.
Why this will happen and what it means:
Price opposed the cost control programs while a member of Congress.
Killing them wouldn't take legislation — he simply has to cancel the Obama team's experiments under the Affordable Care Act aimed at cutting the fees Medicare pays.
It would be the ignominious end to a central, if not wholly successful, part of Obamacare's strategy to rein in health-care costs.
Although Price declined through a spokesperson to say whether he will scrap the initiatives, his record as a Republican congressman from Georgia makes it clear that he'll do so quickly. In fact, the Obama administration already ended one program because, according to one administration official, it was obvious Price was going to kill it anyway. More details on the scope of the program and what will end below.
What's going to be thrown out: The cost-related experiments, or pilot projects, that he can now kill are housed in HHS's Center for Medicare and Medicaid Innovation, or CMMI. Lately, outgoing HHS secretary Sylvia Mathews Burwell has been initiating them with a vengeance.
One of those pilot projects is anything but tentative, small or voluntary. And it goes to the heart of Price's old job as an orthopedic surgeon from the Atlanta suburbs: It requires hospitals in 67 metropolitan areas (including New York and Los Angeles, but not Atlanta) to change the way they can charge Medicare for hip and knee replacements.
That's the experiment that has been in the news lately because Price tried to block it after buying stock in one of the leading manufacturers of replacement hips and knees.
Under the pilot plan, initiated last April, Medicare will pay hospitals one flat fee for the entire "episode of care" -- the cost of the artificial knee or hip itself, the surgery, the lab work, the hospital stay, even all care up to 90 days following the procedure.
That kind of payment structure — called "bundled payments" — has long been the mantra of health care reformers. Everyone involved in health care agrees that the old fee-for-service system — paying for every single thing doctors or hospital do, let alone any and all devices they decide to use — provides the incentive for them to provide more care, not necessarily better care.
Everyone agrees, that is, except the hospitals and doctors and other providers, for whom fee for service works out just fine.
Joint replacements are an especially rich target. Medicare pays $7 billion annually for about 400,000 such procedures, and the prices, which vary radically and irrationally across the country, are consistently multiples higher than they are in any other country.
Worse for the replacement industry: Medicare often provides a pathway for private insurers to push for their own cost-cutting reforms, and America spends $20 billion overall on artificial knees and hips, nearly double what Hollywood takes in at the box office.
Another major CMMI pilot project, which was supposed to start in 2018, would use the same kind of bundled payments for the treatment of heart attack or coronary bypass patients. With cardiac care costing $300 billion a year, this is a big deal.
Perhaps the most controversial announced pilot was one for drugs, mostly to treat cancer, administered at hospitals and doctors offices. It would have covered 50% of the country and threatened the business model of the powerful pharmaceutical industry.
This is the one that Burwell's team killed in mid-December in a clear act of euthanasia. It made no sense to keep working on the final regulations for the program if Price was going to kill it anyway.
Right now, hospitals and doctors are paid the average wholesale cost of the drug plus a profit margin, typically 6%. Many reform-minded cancer doctors, particularly Peter Bach of New York's Memorial Sloan Kettering Cancer Center, have argued that this encourages hospitals and doctors to use the most expensive drug that will yield the highest fee for them to administer.
Under the new program, doctors and hospitals would have been paid a flat fee plus a smaller profit percentage for each drug they infuse. The goal was to equalize the profits for different drugs, so there would have been less incentive to use the expensive one.
The Congressional Budget Office — the official scorekeeper for Congress — estimated the possible savings over 10 years to be $1.1 billion, although Bach told me that that was a "way too conservative guess." If it had been rolled out nationally, he put the savings at "multiples of that for the government, plus what beneficiaries will save in co-insurance."
Scary arguments: There's one immutable reality I discovered when I began writing about the exorbitant cost of American health care: It's an emotional political issue that allows the defenders of the health care industry's sky-high profit margins to scare people.
One example: GOP pollster Frank Luntz advised Republicans in 2009 to oppose Obamacare with phrases like "government takeover of health care" to describe a plan that was more conservative and more of a giveaway to the private sector than the one proposed by Richard Nixon in 1971.
Price was an early adopter of those kinds of phrases. But he not only opposed Obamacare the way most of his Republican colleagues did; he also took special aim at those elements of the law, watered down though they were, aimed at reining in costs.
Last September 7, Price, then the chairman of the House Budget Committee, held a hearing in which he attacked all of CMMI's experiments as a power grab that undermines congressional authority. Price does have a point: imposing a new financial model for knee and hip replacements on all hospitals in 67 metropolitan areas seems to contradict at least the spirit, if not the letter, of the law.
Price then fired off a letter co-signed by 243 House Republicans demanding that the Obama administration cancel the CMMI drug payment experiment.
They had plenty of company: Fourteen Republican members of the Senate Finance Committee sent a similar letter, as did 66 House Democrats and 12 Democratic members of the Senate Finance Committee --- providing new evidence of the drug lobby's enormous bipartisan clout. Even Charles Schumer, now the Senate minority leader, and House Minority Leader Nancy Pelosi signed on.
"The letters used numbers and arguments that were pure fiction," argues Bach, who published a point-by-point rebuttal to each letter. "It's so depressing."
It's also the kind of rhetoric that dominated Price's September hearing.
"We are talking about real people and their access to care; we are talking about whether or not seniors on Medicare are able to receive the medications or treatment options that their physicians believe are in the best interest of the patient," Price declared.
The CMMI experiments in no way block physicians from providing what they believe are the best treatments. The real issue is whether artificial knee and hip manufacturers — profit juggernauts like Johnson & Johnson and Zimmer Biomet (the company whose stock Price bought) — and the hospitals and doctors who implant them can continue getting paid the same, only-in-America high prices they've been getting for those treatments.
It's about whether the marketers of the most expensive miracle drugs — Amgen, Genentech, Celgene, AbbVie, and Merck, for example — will continue to be able to convince hospitals and doctors to prescribe the highest priced cures.
Or whether doctors being paid by taxpayers will be rewarded for providing quality care rather than for how many billable events they can tally.
Go deeper