How the Texas, Vegas and California shooters got their guns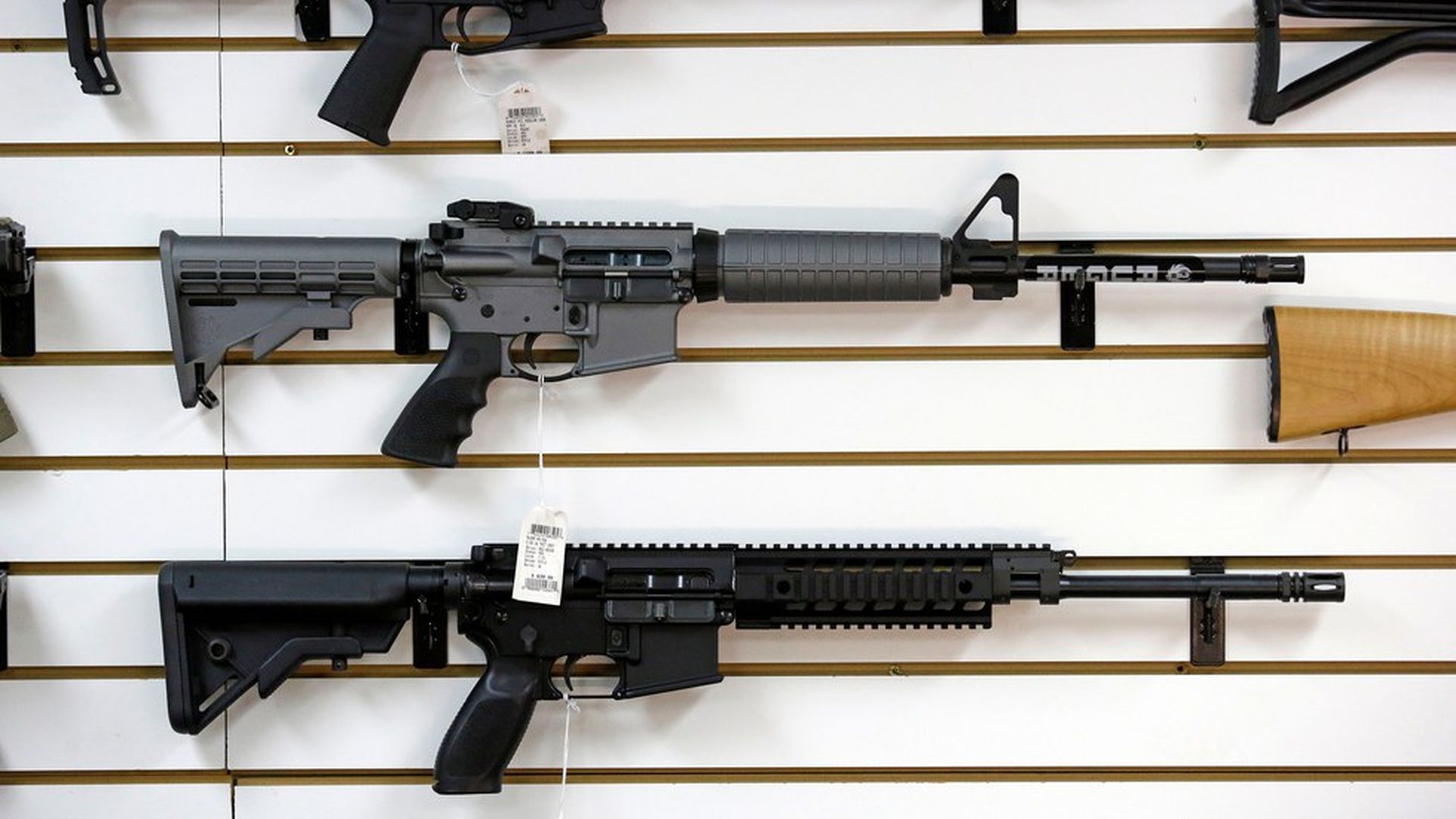 In the weeks, months and even years leading up to the mass shootings in Sutherland Springs, Texas, Las Vegas, Nevada, and Tehama County, California, the perpetrators were stockpiling, and in one case building, guns. Devin Kelley bought guns illegally, despite his domestic violence conviction, and . Stephen Paddock went under the radar even after buying 47 guns. Kevin Neal was barred from owning firearms as part of a protective order, but reportedly built his own.
The big picture: Their stories reveal cracks in a system that lets mass killers slip through. Jeff Sessions has now ordered a review of the federal background check system due to the Sutherland Springs case.
Texas church massacre
The guns: Four, including two rifles and two handguns, all of which were purchased illegally.
The backdrop: Kelley was charged with assault in 2012 while serving in the Air Force. He hit and kicked his wife repeatedly and struck his baby stepson with enough force to fracture his skull. After the incident, Kelley was placed in a psychiatric facility, from which he subsequently escaped. Police tracked Kelley down soon after and took him into custody. He later served a year in a Navy prison for the assault. The Air Force failed to enter Kelley's conviction into a federal database, so the warning signs — including his status as a felon and a man suffering from mental illness — did not crop up when Kelley purchased two guns in Texas and another two in Colorado.
Las Vegas shooting
The guns: Forty-seven, including 23 that Paddock brought with him into his Mandalay Bay hotel room overlooking the concert he attacked. Another 24 were recovered from Paddock's home, and 12 of the guns he brought with him to Las Vegas were outfitted with bump stocks, which can give semi-automatic weapons automatic capabilities.
The backdrop: Authorities said 33 of Paddock's 47 guns were purchased after 2016, in the year leading up to the massacre in Las Vegas. He bought them in stores across Utah, Nevada, California and Texas, CNN reports. And his purchases did not set off any alarms because there is no federal limit to the number of guns an individual can own, and there is no national database which keeps a count of who owns how many or which guns. Recent polling data shows that the average number of guns per gun-owning-household has jumped to 8 from 7 in 1994. While some states, like California, require a waiting period between gun purchases, others, like Nevada, have no such law, per CNN.
California shootings
The guns: Four, including two AR-15 semi-automatic rifles and two handguns.
The backdrop: Neal was charged earlier this year after he stabbed a neighbor; and as part of a protective order was barred from having firearms. He was able to sidestep that rule by building his own. According to ABC, the semi-automatic rifles were made by Neal, and NBC reports that they had "multi-round magazines that [Neal] assembled himself" by ordering the parts. These kits can be purchased legally. This is drawing more attention to the issue of "ghost guns," which have no registration. Per CBS, the handguns were registered under another person's name. Neal also seems to have abused an "honor system" by telling a judge in February he had no guns, even though his neighbors repeatedly saw him shooting.
Go deeper
Go deeper