How Republicans are trying to stop Roy Moore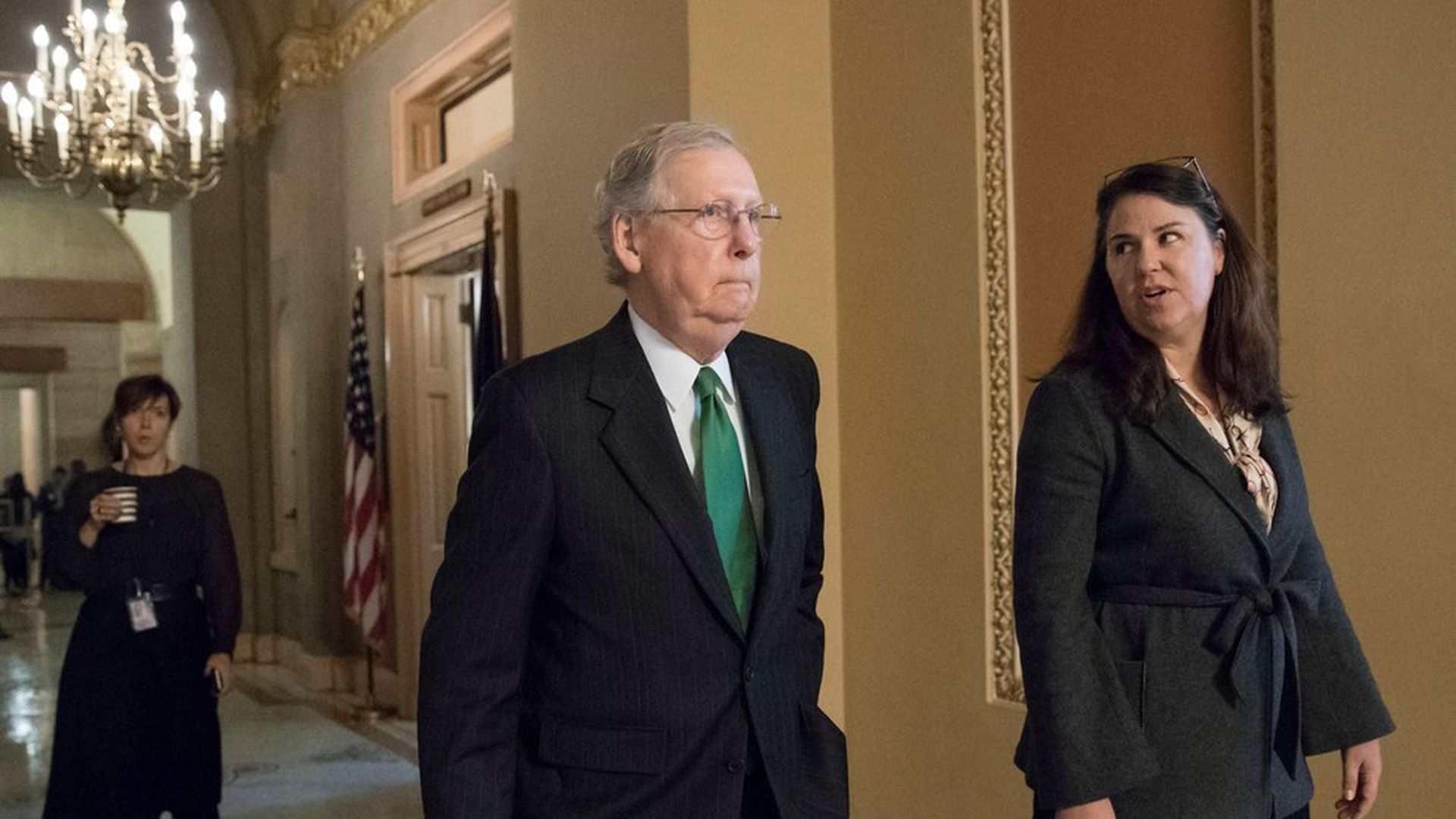 An alleged child predator could join the Senate after Alabama's Dec. 12 special election, and Republican senators are scrambling to find a way to stop it, NYT reports. Between multiple calls and texts, they've weighed everything from fielding not one, but two write-in candidates to challenge Roy Moore, delaying the election altogether, or blocking Moore from joining if he wins the election.
What's at stake: Not only would Republicans be "welcoming a child-molesting suspect into their ranks," NYT writes, but all Republicans would have to answer for Moore's alleged behavior. And Republicans couldn't even count on Moore to support their legislation, given he's a Steve Bannon-backed candidate who feels he owes nothing to the GOP. But if Democrat Doug Jones wins, Republicans' majority hold of the Senate would shrink to one and their hopes of passing tax reform would get even harder.
Republicans are considering asking incumbent Sen. Luther Strange, who lost to Moore in the primary, to run as a write-in candidate on Dec. 12. They've also reportedly asked Republican Rep. Robert Aderholt, who has officially endorsed Moore, to run as a write-in candidate as well.
They've also weighed asking Alabama Gov. Kay Ivey to delay the Dec. 12 election to early next year. But she has already pushed it back once, after she assumed the role of governor in April when her predecessor was removed, and this option would likely inspire Moore and his team to file a lawsuit in court.
The Trump effect: Perhaps a last resort for Republican senators would be to ask Trump to encourage Moore to drop out of the race and then ask POTUS to support a write-in candidate of their choice. Considering Trump supported Luther Strange throughout the election, this could be a viable option, but Trump so far hasn't even responded to the allegations against Moore.
Some Republicans have already distanced themselves from Moore, like Mike Lee who asked his campaign to stop using his image on fundraising ads. And the Republican Senate Committee, which Mitch McConnell oversees, ended its joint fundraising agreement with Moore's campaign on Friday.
Go deeper: Behind the allegations against Moore and why it's too late for him to be removed from the ballot.
Go deeper