How Lightspeed responded to Caldbeck's alleged behavior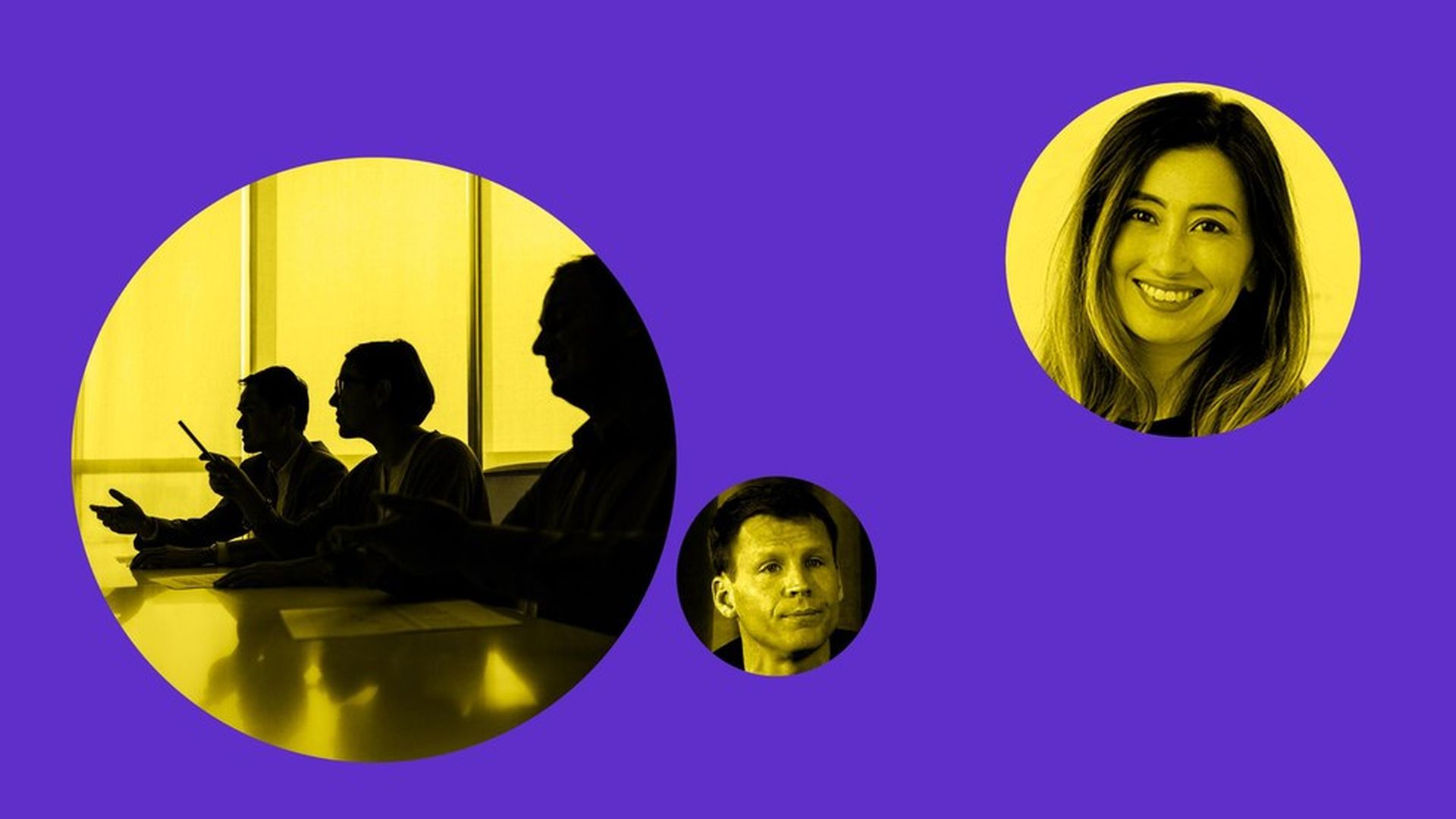 When Stitch Fix founder Katrina Lake told Lightspeed Venture Partners, an early investor in her company, that (then) Lightspeed partner Justin Caldbeck had sexually harassed her, the firm asked her to sign a non-disparagement agreement. Not signing, a source suggests, could have endangered her entire company's future. So she signed, and remained silent about her experience.
Why it matters: Lightspeed today tweeted that it regrets not taking "stronger action" when it learned of Caldbeck's alleged behavior. Lake signed the non-disparagement clause while Stitch Fix was trying to raise money — which it eventually did in a round led by top-tier VC firm Benchmark. Lightspeed could have blocked that investment.
Caldbeck has been accused of sexual harassment by several other female founders, leading him to resign from Binary Capital, the firm he co-founded after leaving Lightspeed in early 2014. Lightspeed never said anything publicly about the charges against its partner until today, and arguably enabled his future behavior by legally requiring that Lake stay silent.
Background: Lake founded Stitch Fix, an online personal styling and shopping service for women, in 2011, but by mid-2013 was having trouble finding new capital. Existing seed investor Lightspeed didn't want to lead the new round, in part due to shell-shock from consumer-focused commerce disappointments like ShoeDazzle and LivingSocial. Many others also passed, until Benchmark Capital expressed interest in leading what would become a $12 million round.
At around the same time, however, Lake had told Lightspeed about the alleged harassment by Caldbeck – and asked that he be removed as a board observer. Lightspeed agreed to do so, but Lake also knew that it could effectively block the Benchmark investment. Lake was asked to sign a non-disparagement agreement against Lightspeed and its partners, which she did on August 13, 2013.
Lightspeed also would sell a portion of its shares in the company — which now may be valued at $4 billion in an IPO — into the Benchmark transaction, although it's unclear if that was related to Lake's allegations or a byproduct of Benchmark's minimum ownership requirements.
Caldbeck would formally leave Lightspeed the following spring, in order to form Binary Capital.
Below is the non-disparagement agreement (apologies for the low resolution), which is contained in a larger file related to the Benchmark funding. It was provided to Axios by someone with access to that file: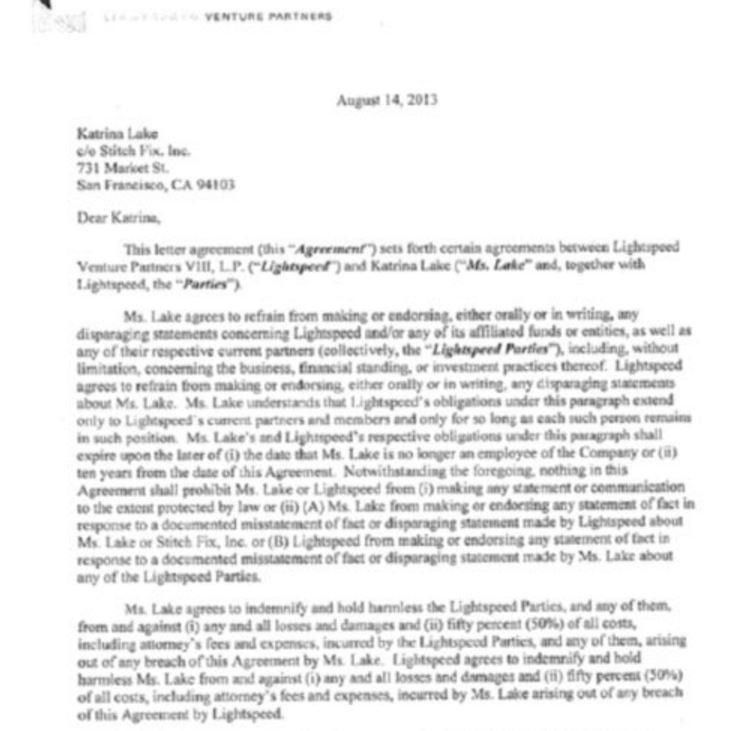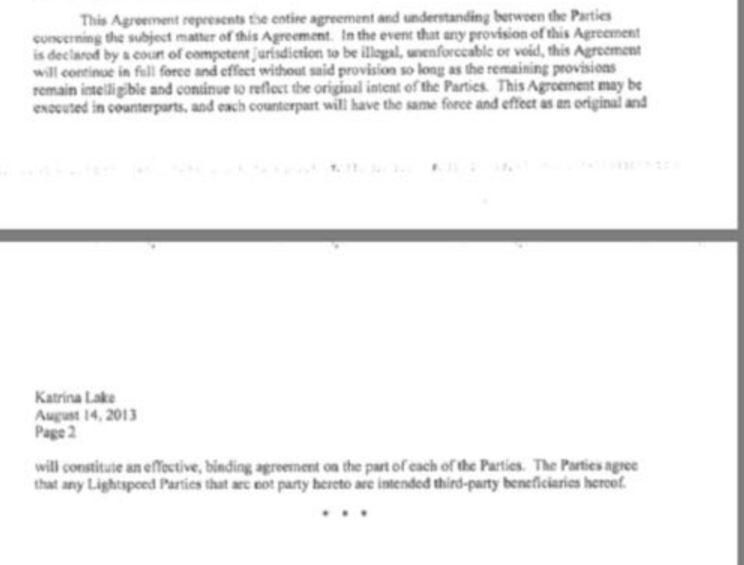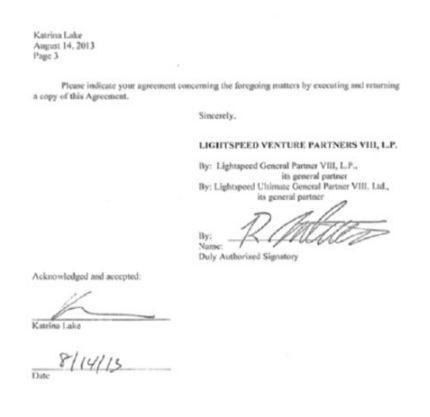 Axios and The Information had previously reported that a Lightspeed founder had told the firm of Caldbeck's alleged misbehavior, but had not identified Lake nor her company. Recode today was first to publicly name her, and received this statement from Lake:
"It's important to expose the type of behavior that's been reported in the last few weeks, so the community can recognize and address these problems."
A Lightspeed spokeswoman declined comment, beyond the firm's tweets on the matter.
Go deeper