How inmates who fight wildfires are later denied firefighting jobs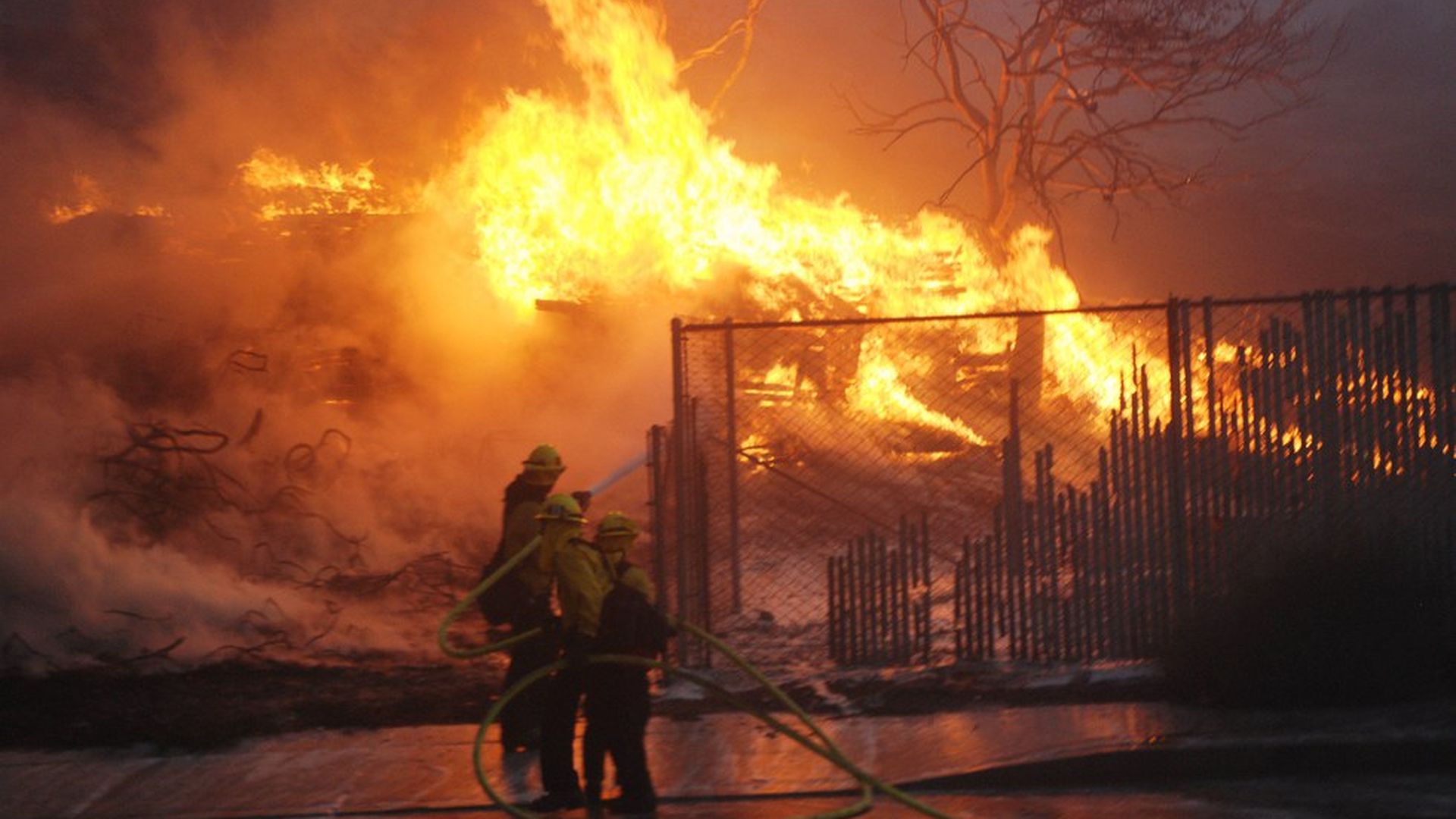 There are about 1,500 prisoners doing the grueling work of fighting California wildfires, including the record-breaking Camp Fire, according to the New York Times. This is a long-standing program in which inmates earn up to $3 a day for their volunteer work, but upon release it will be almost impossible for them to get a firefighting job in the state.
Why it matters: Many prisons offer educational and job training programs for inmates hoping to work in fields like cosmetology, firefighting or even law after serving their time. However, due to complicated occupational licensing laws that often result in denials of former criminals, the training is often useless after incarcerated men and women are released.
How it happens: It's not always an intentional discrimination against people with criminal histories, but "passivity and unintentionality," Katcher says. To become a firefighter, most departments require an EMT license, but EMT certifying boards have a pattern of denying applicants with a criminal history. Defenders of licensing regimes say they help screen out incompetent or poorly skilled potential employees and ensure minimum skill standards.
What's the point of letting people out ... [if] there's still an invisible prison around them?
— Prisoner rights advocate and founder of Root and Rebound Katherine Katcher told Axios
The big picture:
About 21% of California's 19 million workers hold licenses, according to the Little Hoover Commission.
"What we've seen is that not just people in reentry are impacted," Katcher says. "Prison programs across the county are training people for jobs, very well meaning, and then occupational licensing bars them from actually getting those jobs."
It's not just firefighters in California either, in some states, inmates can be trained as cosmetologists, but are unable to receive a cosmetology certification after their release.
Former convicts often face barriers to construction, tree trimming and truck driving jobs. Women also often face difficulty being hired for care taking professions.
These licensing laws disproportionally affect the lower-level jobs that inmates, who tend to have less formal education, are more likely to qualify for, Katcher says.
People of color with criminal histories are impacted most by licensing laws, according to studies by the National Employment Law Project.
Groups on all sides of the political spectrum, from ACLU to the Heritage Foundation, have been advocating to change how occupational licensing laws work, according to Lee McGrath, the managing attorney at the conservative Institute for Justice.
Go deeper