How giant hands in Venice combat climate change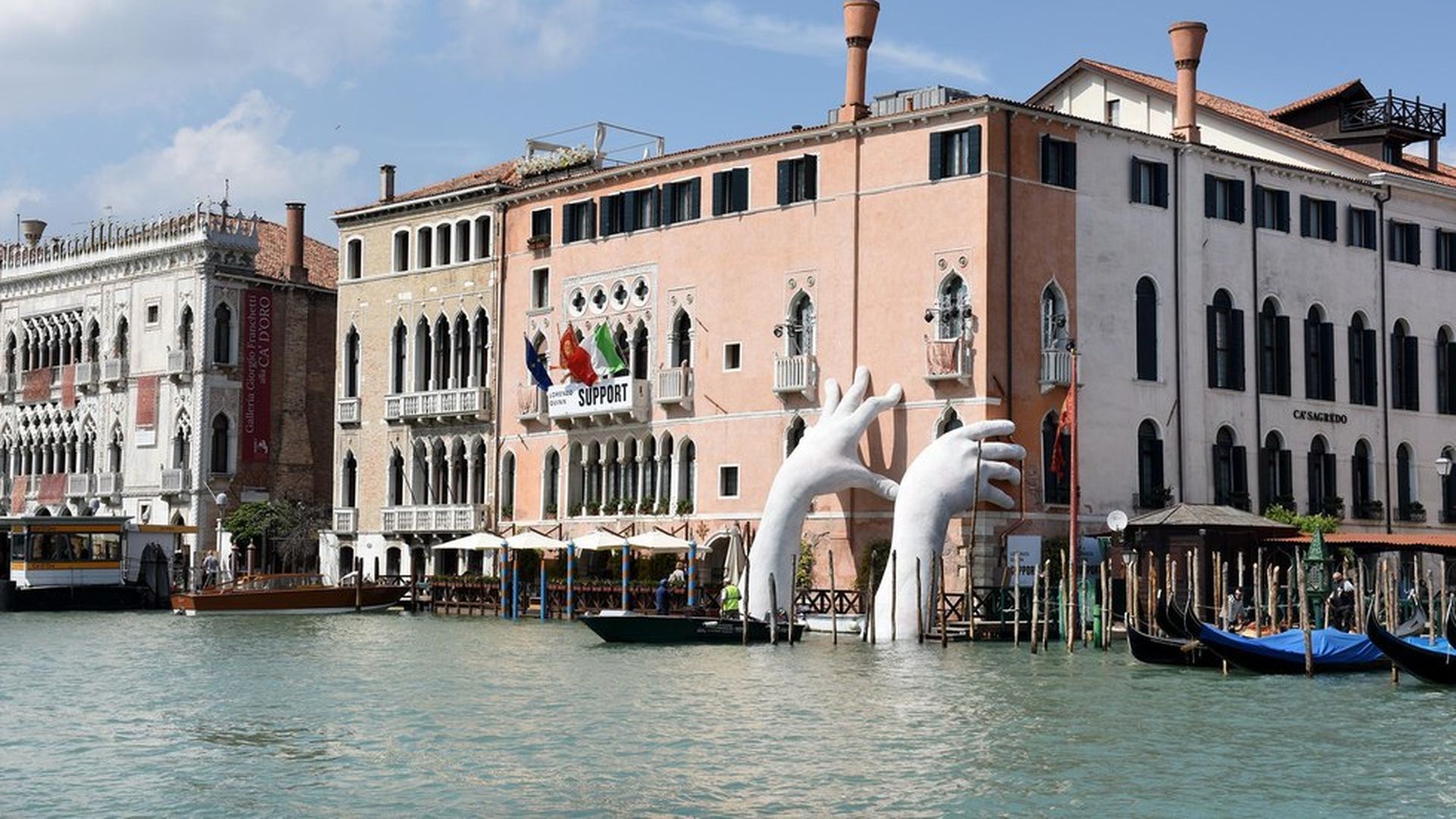 If you visit Venice any time before Nov. 26 you'll get a lesson in climate change. No, the city won't be submerged under water, as some have feared, but you will see what one artist views as the cause of global warming: hands.
Artist Lorenzo Quinn's "Support" installation is a PSA against the dangers of what he views as man-made climate change and its effects on Venice. Quinn "wants to speak to the people in a clear, simple and direct way through the innocent hands of a child," he writes on his Instagram.
Why it matters: Venice is a UNESCO World Heritage site and the city, which spreads across 118 small islands, has suffered from consistently rising sea levels over the past few decades. In the 1950s, the city's historic St. Marks Square flooded 20 times per year, but now it floods around 60 times a year. And climate scientists have found that global ocean levels could increase 0.6 feet to 1.1 feet if the earth's temperature rises just two degrees celsius.
The sculpted hands — which are modeled after his son's — emerge from the water, stand 27 feet tall, weigh approximately 5,800 pounds and support the Ca' Sagredo Hotel in Venice. "It evokes a powerful message which is that united we can make a stand to curb the climate change that affects us all," Quinn writes. "Support" aims to "generate an instinctive and immediate understanding of the environmental impact for places such as Venice," per Quinn's statement for Halcyon Gallery.
Don't forget: The EPA removed the climate change science page from its website (the first time that's happened in 20 years), signaling the current administration's shifting narrative of the causes and effects of climate change.
Go deeper