How Flipboard pivoted to mobile at an opportune time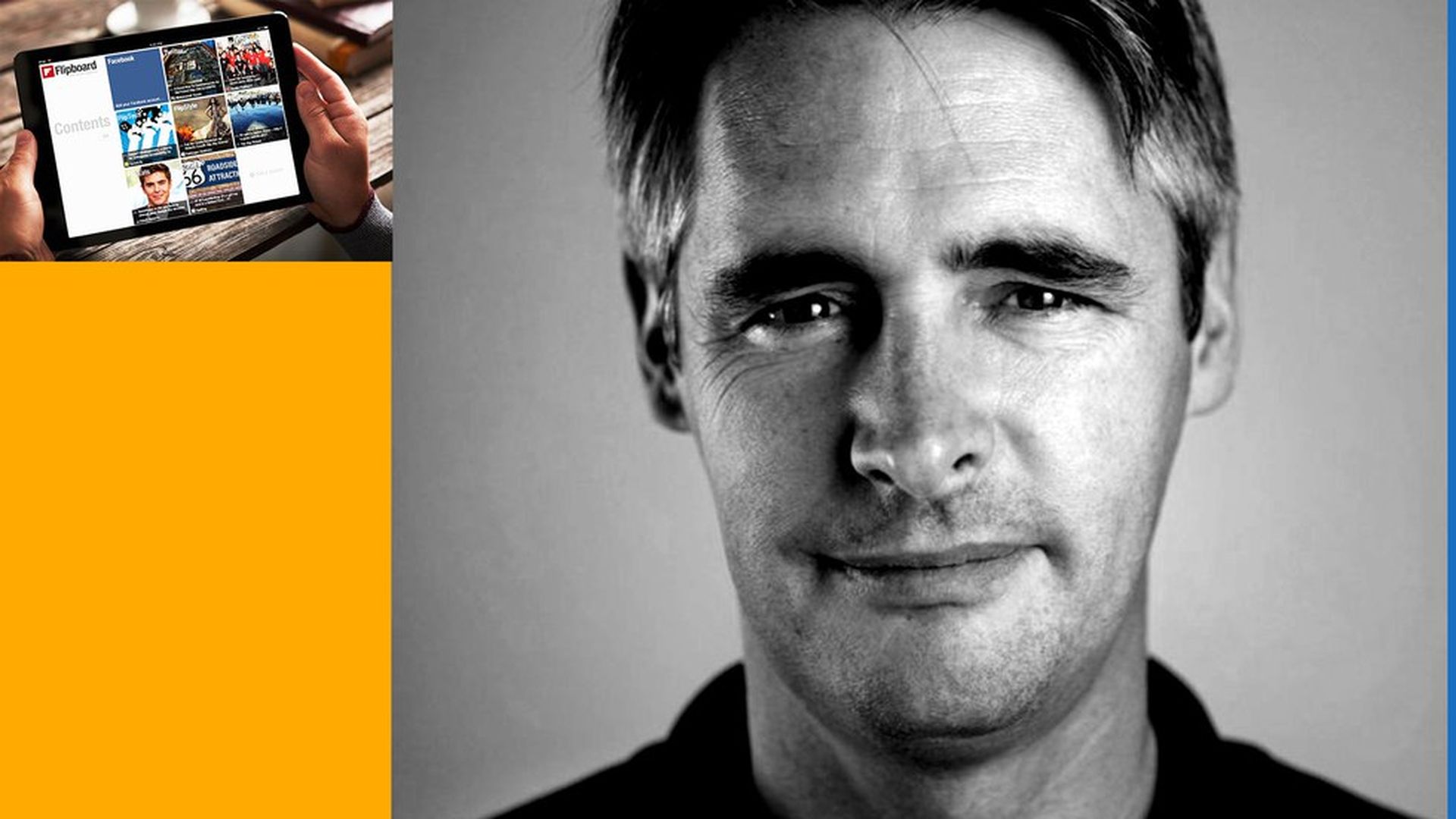 Tech entrepreneur Mike McCue knows a lot about bringing different types of media — voice, video and text – onto the Internet. But for the last couple years the Netscape veteran has worked on Flipboard, a digital magazine app whose experience is one that mimics print. And at a time when concerns about fake news and clickbait are running high, Flipboard is focused on distributing high-quality, vetted content. But it also faces new competitors in Apple News and Snapchat Discover, along with traditional rivals Google and Facebook.
Flipboard goes mobile: In an interview with Axios, McCue says his focus has been to transform his business model from being tablet-first to mobile-first. So far, it's been working. Today, 95% of Flipboard readers access the app on mobile, according to McCue. The app also drives more traffic within the mobile/tablet news ecosystem than many of its counterparts, like Google News, according to Parse.ly. And Flipboard had its first cash flow positive month in February since he founded the company 7 years ago in 2010, McCue says.
Axios' interview with McCue below.
Focus on quality over quantity: "We don't have millions of advertisers on Flipboard, we have a few hundred of the world's very best. Our algorithms - we don't try to include everything on the web. Google indexes billions of pages. We focus on stuff people are already curating — so it already selection bias of good content — to further try to promote sources that we know are quality."
Building a business model that supports quality: "Our revenue and business model are set up premium experience with premium audience. We have over 100 million users, and the demographics for those users are high quality: They're usually influencers or aspiring to be influencers. The frequency is not the same as communications or chat app intentionally. The product aims to be much more aspirational — it comes down to pursuing what people are passionate about: What kind of adventures want to take, how be better parent, etc. If you can get that to work, its a very profitable model."
Design and tech above all: "The design team reports directly to me. You need to make a commitment to design when you build a company. Design has a seat at the table and is part of major the strategic decision making that we do. We think of design as a holistic process from the beginning all the way to continuous refinement after you ship something. It's part of the DNA of the company,"
You can't fix fake news with algorithms: "There's no algorithm for truth or fiction — no algorithm for intentionally trying to deceive or not. What you have to do is build a system that involves people and technology and a tight connection between the two — bionic editors ... If you have system that crawls and looks at popular stuff, people think its legitimate. We look at vetted domains and sources to see what should be promoted in the algorithms."
McCue's best advice for entrepreneurs: "The amount of energy, passion, etc. is same the when starting a large company as a small company. A niche company can be safer — it's the thing your're very passionate about, but it's harder to get that to work sometimes. It's harder to get funding, recruit great talent, etc. And it's easier to get people excited and get people funded with a big idea. Spend your time and energy to shoot for something big. You'll get pretty far and build something valuable."
Go deeper