Hill Republicans try to ignore Trump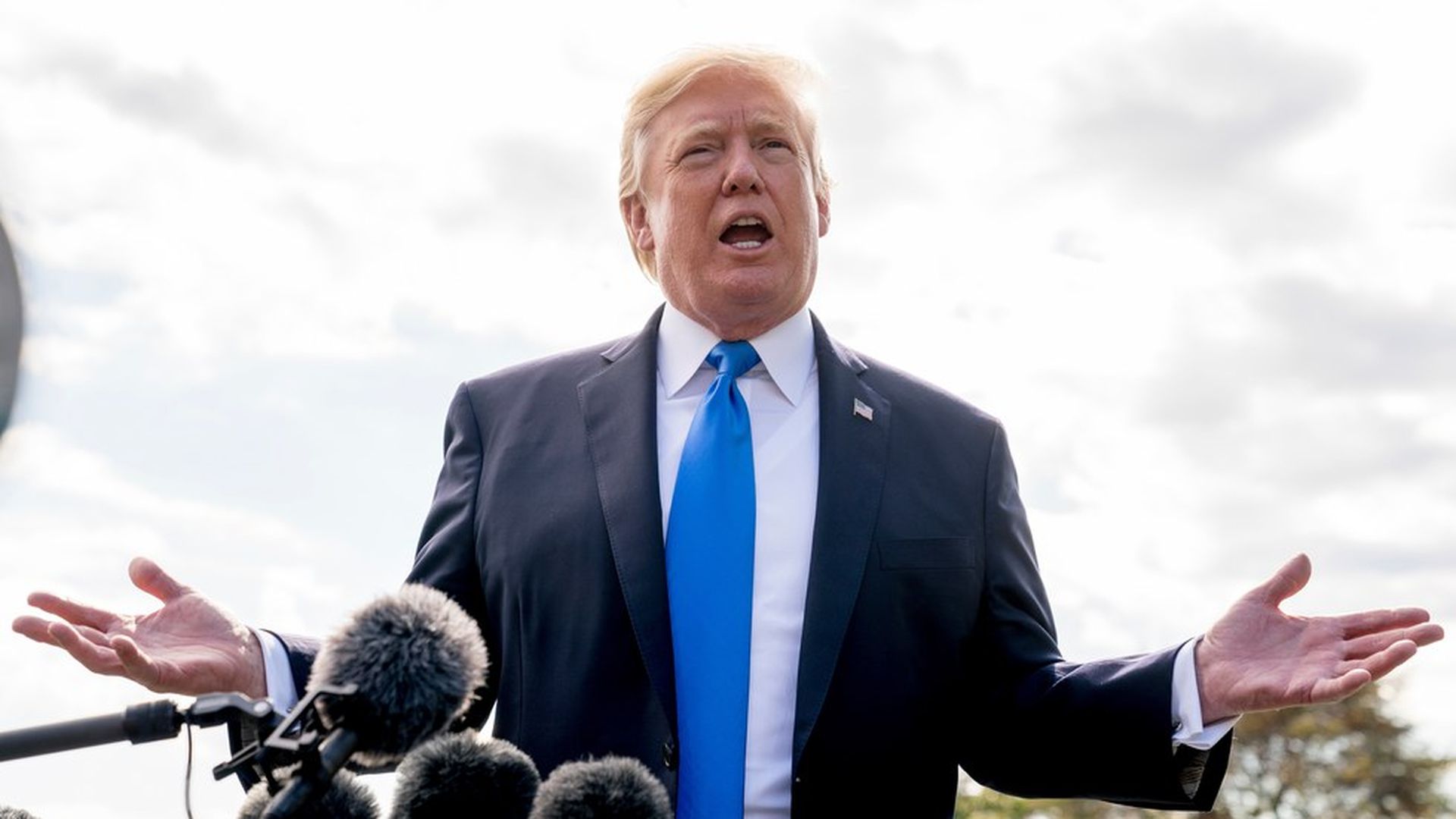 Hill Republicans are tuning out President Trump's comments on policy, counting on their ability to change his mind later.
Why this matters: The attitude of congressional Republicans reflects how much Trump has eroded his way on the Hill by constantly changing his mind on one issue after another over the last 10 months. Desperate for a win, it's hard to imagine Trump vetoing any tax bill Republicans get to his desk. That said, Republicans don't have the luxury of completely ignoring him, because they view him as the only voice in Washington that matters when pitching policies to the GOP base.
Publicly and behind closed doors, the president has opined on various policy matters over the past few weeks, often changing his mind day to day.
On health care, the president's flip-flopping on whether he supports a bipartisan deal by Sens. Lamar Alexander and Patty Murray became a joke among some Senate Republicans. The duo went ahead with their plans to release the bill anyway, although Alexander frequently spoke with the president and credited his role in the process.The White House eventually sent a list of policy demands that it wanted added to the bill, but Democrats aren't yet negotiating with the administration on any changes.
Trump this week tweeted that there will be "NO change to your 401(k)" after a weekend news cycle speculating about capping pre-tax contributions. He then told Senate Republicans on Tuesday that he had ended that discussion. Yet Ways and Means Chairman Kevin Brady suggested Wednesday that changes still may come. When asked about this, Sen. John Thune said: "I think what the president is saying is he wants to maintain incentives for savers. So do we. But as Brady and others are actually writing the bill, there are different ways you can do that."
Trump also said Tuesday he doesn't think the rich should get an individual tax cut, an idea that is picking up steam in both chambers on the Hill. This would mean keeping the current highest tax rate of 39.6 on the wealthy, creating a fourth tax bracket under the GOP plan. "There's definitely openness to the concept — it could defang a significant Democratic attack," a senior GOP aide told me.
What they're saying:
"I think he tends to be more probably flexible," Thune said. "I think a lot of it too kind of depends on, as he listens to different sides, it influences the way he looks at some of these issues ... He's new to a lot of this."
"I'm not overly concerned that a Twitter-based discussion doesn't include all the options you could be talking about, and I don't believe it means the president can't adjust his final view of this depending on what happens in the committee and in the House and Senate," Sen. Roy Blunt told me.
"I've been here for now four administrations," said Sen. Richard Burr. "Every one of 'em has suggested that they know best on policy. And the Congress has always been the one that legislatively writes the bills. I don't see any change in that."
When asked how much sway members seem to be giving to Trump's policy ideas, a GOP lobbyist said: "Zero."
"The more you contradict yourself, the less you're taken – the less what you say matters, as an individual," Sen. Johnny Isakson said.
p.p1 {margin: 0.0px 0.0px 0.0px 0.0px; font: 12.0px Helvetica}
Go deeper