Here's the new Graham-Cassidy bill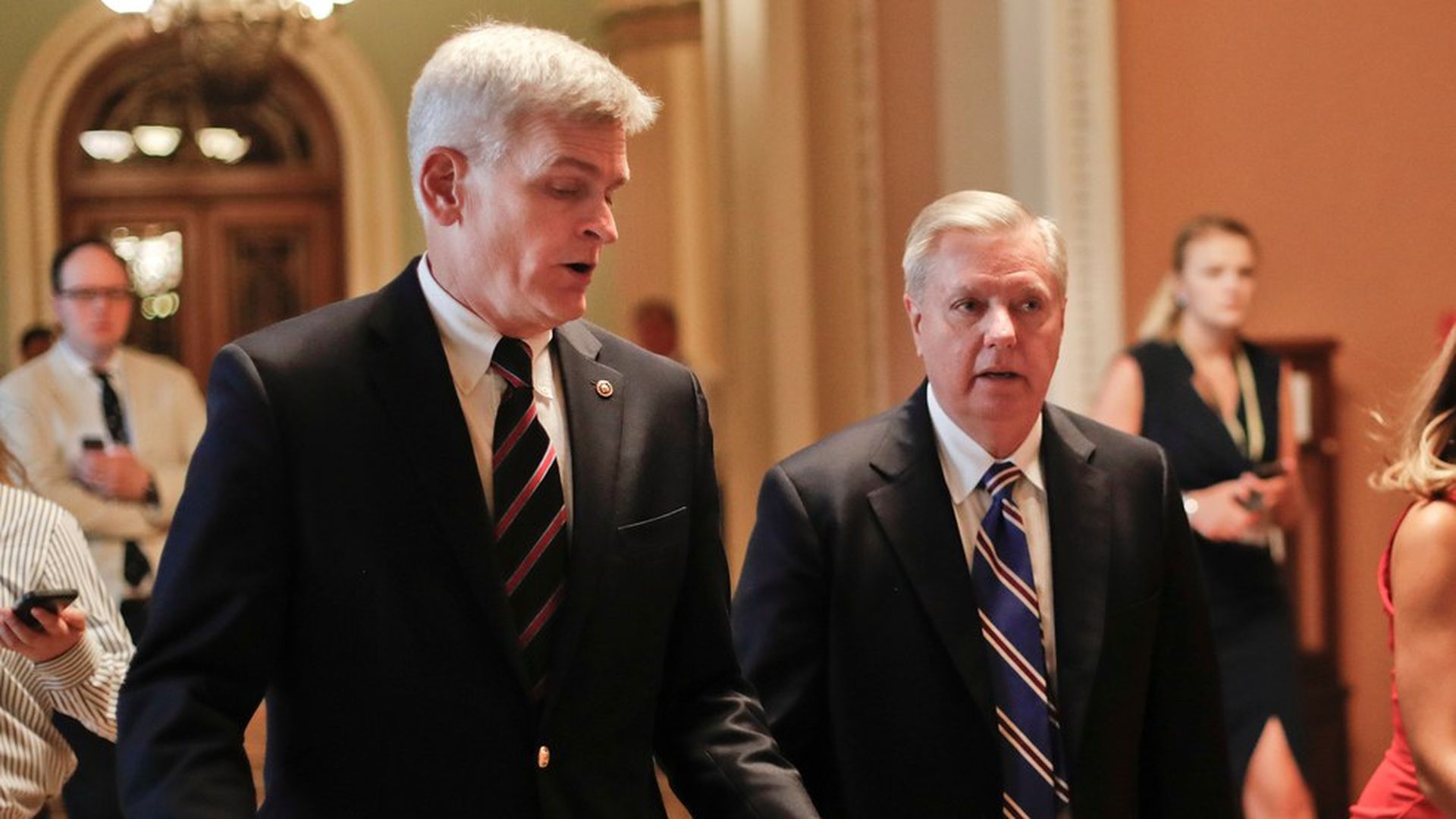 Sens. Lindsey Graham and Bill Cassidy have revised their health-care bill, allowing states to loosen more of the Affordable Care Act's regulations while diverting more money to the states whose senators hold the deciding votes on the legislation. They will formally release the revised measure tomorrow.
Why it matters: The deadline to pass a bill with just 50 votes is Saturday.
The Congressional Budget Office is expected to release preliminary estimates this week of the initial — and now outdated — version of the bill. With the clock ticking and little time for independent economic analyses, Graham and Cassidy are making a last-minute play for senators who have been critical not only of the bill's contents, but of the rushed process, too.
What's different: According to Graham and Cassidy's analysis, the revised bill would direct more money to Alaska, Arizona, Kentucky and Maine, compared with earlier versions. But it would still reduce overall federal funding to those states — whose Republican senators are, for now, opposed to the bill or undecided.Although the state-by-state numbers being circulated show these states faring well, the Kaiser Family Foundation's Larry Levitt called them "pretty misleading," as they don't take into account the per-person cap on federal Medicaid funding. They also add state savings to the block grants under the bill, but don't include them in the current law baseline, meaning the comparison isn't apples to apples. The revisions also ramped up some of the regulatory rollbacks needed to help win conservative votes. Sen. Ted Cruz said earlier today that he's not yet on board with the legislation.For Alaska:Funding carve outs for low-density states Increased Medicaid federal match rate for high-poverty states, aka Alaska and Hawaii Regulatory changes: Allows "multiple risk pools," which could separate sick and healthy people and thus drive up premiums for people with pre-existing conditions. Allows states to change the federal cap on out-of-pocket costs for enrollees.Allows states to decide how much insurers can charge people with pre-existing conditions, the benefits plans must offer and how cost-sharing is structured.States only have to describe their plans; they don't have to submit waivers of insurance rules."If there was any question about Graham-Cassidy's removal of federal protections for pre-existing conditions, this new draft is quite clear," Levitt tweeted. Go deeper: The bill ... State-by-state effects
Go deeper