HBO behind the curtain: Alexandra Pelosi met Donald Trump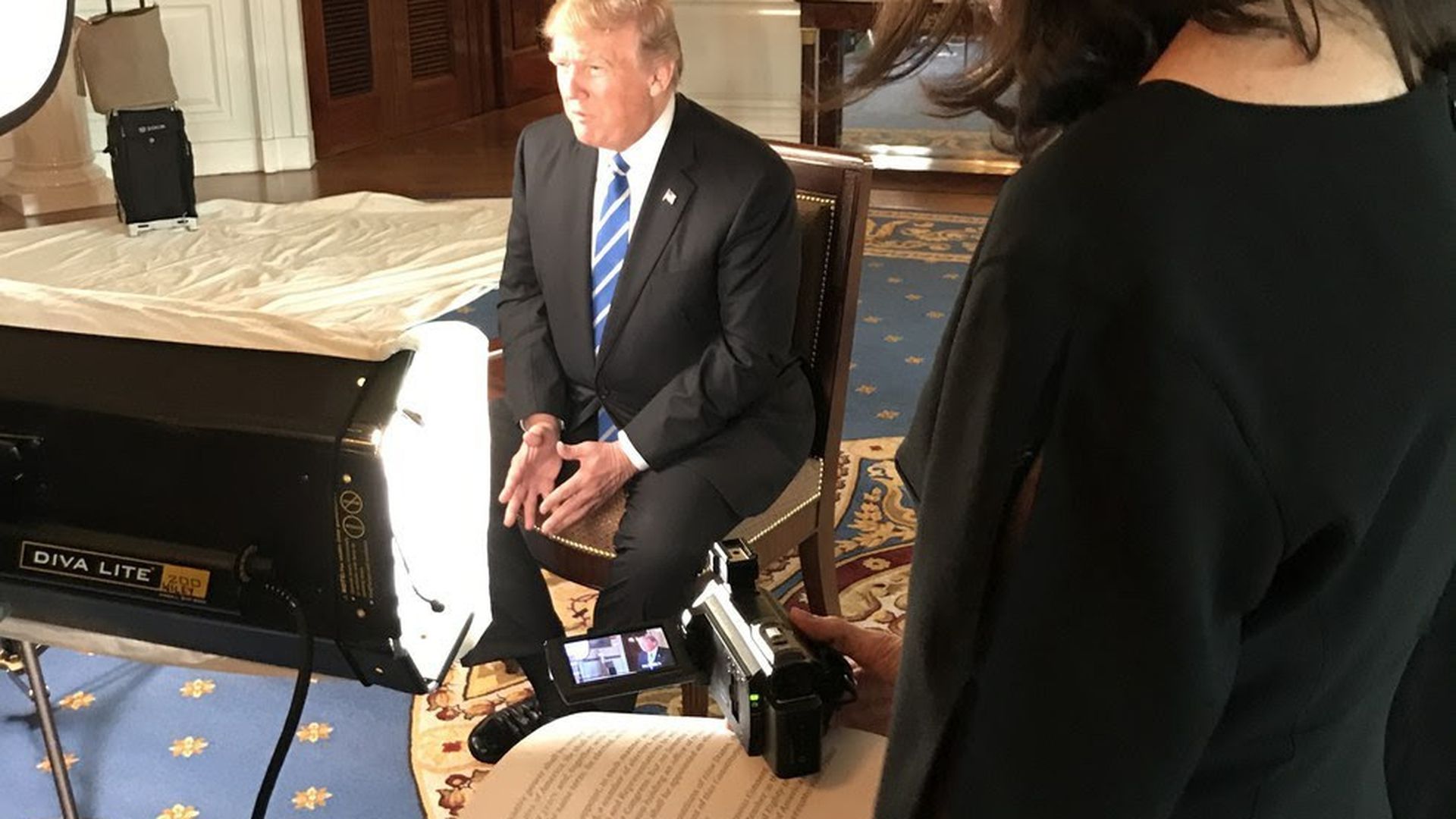 President Trump insisted on reading the passage of the Constitution that spells out the Electoral College. Ted Cruz bragged about being able to recite the Constitution by heart when he was in school. Dick Cheney invited the filmmaker, Alexandra Pelosi, over to his house.
Senate Majority Leader Mitch McConnell showed up for his taping at the National Republican Senatorial Committee and quipped to Nancy Pelosi's daughter: "Bet you never thought you'd be working in a place like this."
Tonight at 7 on HBO, from director Alexandra Pelosi, HBO Documentary Films presents ... "The Words That Built America" —passages of the Constitution read on-camera by ...
... every living president (Trump, both Bushes, Carter, Bill Clinton, Obama), 50 senators (including McConnell and Schumer), three Supreme Court justices (Roberts, Kennedy, Breyer), six vice presidents (Pence, Biden, Cheney, Gore, Mondale, Quayle) and 11 House members (including Speaker Ryan, John Lewis and Leader Pelosi, the director's Mom). Plus Hillary Clinton, Henry Kissinger and more.
On top of that, Hollywood and media stars of both parties read the Declaration of Independence (Robert De Niro, Morgan Freeman, Sean Hannity, Caitlyn Jenner, The Rock, Megyn Kelly, Rosie O'Donnell, Kid Rock, etc.), and grade-school students read the Bill of Rights. David McCullough narrates.
We've known Alexandra since she was an NBC producer on the George W. Bush campaign plane in 2000. This is her 11th collaboration with HBO, and she uses a disarming playfulness to gain the cooperation of Republicans, despite being the daughter of one of the nation's most famous Democrats.
She takes Axios readers behind the scenes:
Trump and Pence either didn't know her family connection, or chose to ignore it. Trump read first (more than one take; he wanted to get it right — it's the Constitution!), then Pence picked up where POTUS left off. As they crossed paths, Pelosi heard Pence tell Trump that her mom had just called for the resignation of Attorney General Jeff Sessions — awkward! But neither of them mentioned it to her.
She took her sons, ages 9 and 10, to see Speaker Ryan, and they told him he was their favorite Speaker: "He has a certain vibe that's super-cool." Don't tell Grandma!
"A lot of [the senators] complained that they didn't know what the words [in the Constitution] meant. Let's face it: The words are dated. Not to Ted Cruz. To him, it's poetry. He just went for it."
Go deeper