GOP tax reform effort up against one hurdle after another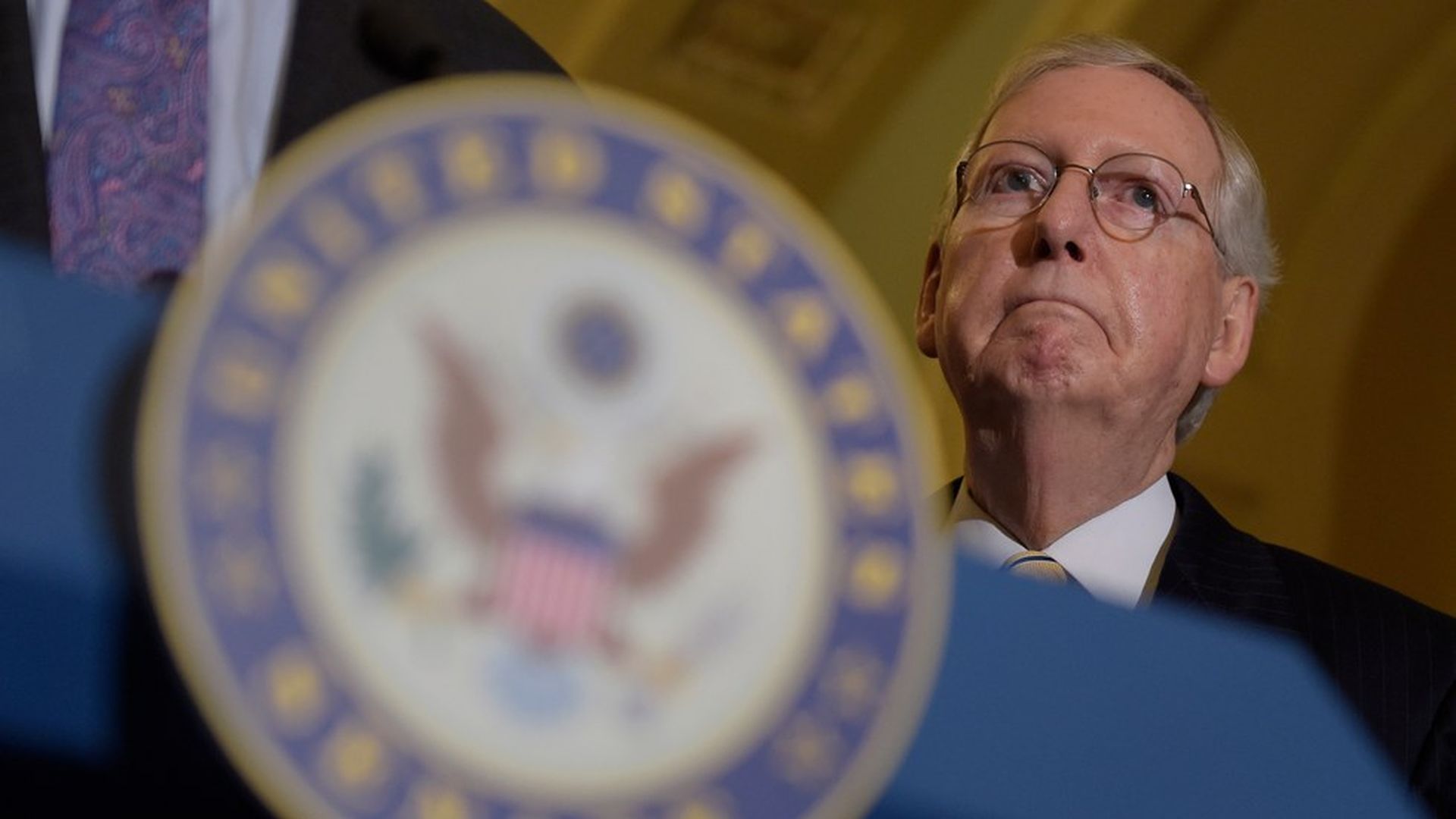 There's now a legitimate push by some Republicans to pass tax reform while keeping its health care efforts alive, despite concerns that this could seriously threaten the party's chances of passing any major legislation by the end of the year.
But that only adds to the long list of tax reform problems that Republicans are about to have to start solving, beginning with passing a 2018 budget. A framework for tax reform will be released today.
Between the lines: Many Republicans will tell you the party is better at taxes than health care. Even so, there are a lot of hard, divisive decisions about budget deficits, tax loopholes and special interest carveouts to be made that won't be easy. On top of that, they still want to lay the groundwork for another run at repealing the Affordable Care Act — even if it moves to the back burner for a while.
Context: The ball is really about to get rolling on tax reform. Republicans are being briefed on the framework of the plan today. The Senate Budget Committee is set to mark up the 2018 budget next week, which unlocks the vehicle for a tax bill that needs only 51 votes to pass the Senate.
The catch: The Graham-Cassidy health care bill is dead for now, but Republicans don't want to give up on repeal forever. So they could push to include it in the same budget, giving them more time to pass some version of it with 51 votes.
Here's what Sen. Lindsey Graham said yesterday when Republicans called off the Senate vote: "We're coming back to this after taxes. We're going to have time to explain our concept. We'll have a better process and we're going to take this show on the road."
Senate leadership has said they don't think it's a good idea to throw health care — clearly a volatile issue for the party into the mix. Sen. Roy Blunt is reluctant too, but he told reporters Tuesday that it's "likely" the budget instructions will merge the two.
However, other members of leadership are still trying to prevent it from happening: "Infusing those issues might make it complicated for both," said Sen. John Thune.
Behind the scenes, GOP members, aides and lobbyists believe keeping at health care by mixing it with tax reform is likely an awful idea. Continuing to beat a dead horse is likely only to make tax reform that much harder — or kill it altogether — with a minuscule chance of success.
Consider this: These are the tough decisions Congress already has to make in order to pull off tax reform:
The Senate Budget Committee has to pass a budget, which is likely to allow as much as $1.5 trillion to be added to the deficit through tax reform (not accounting for economic growth).
Graham and Ron Johnson, who are on the committee, have indicated they won't vote for a budget that doesn't pave the way for health care as well. (Though it's unclear whether Graham will still take a hard line on that after his comments yesterday.)
The Senate as a whole has to pass a budget, which will probably come with the same disagreements as in committee, except among more members. Republicans can only lose two votes.
The House and the Senate then have to agree on a budget. The House budget includes instructions for $200 billion in deficit reduction — so somehow that has to be merged with a Senate budget that would allow $1.5 trillion to be added to the deficit.
Plus, the House doesn't want to add health care into the mix.
Then, after all of that is worked out, that's when they get to fight over actual tax policy.
Our thought bubble: A party made desperate by its failure to pull off a key campaign promise is about to step into another major legislative food fight.
Go deeper