GOP leaders and conservatives play Obamacare chicken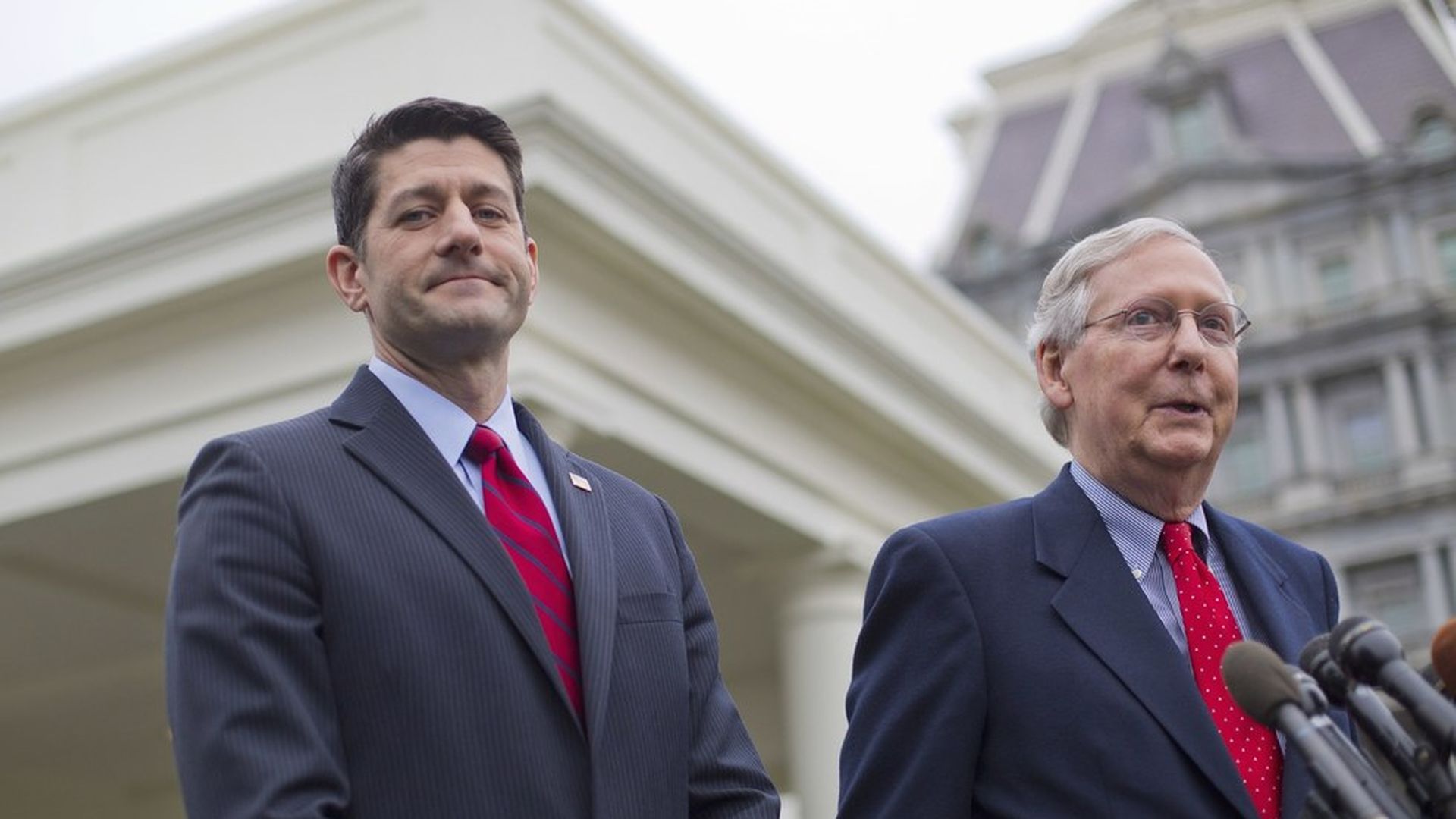 Enough House and Senate conservatives now oppose leadership's Obamacare repeal and replacement plan that the bill would fail without their votes. But instead of caving to their demands, leadership is plowing ahead, assuming members won't dare to vote against Obamacare repeal at the end of the day.
"I think it's bad practice to say what you will never do, because eventually we're going to have to vote for a bill," Senate Majority Whip John Cornyn told reporters. "And it's not going to be perfect. And if we don't do that, then we will have failed one of our most basic promises to voters, that we'd repeal and replace Obamacare."
But this turns into a game of chicken, because the conservatives aren't backing down either. "I am not going to go along with something that harms my constituents just so I can say that I've supported something that has a different name than Obamacare," House Freedom Caucus Chairman Mark Meadows told me.
The big issue: The hardliners don't like the tax credits to help people in the individual market buy coverage, although it's only one of many problems they have with a leaked draft of the plan. While moderate Republicans say people need help affording their premiums — and might even say the size of the credit in the leaked plan isn't big enough — conservatives are calling it another entitlement program. "Rolling out a massive new entitlement program is not the right approach to go," Sen. Ted Cruz told reporters.
Compare that to Senate HELP Committee Chairman Lamar Alexander. When asked whether a tax credit will end up in the bill, he said, "It could very well. A tax credit which would help lower-income Americans buy insurance has been one of the provisions in almost every one of the Republican proposals that have been made over the last several years."
OK, but: There may be some room for compromise. Yes, some conservatives will not like individual market assistance no matter what it looks like. But other ideas, like only giving tax credits to those who financially need them, could win over some hesitant members. "Means testing might be one of the options" for compromise, Meadows said.
But there are still other problems: A big one is the House GOP's proposed cap on the tax break given to those with employer-sponsored insurance, which is the only major source of revenue in the plan. Another is the overall cost of the plan, which is tied to the fact that the tax credits would be given to everyone on the individual market.
And then some members just want a straight repeal. "I think the repeal should just be repeal. That stuff can be in a replacement bill," said Rep. Jim Jordan, referring to various pieces of a replacement plan.
Why this matters: Former Energy and Commerce Chairman Fred Upton, summed this up well for me: "It's going to be most difficult to try and get the 218 votes" needed to pass a bill in the House, "knowing that everybody's got a certain standing where they are."
Go deeper