GOP health care holdouts to meet tonight to work it out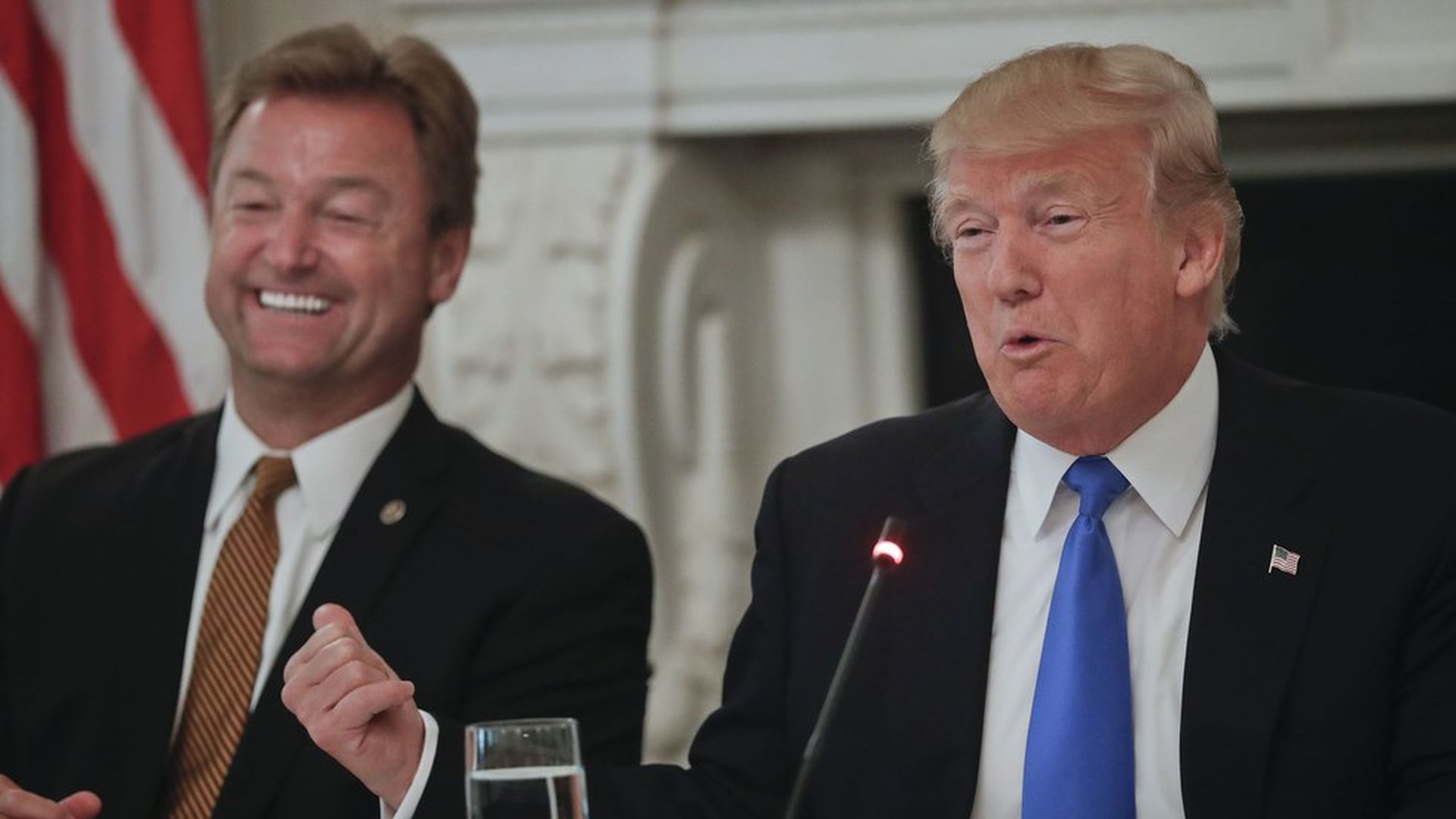 All of the Republican senators who oppose the Senate health care bill are meeting tonight to work out their differences — after being told by President Trump this afternoon that they need to work late into the night to get a deal. The holdouts, including moderates and conservatives, are scheduled to meet in Sen. John Barrasso's office at 7:30 pm Eastern with the goal of getting a deal to revive the shelved Affordable Care Act repeal and replacement bill, according to sources with direct knowledge of the discussions.
What Trump said: At the White House lunch today, Trump told all Republican senators that he'd prefer a repeal and replacement plan, but that at a minimum, the Senate needs to at least repeal the ACA to live up to their promises. He signaled that he'd be open to adding money to make it a stronger plan — which one person in the room interpreted to mean that Republicans could add money to the bill's stabilization fund for state insurance markets.
Pressure on the holdouts: Senate Majority Leader Mitch McConnell told the senators that at the very least, they should vote next week for the procedural motion to take up the bill — noting that Republicans have run on ACA repeal in four elections and need to at least start the debate.
How the meeting came together: After Trump suggested it, Vice President Mike Pence walked over to conservative Sen. Mike Lee and moderate Sen. Rob Portman — two of the holdouts against different versions of the repeal bill — and asked them if they'd participate in the meeting. Both agreed. Health and Human Services secretary Tom Price and Centers for Medicare and Medicaid Services administrator Seema Verma are also expected to be there.
Also invited to attend: Sens. Shelley Moore Capito, Ted Cruz, Jerry Moran, Bill Cassidy, Mike Enzi, James Lankford, Ron Johnson, Mike Rounds, John Thune, Lamar Alexander, Bob Corker, Lindsey Graham.
Still skeptical: One senior GOP aide dismissed the chances for actual progress, given that the conservatives and moderates want completely different things: "This is just the death rattle."
Trump's joking plea to Rand Paul: Per three sources, Trump asked Paul — a conservative holdout who is viewed as "ungettable" — to go play golf for three days. Trump said he'd even play golf with Paul for three days himself, just to get him off of TV bashing the Senate bill all the time. Trump said it in a light-hearted tone and laughter broke out in the room.
Go deeper