Former CIA director defends FBI investigation on Russia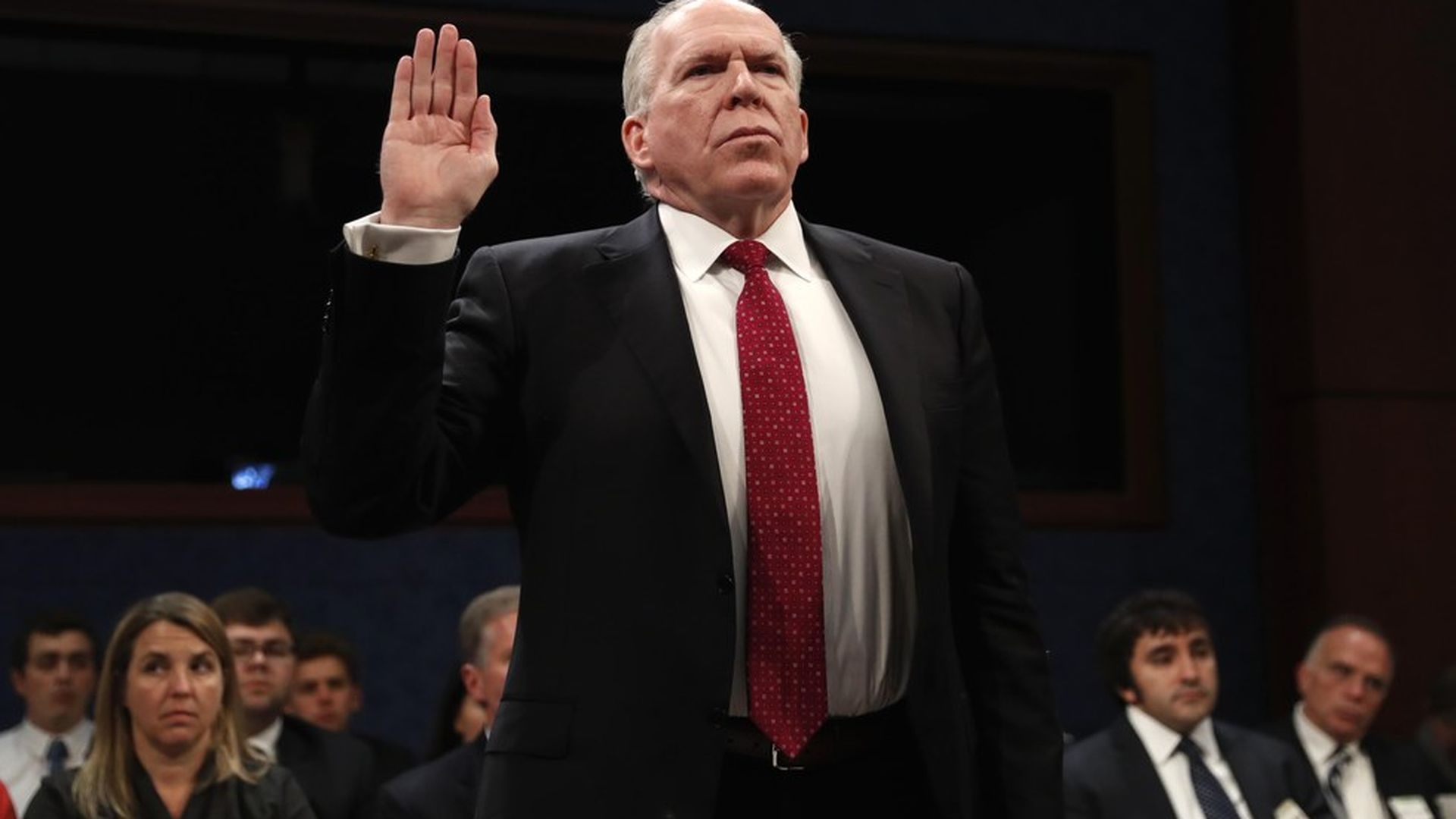 Former CIA Director John Brennan told the House Intel Committee Tuesday he believes he was the first U.S. official to engage with Russia on the issue of interfering in the U.S. elections when he warned his Russian counterpart on August 4, 2016 that if Russia interfered in the U.S. elections it would "undermine constructive engagement even on matters of mutual interest" for Russia and the U.S. Brennan reported that his counterpart denied any interference and said he would relay Brennan's warning to Putin.
Who knew about Brennan's concerns on the Hill: Brennan also said he briefed the "full details" to Harry Reid, Mitch McConnell, Dianne Feinstein, Richard Burr, Paul Ryan, Devin Nunes, Adam Schiff, and the Gang of Eight between August 11 and September 6 of last year.
Trump's disclosure to the Russian officials in the Oval violated two protocols if the reports are true; first that such classified information is not shared with visiting Ambassadors or foreign officials — it must go through established channels — and second that before sharing any classified intel, the originating agency must verify no sources or methods will be revealed.
On collusion with Russia: Brennan said when he left office January 20 this year he had "unresolved questions" in his mind about whether U.S. persons may have been unwittingly or wittingly helping Russia. He would not reveal if this was Trump, campaign aides to Trump, or just people associated with Trump.
"I don't know whether such collusion existed...I don't know...but I know there was a sufficient basis of information and intelligence that required further investigation by the bureau to determine whether U.S. persons were actively conspiring or colluding with Russian officials."
On the Trump-Russia Steele dossier: "It wasn't part of the corpus of intel information we had…it was not used in any way as a basis." Why didn't the CIA use it? "Because we didn't."
On what Russia's doing right now: "I believe the Russians are trying to actively exploit what is going on in Washington right now to their benefit and to our detriment."
Go deeper