Fake news takes the world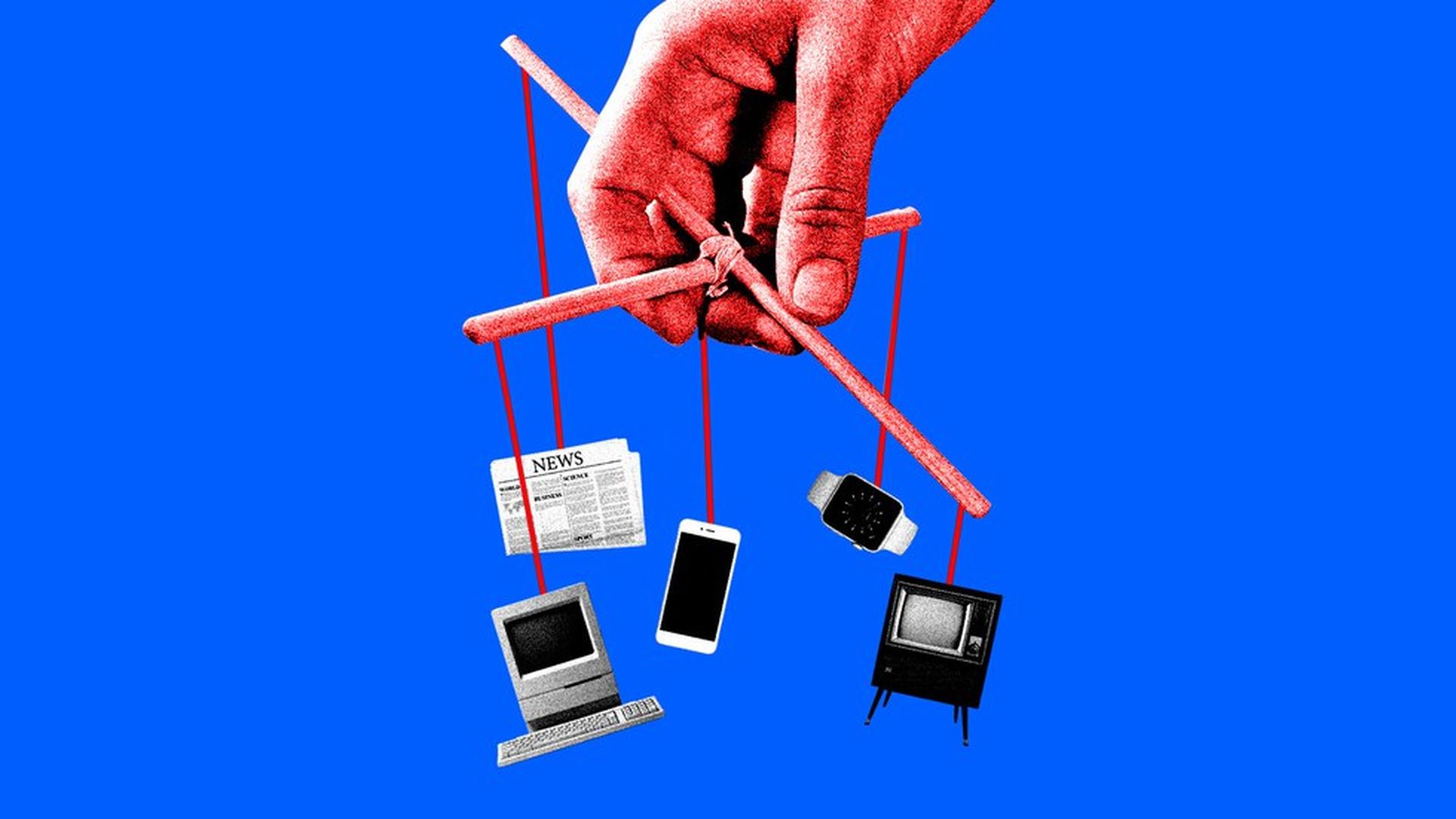 A global war against fake news is raging, and the U.S. — at the center of the mayhem — is being swallowed by it. Tech giants are creating new policies, but fake news still persists. Regulators want them to do better, but they're nowhere near a concrete policy of their own.
Why it matters: Nobody's winning the war against fake news, except maybe Russia (which is fighting on the other side).
The latest example: Within seconds of the deadly Las Vegas attack, fake news started circulating about the suspect and victims, forcing tech platforms to apologize for surfacing news from faulty outlets (more below).In the West: The Atlantic Council's Digital Forensic Research Lab writes that in Spain, Russian state-backed news organizations and bots "aggressively promoted digital misinformation and outright fake news about the politically charged vote" in Catalonia, Spain. This is in addition to fake news campaigns to meddle with elections this past year in the U.S., U.K., France and Germany.In the East: A new report from The Washington Post details how in India, false information spread through Facebook-owned WhatsApp has become "a part of everyday life," leading to violence, as well as religious and caste tensions. A Facebook spokesperson tells Axios it recognizes "this is a challenge and we're thinking through ways we can continue to keep WhatsApp safe."How it spreads: Google, Twitter and Facebook are still getting dinged for showing questionable news sources as top referrals for breaking news on their platforms. On Monday, all three tech giants featured content from outlets that have been known to publish false or misleading information as top sources of news about the Las Vegas shooting: Google issued an apology for 4chan threads in their top story unit and said it will "continue to make algorithmic improvements to prevent this from happening in the future." A Facebook user reported that posts from Russian-owned news site Sputnik were appearing within their personalized collections of articles related to the Las Vegas shooting. (Sputnik is currently being investigated by the FBI for spreading propaganda, per Yahoo News.) A Twitter user reported that an InfoWars article was featured in the "Top News" section of its breaking news collection on the shooting. BuzzFeed found over a dozen instances of fake news being spread online, many on Twitter, within just hours of the Vegas shooting, mostly from far-right sources.The outlier: Snapchat has remained virtually untouched by the fake news epidemic, a testament to its commitment to only distributing vetted partner content on its Discover platform. As Mashable noted last week, Snapchat is taking advantage of that position over Facebook by doubling down on hard news content.d639
What's next: Tech platforms say they're taking action, but fake news is proving difficult to shake. That makes it harder for tech companies to make the argument that they should be able to police themselves. Governments globally are taking swift action to crack down on tech giants distributing false information, but while U.S. policymakers scramble to find solutions, no major reform has been passed ahead of the 2018 elections — where digital advertising and campaigning is already underway.
Go deeper