Exclusive: Cheddar and WeWork form remote studio partnership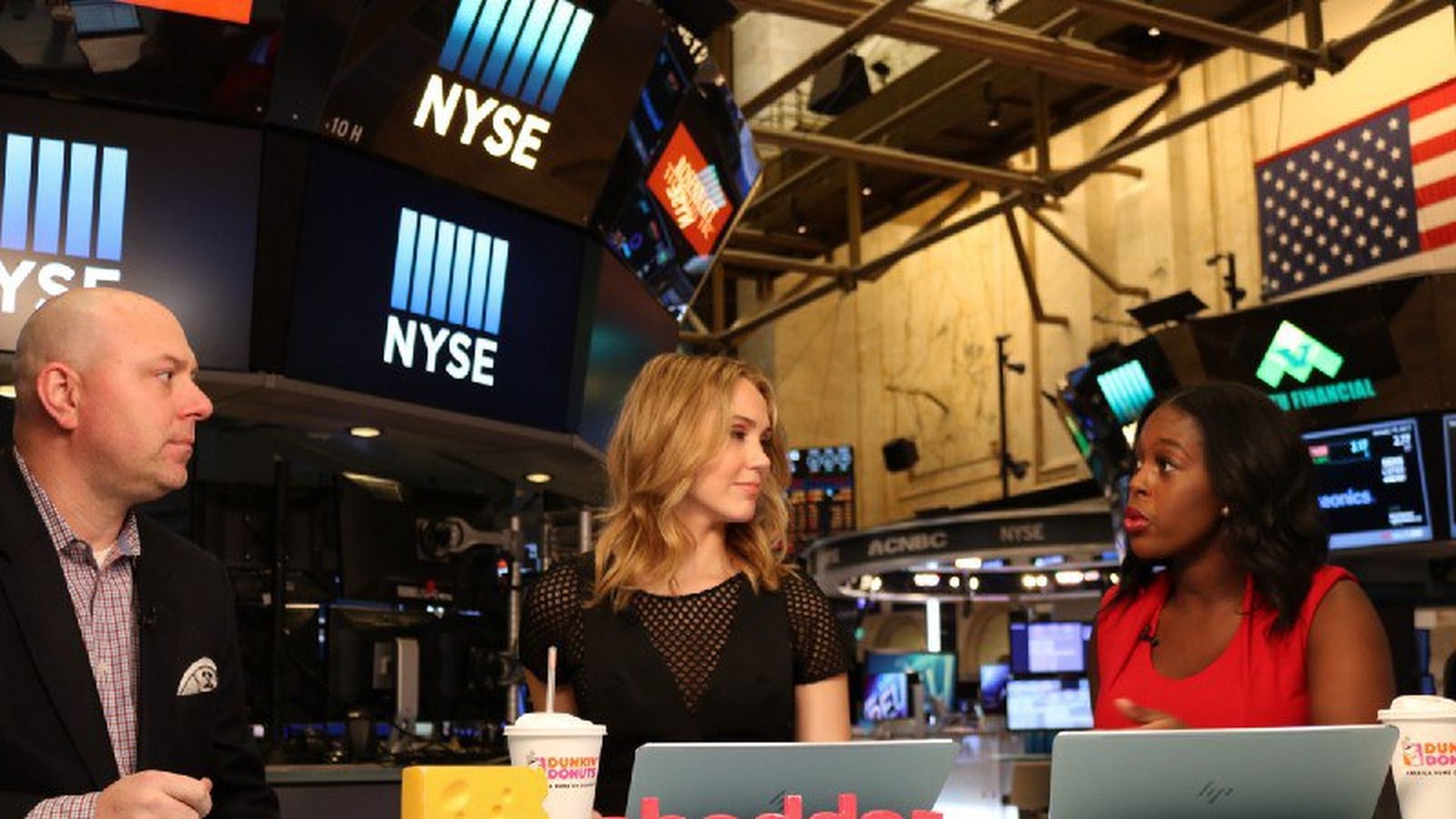 Cheddar is joining forces with WeWork to scale its on-air guest booking operation. It's building remote studios in WeWork offices around the country, and eventually around the globe, to bring more TV-quality live shots to the network's weekday live programming slate. The Cheddar team will go live with its first-ever daily broadcast from a WeWork location today in Hollywood.
Why it matters: It's a cost effective way for Cheddar to scale its digital TV business at the local, national and global levels. And it's a good example of how technology is upending the traditional TV business.
"The partnership gives us more edge against competitors by allowing us to have the remote broadcast scale of a major cable network," says Cheddar CEO Jon Steinberg. Most networks rely on affiliate relationships around the country to deliver high-quality guest live shots, while Cheddar uses Skype for some of its 50+ daily guest interviews. Steinberg is hoping the WeWork partnership will also increase the frequency of guests booked per day, which will cut down on segment length.
Steinberg says they are looking to add a minimum of 5-10 locations in 2018 and build from there. They will set their sites on U.S. cities to start, like DC, Chicago and San Fransisco, and then plan on expanding to perhaps London or Asia.
The investment also provides a foray into more local news coverage. "Conceivably, this could be used in breaking news situations across the globe," says Steinberg. The company launched "Cheddar Local," this summer to provide top business headlines to local news broadcasts, tailored to their region.
Cheddar's strategy has thus far been to scale as quickly as possible at low cost. It's relied on strategic partnerships with established media entities to do so.
Nationally, Cheddar has scored distribution partnerships with Sling, Amazon, Pluto, Facebook, Twitter and two more bundles by year end.
Internationally, Cheddar launched a partnership with Propagate, a global indie studio, to produce a daily segment from New York Stock Exchange that would be customized and distributed for international markets.
"Everything we do now, has to work when we're 10x the size," says Jon Steinberg. "The goal is always to create a model where the cost drop is efficient. Steinberg says the total cost to build out all of their studios, controls rooms, equipment etc. has thus far been $2.2 million. Steinberg says the 90-person company is looking to net over $10 million in revenue this year.
The partnership is a first for WeWork as well. " "This deal is a good example of the way that we can start to program our own physical space while simultaneously offering a great opportunity for our members to share their stories with the world," says WeWork Vice Chair Michael Gross.
Go deeper