Elon Musk's "boring" vision for tunnels, semis and self-driving cars
In an appearance at the TED conference in Vancouver, Musk showed off a new video visualization of electric skates transporting cars in a narrow tunnel, then raising them back to street level in a space as small as two parking spaces. Inside the tunnels, Musk said cars could travel as fast as 200 kilometers per hour (roughly 130 MPH).
"You should be able to go from say Westwood to LAX in 5-6 minutes," the Tesla and SpaceX founder said, adding he is spending only 2-3% on the tunnel effort.
The challenges: Permissions and cost, and cities would have to approve a network of tunnels. Even if they do, conventional tunnel requirements are exceedingly costly. Musk cited as the example of a recent 2.5-mile LA subway extension that cost $2.5 billion. Musk aims to cut that through narrower tunnels and other moves.
Update: There's a video of the tunnel concept
Why not flying taxis?: I'm in favor of flying things. Obviously I do rockets. This is not some inherent bias. They will be quite noisy." Plus, he notes, there is the risk of something going badly. "If something is flying over your head... that is not an anxiety reducing situation."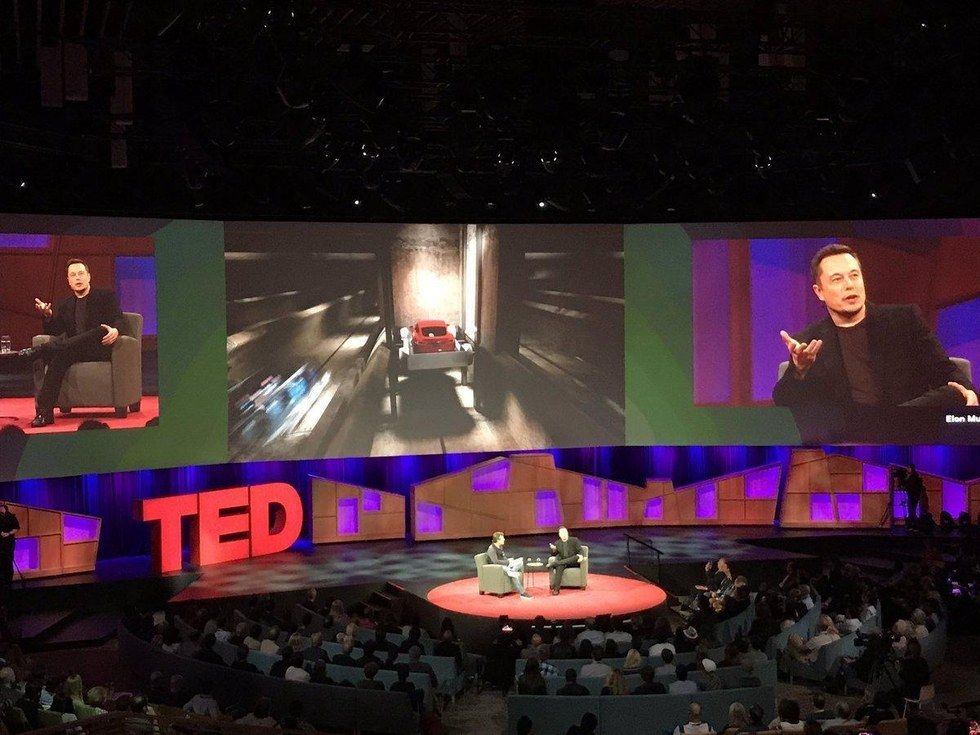 Opening shot: TED organizer asks Musk "Why are you boring?" Musk: "I ask myself that frequently."
What about Tesla?: Musk also offered an update on Tesla, saying Model 3 production should start in July and that Tesla cars should be able to go fully autonomously by the end of the year from LA to New York, without a driver ever having to touch a control. Musk also said he intends to stay at Tesla as long as he can see into the future (and he looks pretty far into the future.)
That doesn't mean that people will be ready to just nap in the back seat at that point.
"If a car crashes 1 in a 1000 times, you are probably still not going to be comfortable falling asleep," Musk said. "You shouldn't be certainly."
Truck tease: Musk also did a teaser shot of the semi truck Tesla plans to introduce later this year. "This will be a very spry truck," he said. You can drive it around like a sports car."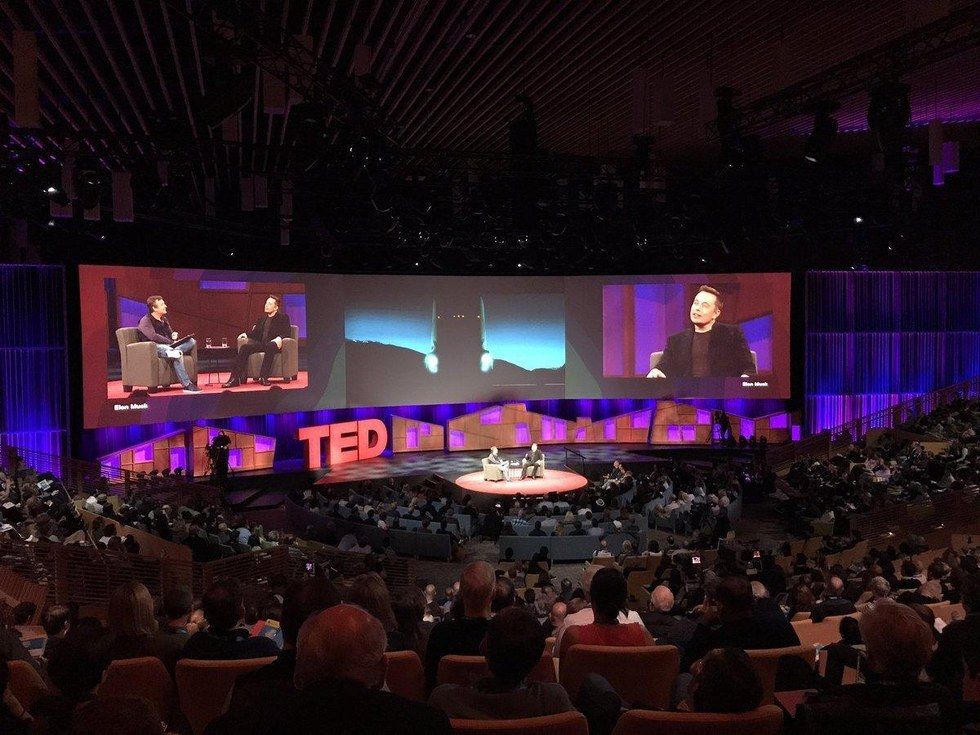 More Gigafactories: Musk said that the company plans to launch two to four more of the massive battery factories this year. "probably four" including perhaps some outside the U.S. "We need to address a global market," he said.
On Trump: Musk said being on two advisory councils lets him raise issues like the need for continued immigration and action on climate change, things that might not otherwise be on the agenda.
Money quote: "I'm not trying to be anyone's savior. I'm just trying to think about the future and not be sad."
Go deeper