Elon Musk and the elusive "iPhone moment"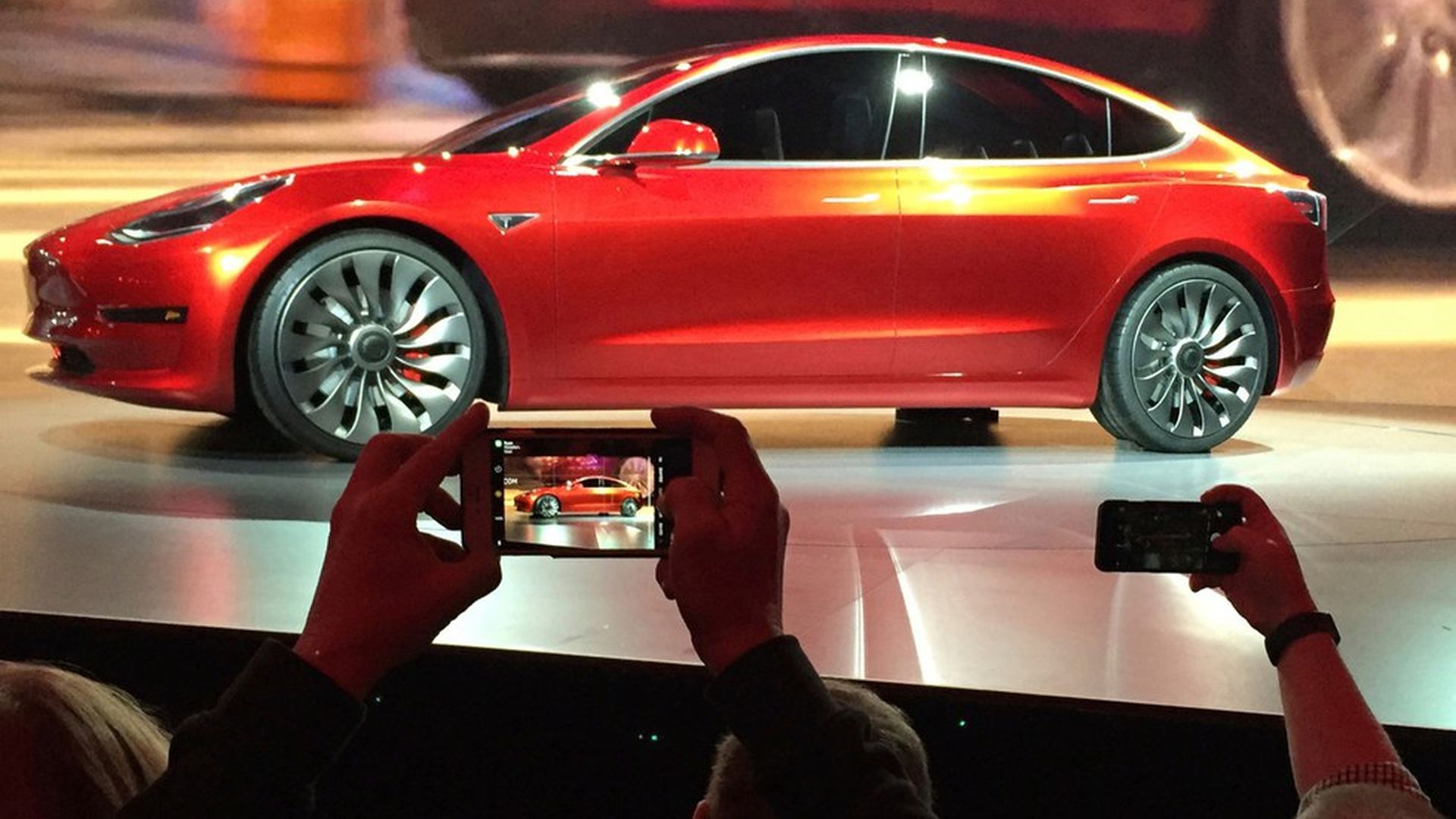 A new analysis and some recent hiccups are putting a fresh spotlight on whether Tesla can transform its pioneering role in electric vehicles (EVs) into a dominant, sustained market position when EVs move into wider commercial deployment. The reality check moment: Barclays analysts warned Monday that Tesla's slow production of its mass-market Model 3 electric sedan could shake some investors' confidence that the Silicon Valley automaker is primed for an "iPhone moment" for its product.
The bottom line: The Model 3 production numbers are a sign of growing pains, and this isn't a crisis. But they do underscore the need for Tesla CEO Elon Musk to focus more on actually building cars at a mass scale, rather than his other interests, like the hyper loop and space travel. His credibility — and Tesla's future — rides on the Model 3.
Flashback: Tesla, citing "bottlenecks," acknowledged in early October that it produced less than 20% of the third quarter target of 1,500 of the vehicles.
Why it matters: Even though Tesla's said there are "no fundamental issues" with the Model 3 production, revelation of the badly missed target arrives as mainstream automakers like GM are ramping up their plans for expanded EV offerings, and new players are entering the market.
In their words: Three Barclays analysts say in their research note many investors have viewed the Model 3's summer launch as evidence that Tesla's "iPhone moment," wherein the world "appreciates the revolutionary potential of the product," will happen by mid-2018.
"And indeed, with no competition imminent, it's easy for some to believe how Tesla could have the market to itself... However, amid production delays, it could mean that the Model 3 ramp could be dragged into 2H'18 or even into 2019, when the competitive threat will likely become more imminent. And in the face of increased competition, the 'iPhone moment' appears less certain," they write.
Continued production delays could shake the confidence of some stockholders by reducing the credibility of the "Tesla story."
Big picture: Tesla's technology has long wowed tech and auto enthusiasts as Musk has positioned the company as a leader even though Tesla — which saw its market capitalization temporarily surpass GM's earlier this year — is not yet profitable.
But while Musk warned in advance of "production hell," the company's Model 3 ramp-up will be under the microscope after the Oct. 2 announcement of slow production. In addition, a widely circulated Wall Street Journal report Friday said that as recently as early September, "major portions of the Model 3 were still being banged out by hand, away from the automated production line."
And Tesla announced over the weekend that it's delaying the unveiling of its electric semi-truck prototype from the month until mid-November. "Diverting resources to fix Model 3 bottlenecks & increase battery production for Puerto Rico & other affected areas," Musk said on Twitter.
Pushing back: Tesla, in a statement to Axios and other outlets, called the WSJ report inaccurate and misleading, claiming that "every Model 3 is being built on the Model 3 production line," and that "every vehicle manufacturing line in the world has both manual and automated processes."
Go deeper