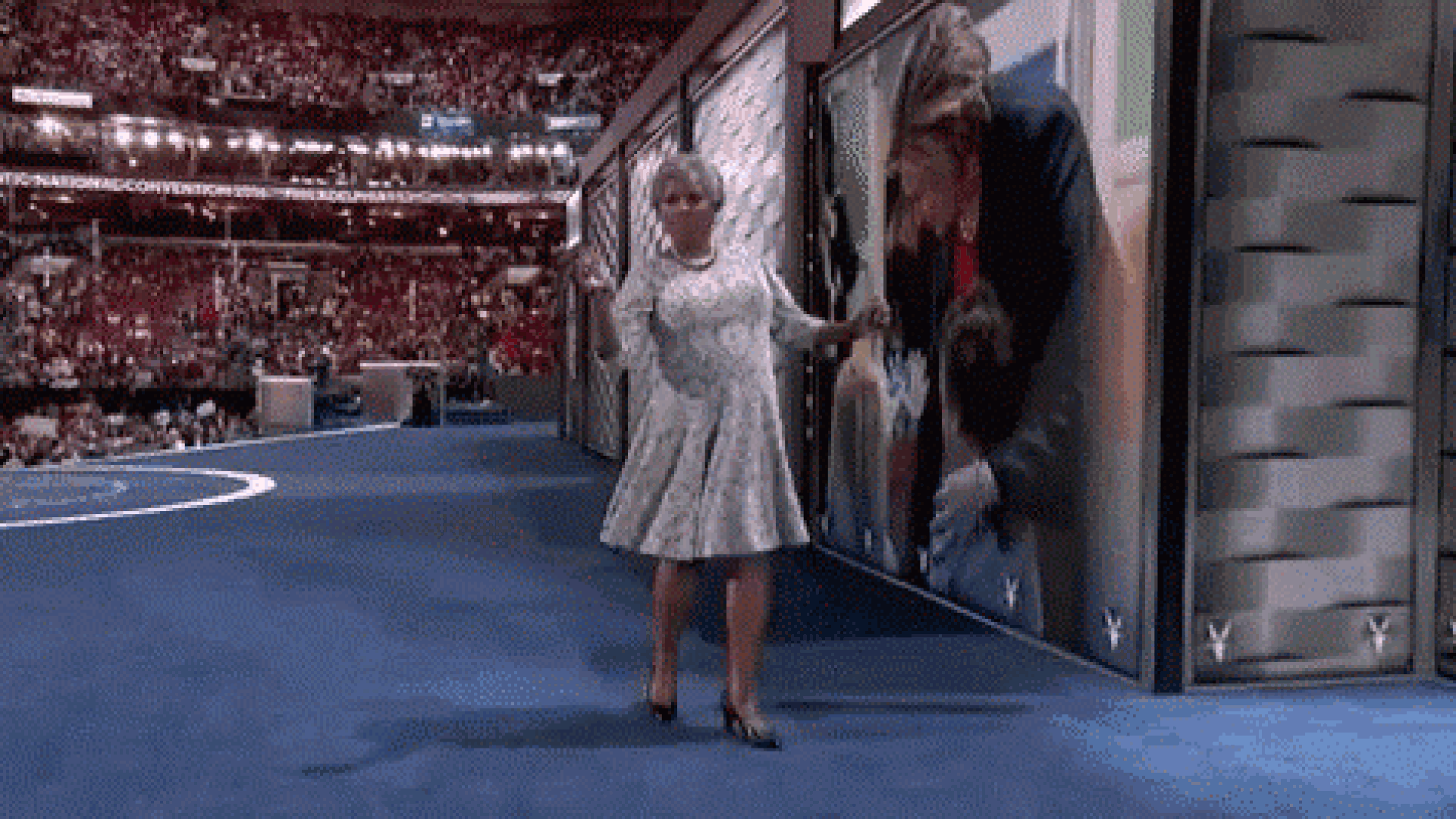 Donna Brazile — who led the Democratic National Committee during Hillary Clinton's presidential run, and will be out Tuesday with a book, "Hacks," lambasting the campaign — sent me this GIF of herself at the 2016 convention when I asked her response to a counterattack by top alumni of the campaign.
Brazile titled it "Private Dancer."
The message: She's living her best life now, unabashed by book blowback.
Brazile was responding to an "Open Letter" — posted on Medium yesterday, and signed by more than 100 alumni of the campaign's Brooklyn headquarters — portraying her as a traitor: "[W]e are pretty tired of people who were not part of our campaign telling the world what it was like to be on the inside of our campaign and how we felt about it. We loved our candidate and each other."
The letter was signed by campaign chairman John Podesta, campaign manager Robby Mook, Huma Abedin, Nick Merrill, Jennifer Palmieri, Ron Klain, Leslie Dach, Mandy Grunwald, Jim Margolis and scores more.
The letter was provoked by a Washington Post excerpt saying Brazile "details widespread dysfunction and dissension throughout the Democratic Party, including secret deliberations over using her powers as interim DNC chair to initiate the process of removing Clinton and running mate Sen. Tim Kaine (Va.) from the ticket after Clinton's Sept. 11, 2016, collapse in New York City."
"Brazile writes that she considered a dozen combinations to replace the nominees and settled on Biden and Sen. Cory Booker (N.J.)."
She recalls saying on a conference call with Brooklyn officials that she left like a slave: "I'm not Patsey the slave ... Y'all keep whipping me and whipping me and you never give me any money or any way to do my damn job."
The book includes chapters on the Russian hacking (with a timeline as an appendix). Memorable chapter titles include: "Gentlemen, Let's Put Our Dicks on the Table" ... "Bernie, I Found the Cancer but I Won't Kill the Patient" ... and "I Am Not Patsey the Slave."
Be smart: Top Democrats are furious at Brazile for reopening the wounds of 2016 when the party needs to be thinking about 2018 and 2020. Some even worry that the distraction may have endangered the party's candidate in Tuesday's governor's race in Virginia, Ralph Northam.
But Dems took the bait, making her book a bigger deal than it would have been if they had stayed silent.
P.S. Fox will love this ... Brazile's dedication includes a shout-out to Seth Rich, the DNC staffer who was fatally shot in D.C. in July 2016 — an unsolved case that has provoked right-wing conspiracy theories:
"In loving memory of my father, Lionel Brazile Sr.; my beloved sister, Sheila Brazile; my fearless uncles Nat, Floyd, and Douglas; Harlem's finest, my aunt Lucille; my friend and mentor, David Kaufmann; my DNC colleague and patriot, Seth Rich; and my beloved Pomeranian, Chip Joshua Marvin Brazile (Booty Wipes). I miss y'all."
Go deeper