Diplomat in Middle East, disrupter in Europe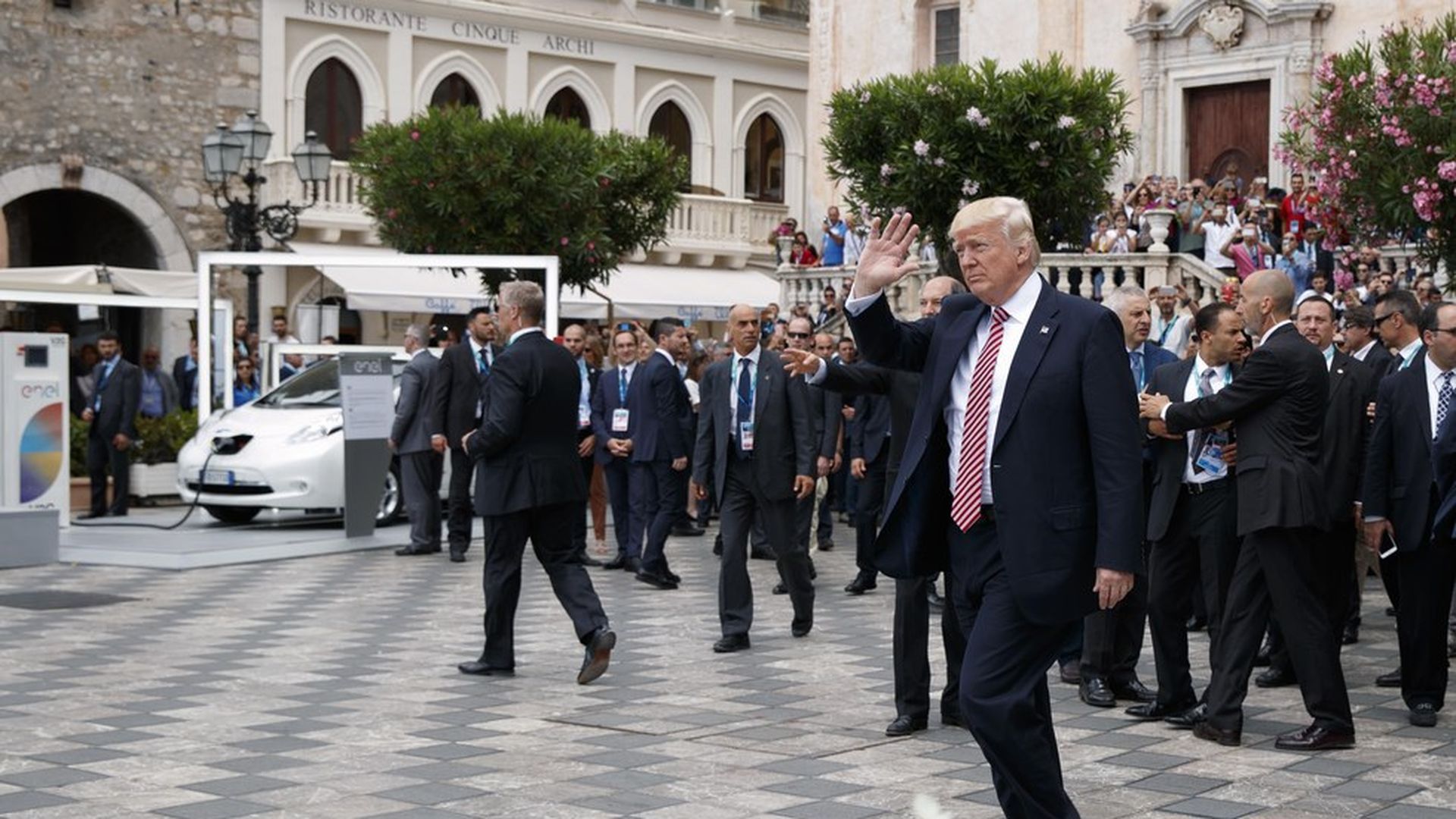 Boston Globe A1, "On trip, a more presidential look for Trump: His less diplomatic side mostly under wraps abroad," by Annie Linskey in D.C.: "[H]is days overseas revealed that he's capable of avoiding major gaffes and of sticking, for the most part, to the script."
The takeaway ... N.Y. Times A1, "Mild in Mideast, but Elbows Are Out in Europe: Trump Is Rattling a Continent Eager to Jab Back," by Mark Landler and Mike Shear in Taormina, Sicily: "[T]he smooth statesman celebrated in Saudi Arabia and Israel is now being portrayed as the ugly American, trampling America's friends and trashing the trans-Atlantic alliance."
Aides say the disrupter stance will pay dividends "in the form of better trade deals and more equitable security arrangements."
Europe reacts — Erik Kirschbaum in Berlin, for L.A. Times: "Across Europe, the reaction to Trump's trip, and especially the NATO photo opp, was less than charitable. Scotland's J.K. Rowling, the author of the 'Harry Potter' books and a frequent Trump critic, posted a film clip of the Trump-Markovic [pushing] incident on Twitter: ... 'You tiny, tiny, tiny little man.'"
"Trump's image as an outsider continued in Italy on Friday at the G-7 meeting in Taormina, Italy ... The presidents, chancellor and prime ministers of France, Germany, Italy, Japan, Canada and the United Kingdom walked the streets of Taormina. Trump followed in a golf cart."
N.Y. Times Quote of the Day ... Daniel Gros, president of the Center for European Policy Studies, on Trump's interactions with European leaders: ""Everybody sees that he's trying to be a tough negotiator with the Europeans, whom he apparently views as a bunch of weaklings. But nobody sees any use in firing back. They think there will be very little action on trade. Ultimately, they think it's harmless."
Go deeper