Democrats swamp Republicans in pre-midterms wave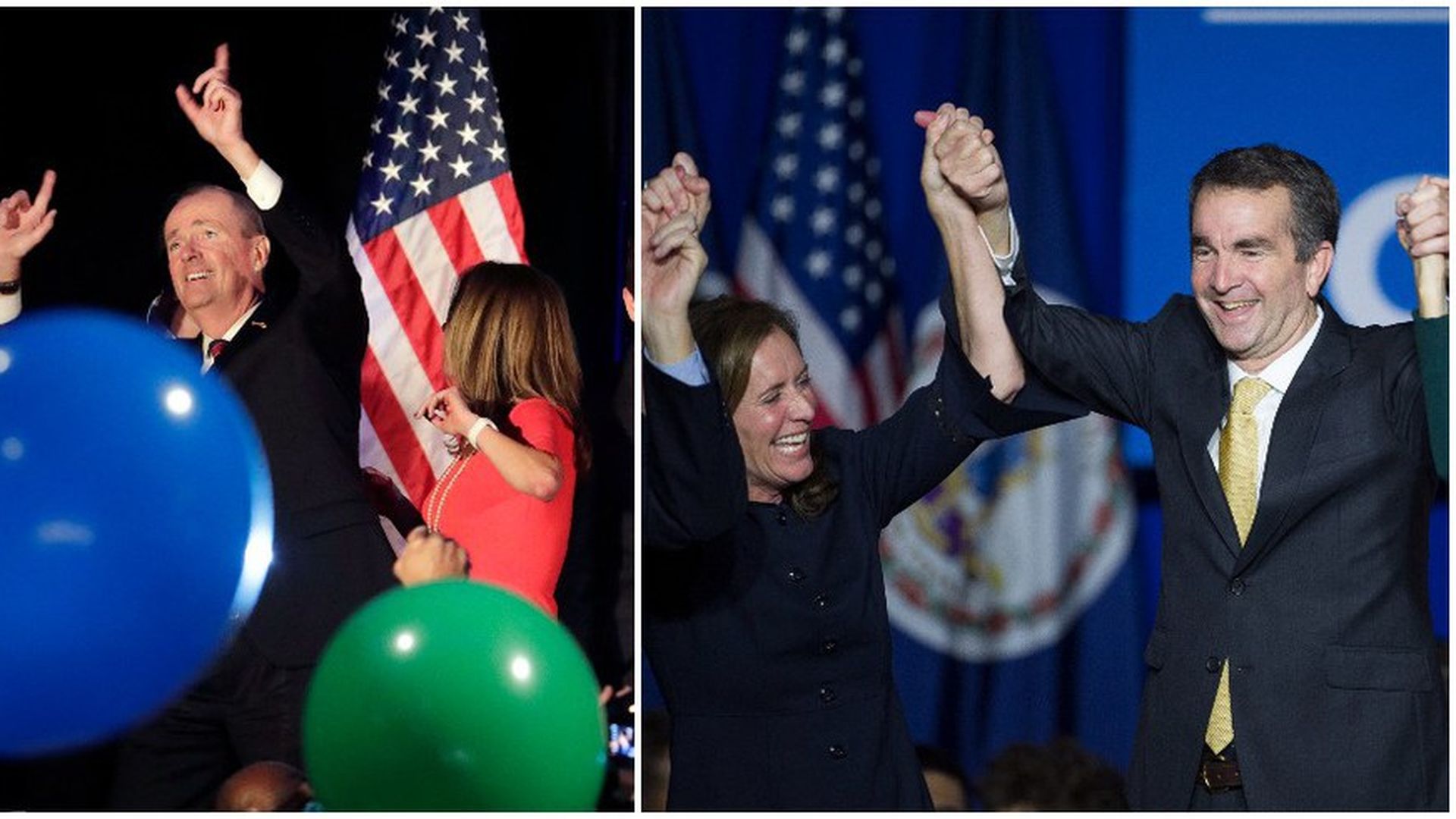 For the first time since Election Night one year ago today, Democrats could smile. On a day that set the opening tone for the midterm elections of 2018, voters rejected President Trump, handed Democrats a big win in a swing state in a racially charged moment, and provided hope — however fleeting or fanciful — that they can win back power in Washington.
Sound smart: It's tempting to read too much into off-year elections. And, given both Virginia and New Jersey are states Hillary Clinton won, they by all measures should have gone to Democrats. But don't underestimate how much unity, momentum, money will now flow to Democrats — and how much finger-pointing and funk they avoided.
In the Virginia governor's race, Democrat Ralph Northam beat Ed Gillespie by 9 points — a far bigger margin than either party had foreseen, and far wider than Hillary Clinton's win over Trump.
Some empirical data behind the hope:
The stunning margin was booked largely in Northern Virginia, in what MSNBC's Steve Kornacki called "the revenge of the suburbs" after a year of Trump.
U.Va.'s Larry Sabato told me there's one explanation: "Donald Trump. He really is deeply unpopular in urban-suburban Virginia. Voter after voter wanted to send him a message, and said so. Of course, he won't listen, but the message was sent."
Gillespie lost women by 22 percentage points.
He won men by 2 percentage points.
Gillespie won whites by 15 percentage points, and still got crushed.
Northam won by a 24 point margin among those who decided in last week. It looks like those racially tinged ads/moves backfired.
And it wasn't just Northam:
In what the Richmond Times-Dispatch called a "tsunami election," Democrats erase a 32-seat GOP advantage in the House of Delegates, with recounts likely to determine control.
Plus national history: "Virginia's most socially conservative state lawmaker was ousted from office ... by Danica Roem, a Democrat who will be one of the nation's first openly transgender elected officials and who embodies much of what Del. Robert G. Marshall fought against in Richmond." (WashPost)
A white mayor won by the largest margin in decades in predominantly black Detroit.
A big story that could get lost in the blizzard: Two more House Republicans — Rep. Frank LoBiondo of New Jersey and Rep. Ted Poe of Texas — announced their retirements, increasing chances Dems take the House a year from now.
The takeaways: Top Republicans were stunned by the severity of the shellacking, and worry that it will endanger both tax reform and the House majority.
One longtime party power texted me: "The beginning of the end."
Another: "R donors are shocked and dismayed."
Democrats finally see a path out of the wilderness. Matt Bennett of Third Way: "This is a huge statement by voters: They want a broad path and not ideology and litmus tests. If Democrats can learn that lesson, we have a shot at winning in 2018."
Go deeper