"Damned dishonest": Trump calls media un-American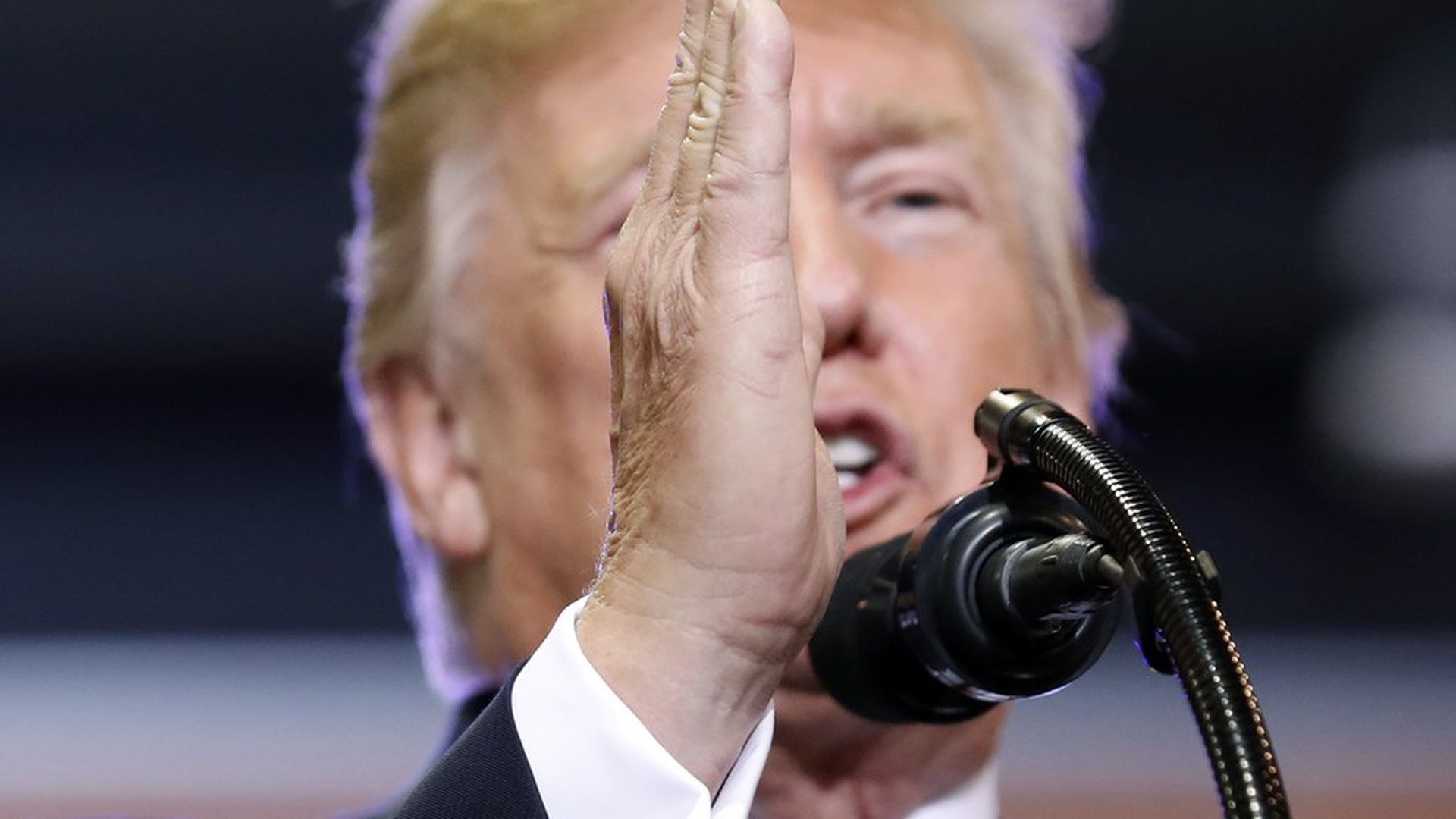 Speaking to the American Legion national convention in Reno today, according to prepared remarks provided to Axios AM, President Trump will declare that it's "time to heal the wounds that have divided us."
But in Phoenix last night, consumed by grievance, he unleashed some of the most divisive and deceptive attacks against the media in presidential history.
He accused the media of fanning the flames of racist protest, being anti-American, trying to erase our heritage, and then turning off cameras during his speech to hide his truth (it was all being carried live).
It was as if Trump, who was introduced by Vice President Pence, was taunting the rowdy crowd to turn on reporters.
Blaming "damned dishonest" reporters for the racial tension in America, he dramatically reread his past statements on Charlottesville — but omitted the "many sides" and "both sides" assertions that drew criticism even from top Republicans.
After the rally, police broke up protest crowds with tear gas, pepper spray, stun grenades and rubber bullets. (Video.)
The raucous crowd interrupted him with chants: "USA! USA! USA! ... CNN sucks! CNN sucks! CNN sucks! ... Build that wall! Build that wall! Build that wall!"
Trump said: "CNN does not want its falling viewership to watch what I'm saying tonight, I can tell you." But his remarks were being carried live on both CNN and CNN International (which we get on Fios here at the Axios AM Executive Residence).
Trump made lots of news:
"Believe me, if we have to close down our government, we're building that wall."
May pardon Sheriff Joe Arpaio: "I'll make a prediction. I think he's going to be just fine, OK (APPLAUSE) ... But I won't do it tonight."
"We will renegotiate NAFTA, or we will terminate NAFTA. I personally don't think you can make a deal without a termination, but we're going to see what happens, OK? ... You're in good hands, I can tell you."
On the CEOs who left his business councils: "When it got a little heat with the lies from the media, they sort of said, 'Oh, we'll take a pass.' ... I remember the ones that did."
"But people are now calling me, people that have been, like, 'we'll take a pass': 'Don, can we get together for lunch? Let's do it privately, instead of through a council.' ... They are calling, and they're saying: 'How about getting together privately?'"
"I don't believe that any president has accomplished as much as this president in the first six or seven months. I really don't believe it."
More from Trump's 77-minute speech at a "Make America Great Again" campaign rally, ending at 11:25 p.m. ET:
"[V]ery dishonest media, those people right up there with all the cameras." (BOOING)
"But they don't report the facts. Just like they don't want to report that I spoke out forcefully against hatred, bigotry and violence and strongly condemned the neo-Nazis, the White Supremacists, and the KKK." (APPLAUSE)
"I hope they're showing how many people are in this room, but they won't. They don't even do that. The only time they show the crowds is when there's a disrupter or an anarchist in the room."
"All the networks — I mean, CNN is really bad, but ABC this morning — I don't watch it much, but I'm watching in the morning, and they have little George Stephanopoulos talking to Nikki Haley, right? Little George."
"[T]hey asked me, ... what about race relations in the United States? Now I have to say they were pretty bad under Barack Obama. That I can tell you."
On historic statues being removed: "They're trying to take away our culture. They are trying to take away our history. And our weak leaders, they do it overnight. These things have been there for 150 years, for 100 years. You go back to a university, and it's gone. Weak, weak people."
This fire will keep burning. Sean Hannity said on Fox News at 11 p.m., as he passed the live coverage over to Bret Baier, that his opening monologue tonight "will be directed at the corrupt media."
Be smart: Trump was on Sen. John McCain's turf, and called him out (without mentioning his name) for voting against the health-care bill — but didn't wish the state's most famous politician a speedy recovery from cancer.
Reporters at the rally say the taunting of the press increased as he ratcheted up his remarks. In this fevered environment, some journalist could get beaten, or worse.
Go deeper