Corporate America vs. Congress over Dreamers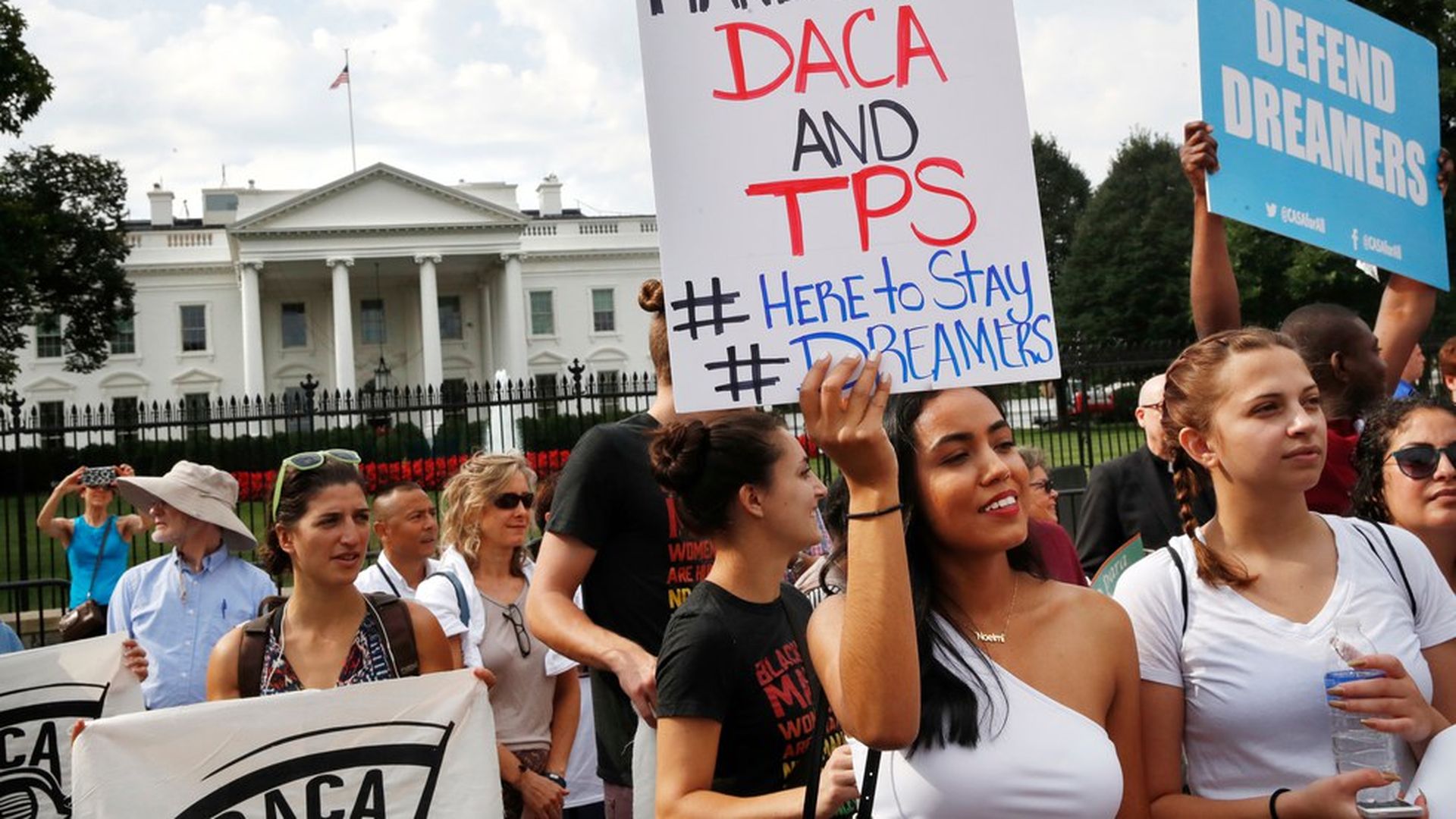 Some of the biggest names in corporate America this week will launch an expensive lobbying campaign for fast action to protect "Dreamers," undocumented immigrants who came here as children.
But I checked around on Capitol Hill and found that both the House and the Senate plan to stick to tax reform for now.
What's new: The Coalition for the American Dream, rolling out midweek with an ad in the Wall Street Journal, includes a much broader swath of corporations than ever came together for comprehensive immigration reform: Microsoft, IBM, Facebook, Google, Apple, Cisco, Intel, Uber, Lyft, Airbnb, Spotify, Under Armour, Chobani, Marriott, Hilton, Ikea, Best Buy and more.
Why it matters: These corporations — along with trade associations and advocacy groups, including FWD.us — plan to focus completely on Republican lawmakers, with this message: "Our mission is to seek the passage of the bipartisan Dream Act or similar legislation that gives Dreamers the permanent solution they deserve in the calendar year 2017."
Although Speaker Paul Ryan has told "Dreamers" they can "rest easy," leadership aides poured cold water on the speedy timeline envisioned by the corporations:
A House aide: "[A]nything that is perceived as complicating tax reform is not going to go over well."
A second House aide: "[T]here is bandwidth but ... the will for an immigration deal hinges — as always — on border security. If Dems can wrap their heads around that sooner than later, the more real it becomes."
A Senate aide: "Would be an enormous lift before the end of the year — unless Dems were to agree to a real border security package."
Be smart: This outlook is fresh evidence that even when a lot of powerful people agree something should be done in Washington, that doesn't mean it will be.
Despite the companies' desire for action this year, the DACA protections don't expire till March 5. And when Congress has time, it generally will take it.
Go deeper