Conservative media coverage gap on Trump, Obama bows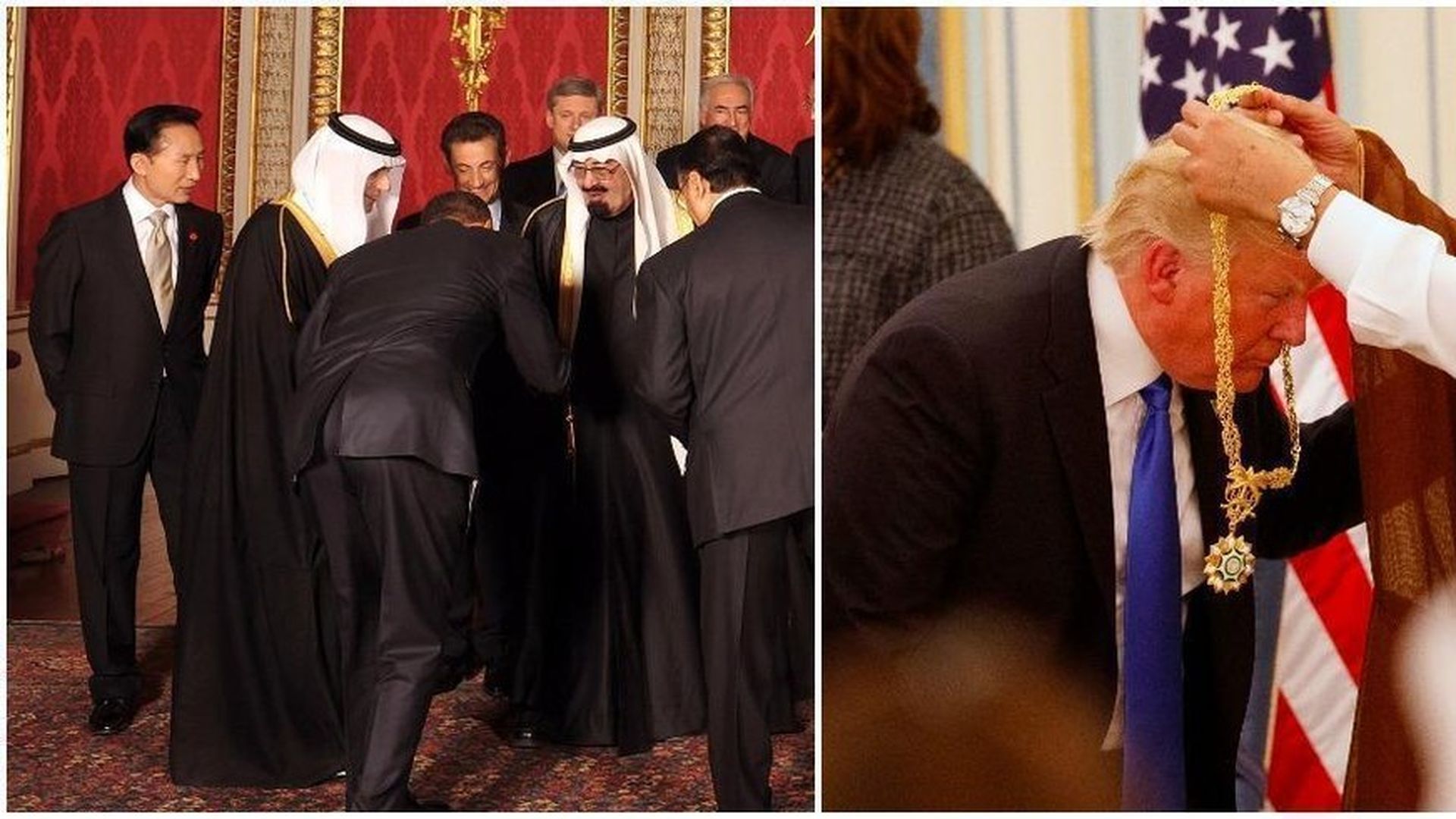 When Trump received The Collar of Abdulaziz Al Saud Medal at the Royal Court Palace in Saudi Arabia, he bowed ever so slightly to the Saudi leader presenting it to him.
In 2009, when Obama greeted the Saudi King with a bow (which the WH later denied), conservatives and GOP members were not happy about it.
Although Trump shook the Saudi King's hand when they first met, he slightly bowed after receiving the medal, as seen in the video above. But the right-leaning press has been relatively quiet on the matter, or if they are addressing it, they're spinning the news to be pro-Trump.
Fox News headline: "Trump shakes hands with Saudi leader, doesn't bow as Obama appeared to do"
2009 conservative coverage:
The NRSC: The campaign arm for Republican senators ran a web ad using an image of Obama and the king to solicit donations. "Should America Bow To A King?" the ad asked, with a "Yes" and "No" option, the latter highlighted in red. The fundraising campaign came with a statement from NRSC Executive Director Rob Jesmer:
"President Obama paid fealty to Saudi King Abdullah by bowing to him at the G-20 Summit in London. ...it's becoming increasingly apparent that our new President would rather be accepted and befriended by his new friends abroad, than preserve America's reputation and leadership as the world's pre-eminent superpower."
Washington Times editorial: "In a shocking display of fealty to a foreign potentate, President Obama bowed to Saudi King Abdullah ...The bow was an extraordinary protocol violation."
Shot: "Press outlets have been conspicuously silent on Mr. Obama's bow."
Chaser: "Mr. Obama is proving that one can be elected president without knowing how to behave presidentially."
American Thinker blog: "I am quite certain this is most unbecoming of the President."
Fox News: "American presidents do not bow to anyone. They do not bow to heads of state, monarchs, potentates, popes or any other mere mortal. When President Obama bowed to the King of Saudi Arabia earlier this year the White House rushed to spin it away. They claimed that it was not a 'bow' at all. The White House stated that the president was 'stooping' to look the feeble king in the eye while shaking hands."
The kicker: "Well, you can fool some of the people some of the time. The pictures and the video said it all. Obama bowed to the Saudi king."
But, Roger Stone, former advisor to Trump's presidential campaign and strategist/lobbyist for Republican candidates, tweeted:
Candidly this makes me want to puke #JaredsIdea pic.twitter.com/tAeEWUXfI1
— Roger Stone (@RogerJStoneJr)
May 20, 2017
Go deeper