Congress races to fix secret hush money system as "a lot more" revelations expected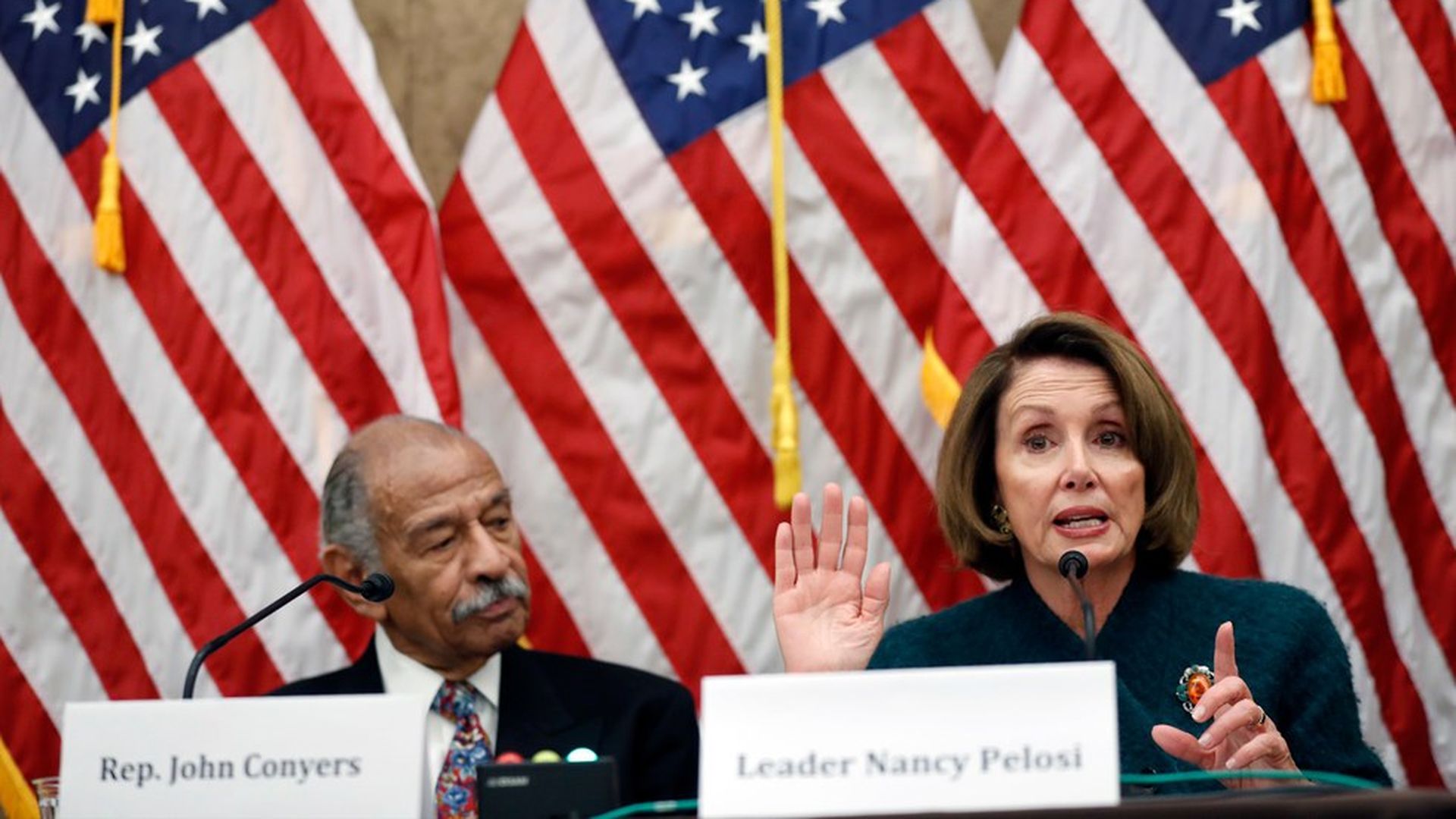 Capitol Hill veterans expect that "a lot more" sexual-harassment settlements by lawmakers will be uncovered. So now there's a race to strengthen workplace rules that are scandalously archaic.
The big picture: The existing system is a racket. Settlements are secret, and the Ethics Committee is notorious for protecting its own. We — as in all of us taxpayers — pay the hush money, because that's who foots the bills for these settlements. Only a few lawmakers have publicly pushed for broad, quick change.
Rep. John Conyers (D-Mich.), the House's longest-serving member, is being allowed to go slowly after accusations became public. Conyers announced that he's stepping aside as top Democrat on the House Judiciary Committee while he's investigated by the Ethics Committee.
Congressional sources say there's no chance he'll return to the post. He may even leave Congress after the Ethics Committee completes its investigation.
This is bicameral: Sen. Al Franken (D-Minn.) is going back to work today.
House Democratic Leader Nancy Pelosi complicated her party's position by making supportive comments about Conyers during a live appearance on "Meet the Press" ("an icon in our country. He has done a great deal to protect women"), and even questioning the accusers: "I don't know who they are. Do you?"
She later added on Twitter: "Zero tolerance means consequences. ... No matter how great an individual's legacy, it is not a license for harassment."
A senior Democratic aide said Pelosi had worked with Conyers for five days to lay a path where he would step aside as ranking member.
Pelosi had the complication of dealing with someone who "has often appeared disoriented," according to the N.Y. Times, and showed up in pajamas on "at least two separate occasions — once at a United Automobile Workers event in Michigan and once at a meeting of top Democrats on Capitol Hill."
Change is coming. The Senate passed a resolution mandating annual anti-harassment training for senators and staff. The House will vote this week on mandatory sexual-harassment training for members and staff, with an Administration Committee hearing Dec. 7 on further protections for staff.
But watch for some lawmakers to resist changes to their secretive processes.
Be smart: Under longtime precedent, House members have been allowed to set the policies for their own workplaces (why John Boehner could smoke in his office after it was banned in the Capitol). This has fostered abuse, and leaders must now make the kind of changes that Congress rarely makes.
Go deeper