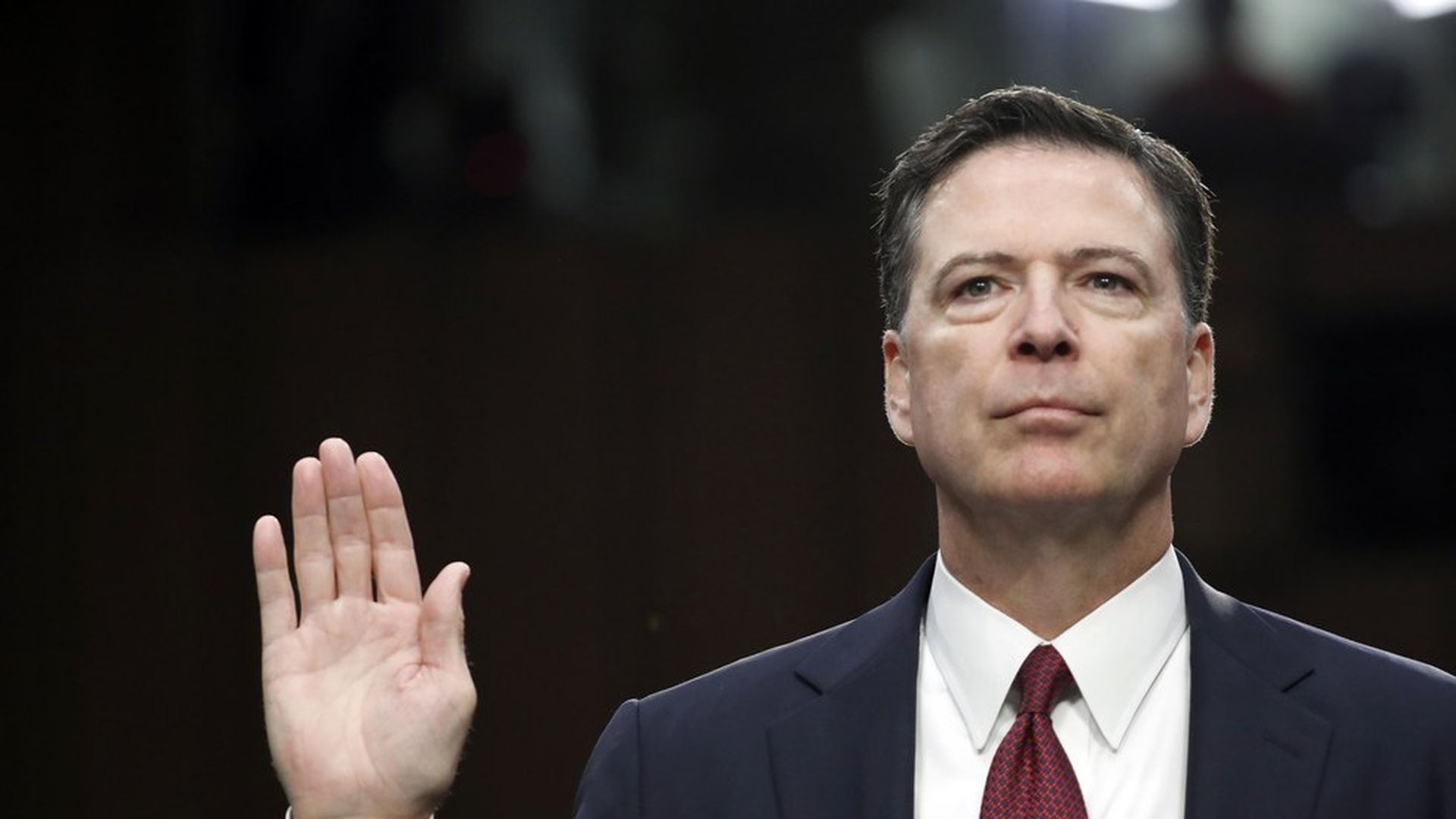 Game on! It's war — with more ammunition for both sides after today's mesmerizing testimony by fired FBI Director Jim Comey.
In a morning-long Capitol Hill appearance marked by a theatrical precision that had workers around the country glued to their screens, Comey was happy to twist the knife: "I take the president at his word, that I was fired because of the Russia investigation."
Unspooling startling detail, Comey bluntly described how he engineered a dramatic leak to The New York Times, and ascribed his damaging in-the-moment memos to his "gut feel" that he needed to "protect" the FBI.
Trump's lawyer, litigator Marc Kasowitz, quickly responded with a combative statement accusing Comey of lying about Trump's demand for loyalty — "never said it in form, and he never said it in substance" — and of disclosing classified information in a way that "appears to be entirely retaliatory."
What's next: The back-to-back appearances set in motion months — perhaps years — of partisan back-and-forth that threatens to swamp Trump's legislative agenda.
To their corners: White House officials and top Hill Republicans say that based on the expectations that Comey was going to accuse the president of a felony, today's events left Trump in roughly the same place he was, with no one's minds changed. Democrats called the visual devastating, and claimed that Comey had made an under-oath case that Trump was trying to interfere with the investigation.
West Wing fears Mueller way more than Comey: They were fairly relaxed after this morning. This is a team that's acclimatized over many months to a highly abnormal working environment. Some staff have become so numb to negative news stories that they've taken to asking reporters how bad new stories are "on a scale of one to ten."
Be smart: The down side of today is more fog — and the fog spawns the ugliness that freezes Washington and infects the national debate.
Get up to speed: Highlights and quotes.
Go deeper: What we learned ... The questions Comey didn't answer
Go deeper