Columbus shows glimpse of a diverse tech scene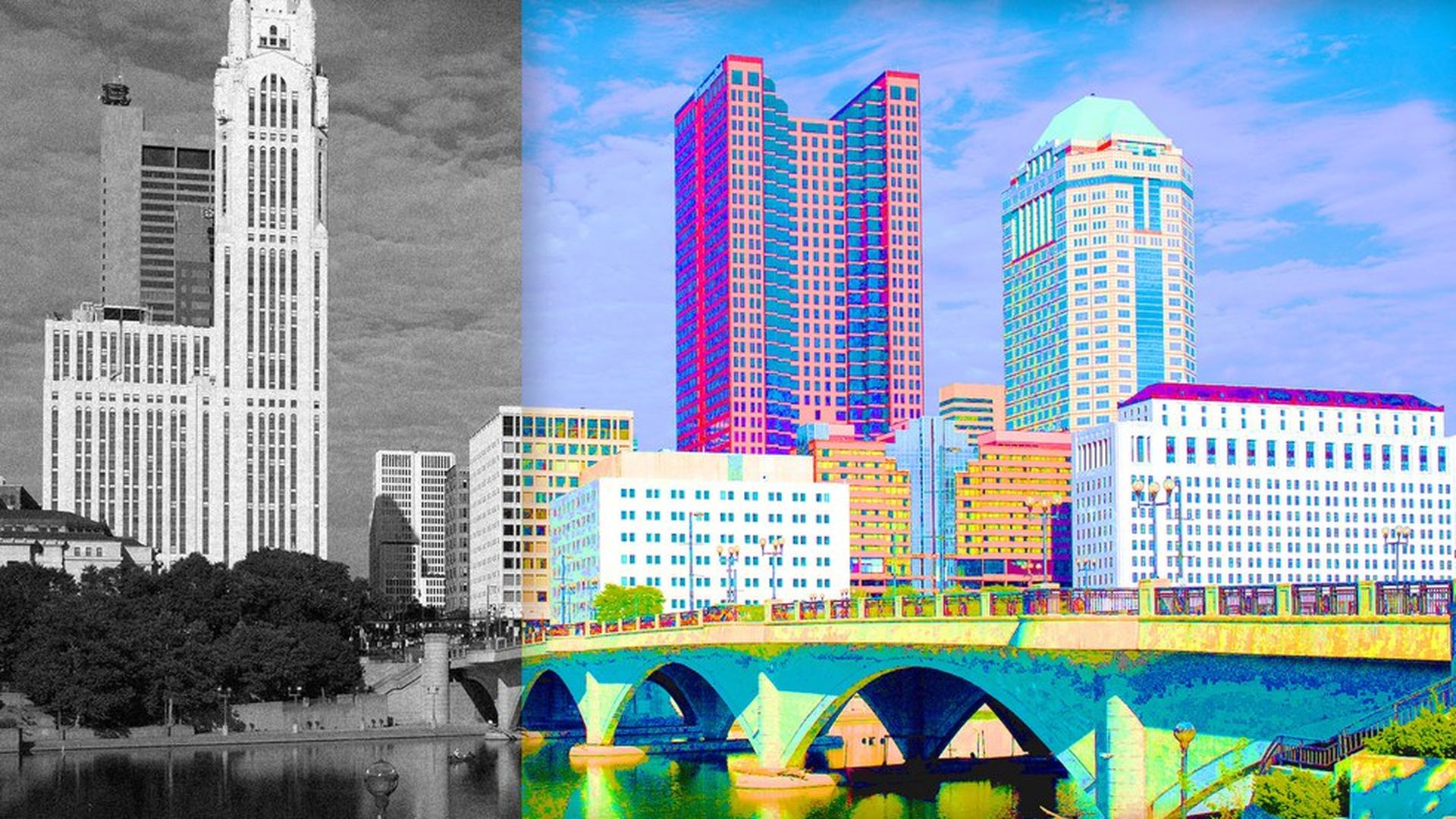 COLUMBUS — Ohio's largest city has the makings of what should be a great town for investors and entrepreneurs: It's the state capital and also home to a top research university with 67,000 students. It's a day's drive from 41% of the U.S. population. Still, the city isn't typically seen as a hub of innovation.
Why it matters: Columbus is the 14th largest U.S. city, but it wasn't immune to the recession and is still figuring out how to position itself for the digital economy. Areas around Columbus have also been hit hard by the opioid epidemic. But its biggest asset may be something that many tech scenes, particularly in the Midwest, lack: diversity.
Columbus was a stop on the tail end of AOL co-founder and Revolution CEO Steve Case's "Rise of the Rest" tour of Midwestern cities, which focused on the successful ecosystems in areas that are largely overlooked by venture capitalists — and tech companies in general. The tour ends with a swing through Green Bay, Wis., tomorrow.
What it has going for it: Columbus was highlighted as a rising star among cities best positioned to take advantage of the digital economy, according to a report released this week by the U.S. Chamber of Commerce and the startup incubator 1776. It has:
A lower cost of living than other major tech-hub cities like San Francisco or New York.
High density of a younger-than-average workforce, thanks to The Ohio State University and other local colleges.
An engaged corporate community and supportive local government.
Diverse corporate landscape: Unlike other Rustbelt cities that have typically relied on a manufacturing, Columbus has a more diversified set of industries.
It's home to retail giants like Big Lots, Express and DSW.
Nationwide Insurance is one of several insurance and financial heavyweights headquartered here.
It's home to Cardinal Health and the country's largest children's hospital.
Columbus is also making a serious play to be one of the U.S's first smart cities, receiving $500 million in grants to build and scale projects like modernizing the electric grid and truck platooning.
New companies have spun out of the more established brands.
The business community fought to make it legal to commercialize technologies developed in OSU labs.
Diverse workers: The variety of industries has helped draw talent from many walks of life. That, in turn, led to efforts to integrate minority and disadvantaged citizens in the business community. Some examples:
Joe DeLoss started a restaurant called Hot Chicken Takeout that employs people with a history of incarceration as part of its "fair chance" hiring policy.
In a long-neglected area of town, Alex Bandar started the Idea Foundry, a co-working space for a mix of metal- and wood-working projects and other small law and real estate firms, and Smart City Accelerator.
The Reeb Avenue Community Center turned an old school in a rough neighborhood into a job-skill center. It also has a café for kids and adults with low access to food.
Rev1, an accelerator and venture fund, says more than 30% of its founders and startup executives are led by women and minorities.
Around a third of the companies that Ohio non-profit group JumpStart advises and invests in have been led by women or minorities.
Capital challenge: While there's been a 46% increase of capital coming into the region over the last two years, California still gets more venture capital money in a week than Ohio gets in a year. Last year, nationwide, around 10% of venture capital went to women founders, and only 1% went to African Americans.
That investment is crucial to fund new startups that can create more jobs for people across the socio-economic spectrum. "Unfortunately, it does matter where you live, what you look like, and who you know" when it comes to getting backing for business ideas, said Case.
Cities like Columbus with diverse areas of expertise like health care and financial services may draw renewed interest from investors looking beyond the consumer tech that Silicon Valley is known for. "I'm not sure the world needs another photo-sharing app or restaurant app," Case said. "We need to fix health care, re-imagine education and rethink energy."
Left out: That's exactly why Columbus native J.D. Vance, venture capitalist and author of "Hillbilly Elegy," joined Case to highlight areas that have so far been left behind by the modern economy.
"The more people that can claim their fair share of the American dream without having to sever ties to their community, the better off the country will be," Vance said.
Correction: The second sentence has been corrected to say Columbus is a day's drive from 41% of the population.
Go deeper