Coffman town hall shows how hard it is to be a moderate Republican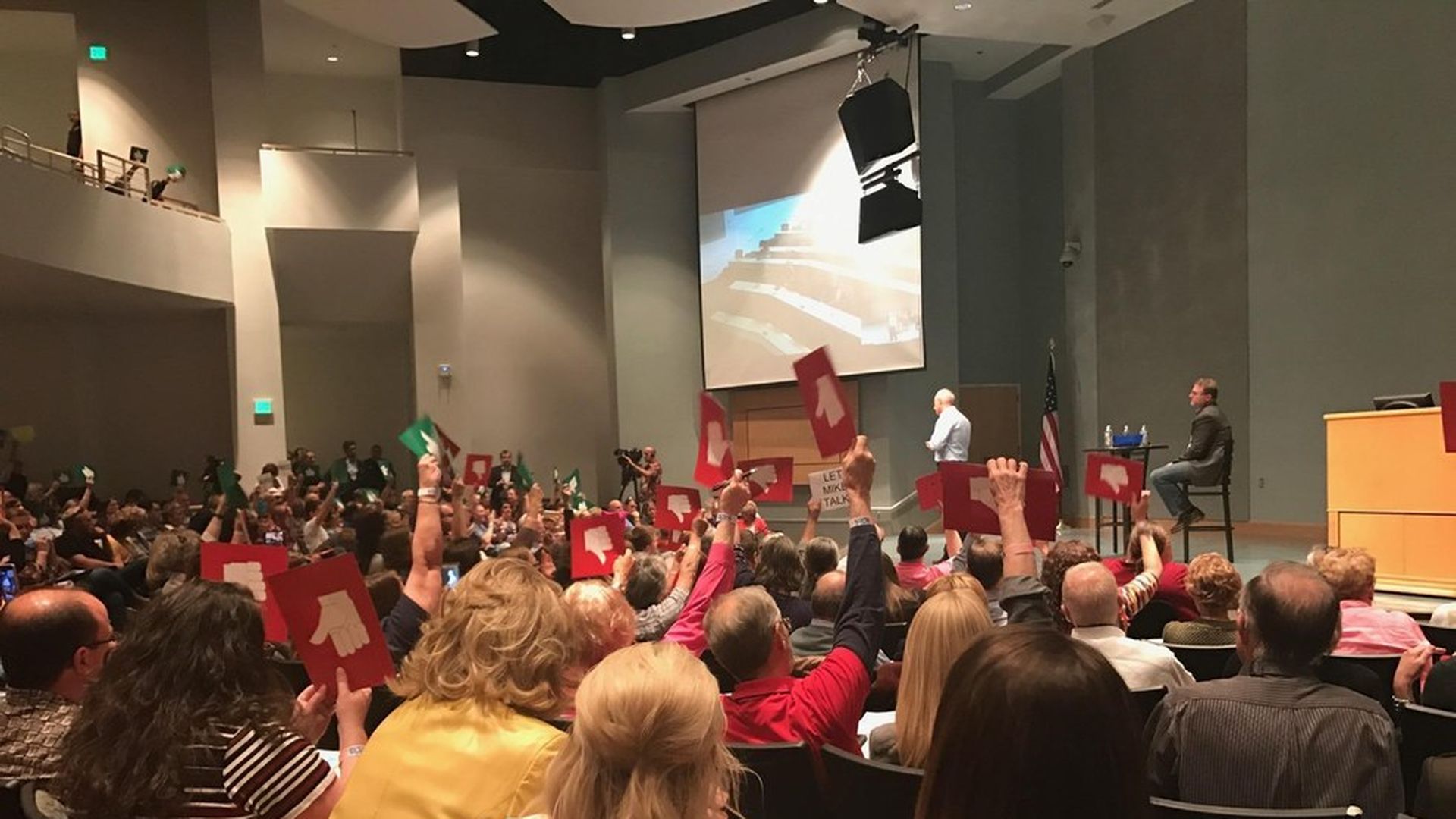 AURORA, Colo. — Rep. Mike Coffman faced angry liberals from his suburban district right outside of Denver on Wednesday night, asking about everything from climate change to single-payer health care. But Coffman was also answering to dozens of his supporters in the room, who reacted to his answers with hand-held signs, boos and applause.
His experience shows why it's really not fun to be Coffman right now — or any of the other Republican House members from purple districts. (Coffman's went for Clinton in November, and he was sent to Washington after campaigning to stand up to Trump.)
Here's why he's in such a tough spot:
A Democrat has already announced a 2018 challenge to Coffman and is regarded as a strong opponent by the party.
Obamacare supporters are running TV ads against him for supporting Trumpcare.
Coffman is the only member of the Colorado delegation that supported the failed House Obamacare replacement bill, which polled extremely unfavorably across the country. Several constituents grilled him on his commitment to protecting pre-existing conditions (he does).
While he dodged several questions about Trump's tax returns and where he stands on the White House's proposed drastic budget cuts, Coffman did publicly disagree with the Trump on what to do about Obamacare exchanges: "I disagree with the president when he says lets let these things implode…well, here's the problem. That's not fair to the people who are on them."
It's not just Democrats that aren't happy with him. One registered Republican stood up and told Coffman he was "shocked you declared your intention to vote for the American Health Care Act ... The Affordable Care Act is the law of the land here."
Bottom line: Moderates like Coffman now are faced with what will be likely serious challenges from Democrats next year, but they're also being forced to either side with or against Trump and explain the failed health care bill — dangerous topics when it comes to Republican voters.
Go deeper