China, VW power electric vehicle surge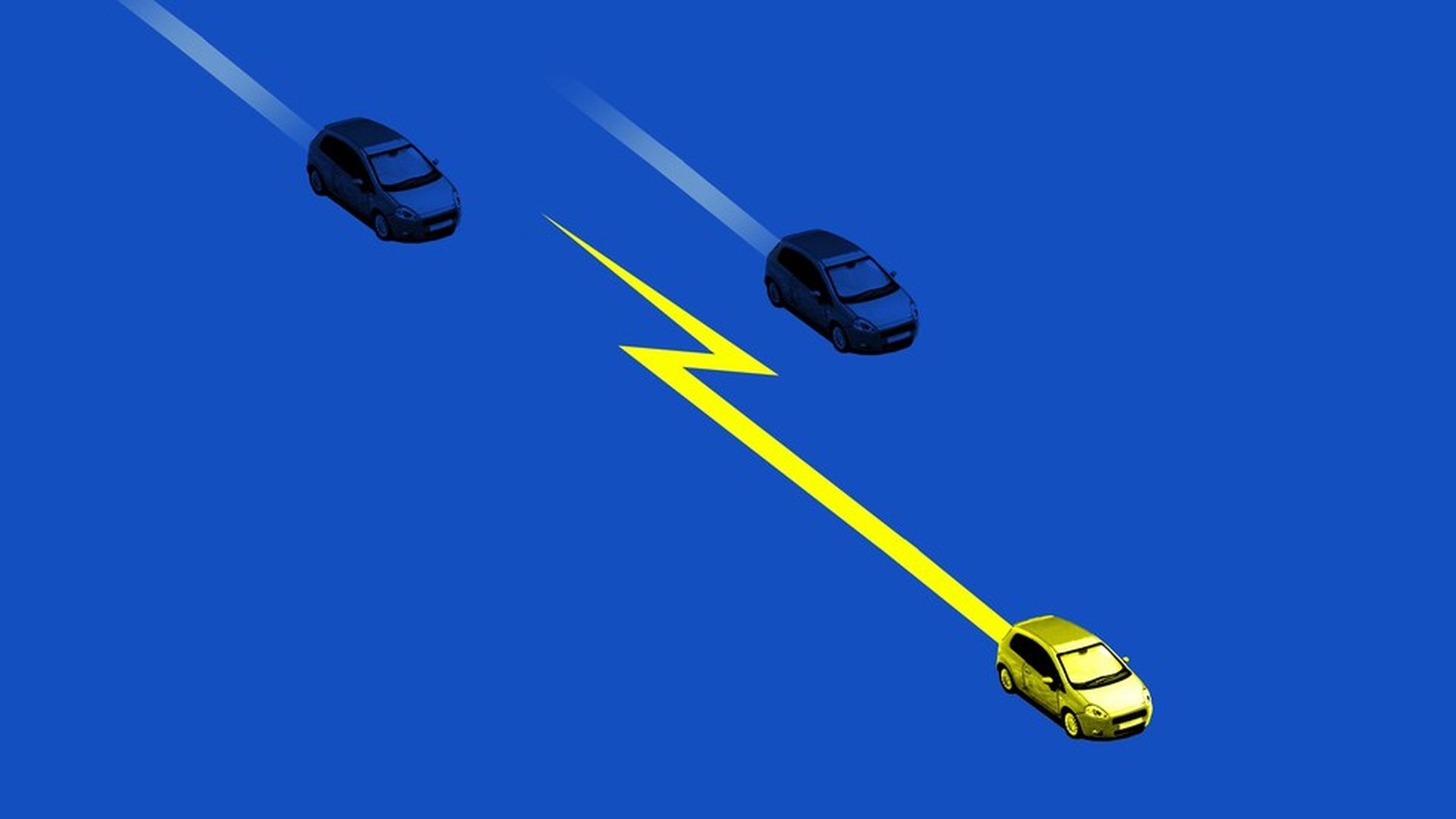 A startling convergence of auto industry and government policies suggest that electric cars could begin seriously challenging petroleum-powered vehicles far sooner than experts believed only recently.
Volkswagen said yesterday that it will market 300 electric cars by 2030.
China said over the weekend that it is getting ready to outright ban the old gas vehicles, although it has not set a date.
And we now have three new longer-range, mainstream-priced electric vehicles on the market: the 150-mile Nissan Leaf, and the GM Bolt and Tesla Model 3, both exceeding 200 miles of range.
Why it matters: These developments help provide much more of the critical mass that's been missing in the EV equation. If consumers begin to buy these electrics in large numbers, they will hasten the global peak in oil demand, shaking up oil companies and petro-states alike. And EVs can help cut carbon emissions, acting as one part of the complex puzzle to prevent runaway global warming.
Driving the news: On Monday, Volkswagen announced plans to invest $24 billion to significantly expand its fleet of electric and hybrid vehicles.
Ahead of the Frankfurt auto show, chief executive Matthias Mueller laid out plans to offer electric versions of 300 vehicles across VW's brands by 2030, and 80 by 2025—50 pure electric and 30 hybrids, per Bloomberg and other outlets. Monday also brought new EV pledges from German rival Mercedes.
Eyes on China: Over the weekend, a top official with China's Ministry of Industry and Information Technology said Beijing plans to eventually ban the sale of petroleum-powered cars.
China is by far the world's biggest auto market, with sales of roughly 28 million vehicles last year. When the world adds 1 billion cars to the global fleet over the next two decades, most of them are expected to be bought in China. That means Chinese policy affects the industry worldwide.
"It is increasingly more important for each individual automaker's sales and profits," Michelle Krebs, a senior analyst at Autotrader, tells Axios.
China's pledge follows announcements in recent months by France and the United Kingdom that they, too, will phase out sales of gasoline and diesel cars by 2040. And India has set an "aspirational" target for having all car sales be electric by 2030.
Yes, but: For now, EVs represent just a tiny portion of the global light duty vehicle fleet — less than 1%. And it would take a massive increase in deployment to make a big dent in oil use. Consider these forecasts from Shell, via The Financial Times:
"A rise in electric car sales from less than 1% of the world market next year to 10% by 2025 would displace less than 800,000 barrels per day of world oil demand, or about 0.8% of total consumption."
The back story: VW's electric push is an attempt to recover from a two-year-old scandal over a defeat system that it installed in its diesel-powered cars to confound emissions tests. VW has incurred $25 billion in costs over the scandal.
What to watch: One question is when China will release a timeline and policy specifics for how it will implement its phase-out. BNEF analyst Colin McKerracher tells Axios that he does not expect those details until next year at the earliest, but that even the vague announcement provides a clear signal for automakers looking to the massive Chinese market.
In the near term, he's expecting Chinese officials to announce within days how they will structure an escalating quota system for so-called new energy vehicle sales in the coming years. China hopes to have electric and plug-in vehicles represent a fifth of its vehicle sales by 2025, according to Reuters.
U.S. headwinds: Analysts say that the Trump administration plans to review—with an eye toward relaxing—Obama-era fuel efficiency and vehicle greenhouse gas mandates for model years 2022-2025, and that that could act as a drag on U.S. EV expansion.
"The U.S. does look quite uncertain right now, and CAFE is still a really big driver of automakers' plans around electrification in the U.S.," McKerracher said, referring to Corporate Average Fuel Efficiency, or CAFE, standards.
Go deeper