China hawk Lighthizer increasingly influential in White House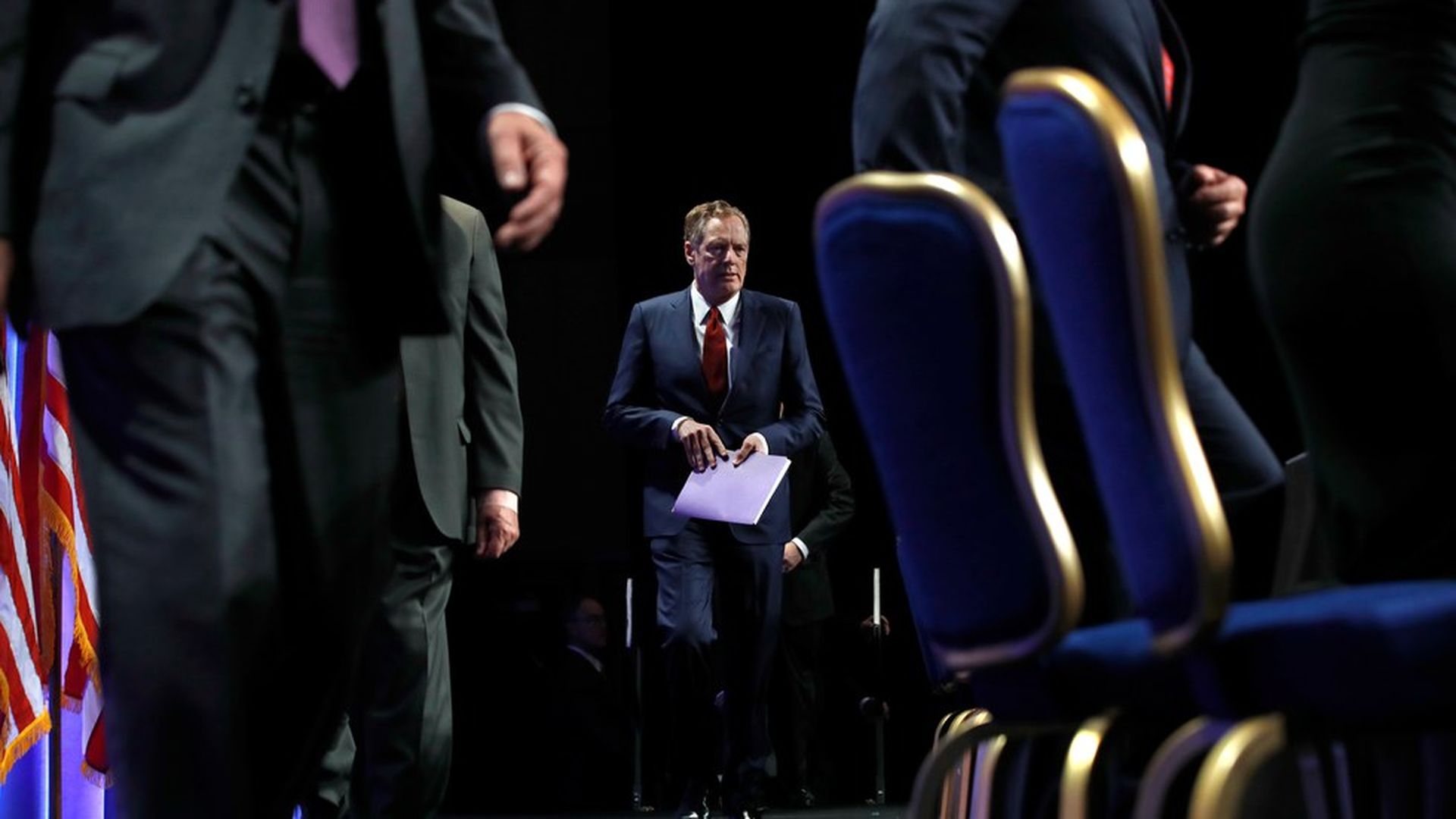 You won't see him on cable news, but President Trump's hardline trade negotiator Robert Lighthizer is wielding extraordinary — and growing — influence inside the White House.
Lighthizer was the lead economic adviser for Trump's Asia trip, with Gary Cohn and Steven Mnuchin staying home to handle tax reform. He briefed the president constantly on Air Force One and was by his side at just about every meeting.
Trump has huge respect for Lighthizer. He likes that he will take on his colleagues and doesn't back down, even in front of Trump. He's increasingly winning internal arguments over the administration's inevitable economic confrontation with China.
Why this matters: Lighthizer makes the pro-trade community nervous. He agrees with Trump that the mounting trade deficits with China are unacceptable. And he's staking out such hardline negotiating positions with South Korea (on the KORUS trade deal) and Canada and Mexico (on NAFTA) that top Republicans on the Hill and in Washington's business community fear he will torpedo both deals.
Behind-the-scenes: Shortly before Trump left for Asia, Lighthizer met with the entire economic team in the White House to discuss the U.S.-China relationship. If the Trump administration takes the hardline actions we expect them to eventually take on China, historians will look back on this meeting as a seminal moment.
The scene — these details were described to people outside of the White House and Lighthizer's spokeswoman declined to comment:
Lighthizer — in front of the whole economic team including Cohn, Mnuchin, Commerce Secretary Wilbur Ross, and Agriculture Secretary Sonny Perdue — described the U.S.-China economic relationship as "bullshit." Lighthizer laid out the history of the last 25 years of U.S.-China relations. He went through what each "dialogue" was called under presidents Clinton, Bush, and Obama. His point: every administration comes up with a new catchword and strategic framework to describe the U.S.-China relationship, but the trade deficit with China just keeps ballooning by the billions.
I'm told many in the group — which includes officials like Cohn who often disagree with Lighthizer philosophically — found Lighthizer's presentation compelling.
Why he's gaining influence: There aren't many senior officials in this administration who share Trump's hardline / protectionist views on trade. Steve Bannon did — but he's gone and not missed by his colleagues. Then there's Peter Navarro — but his colleagues have little respect for him, frequently marginalize him and accuse him of leaking stories to the press. That leaves Lighthizer, whose views cannot be dismissed because he's been a major figure in U.S. trade policy since the Reagan administration. He wins internal arguments with his colleagues by swamping them with his historical knowledge.
Worth noting: Avowed free-traders in the administration didn't even push back against this narrative when I reached out to them.
What's next: The Trump administration has been very secretive about its next moves on trade policy. You won't see anything aggressive before tax reform is done. But people on the Hill and in the business community — who worry about this administration taking harsh economic actions against China — shouldn't be lulled by Trump's public praise of President Xi. Behind the scenes, Lighthizer's arguments are winning the day.
Go deeper