Catalan government says 90% voted for independence from Spain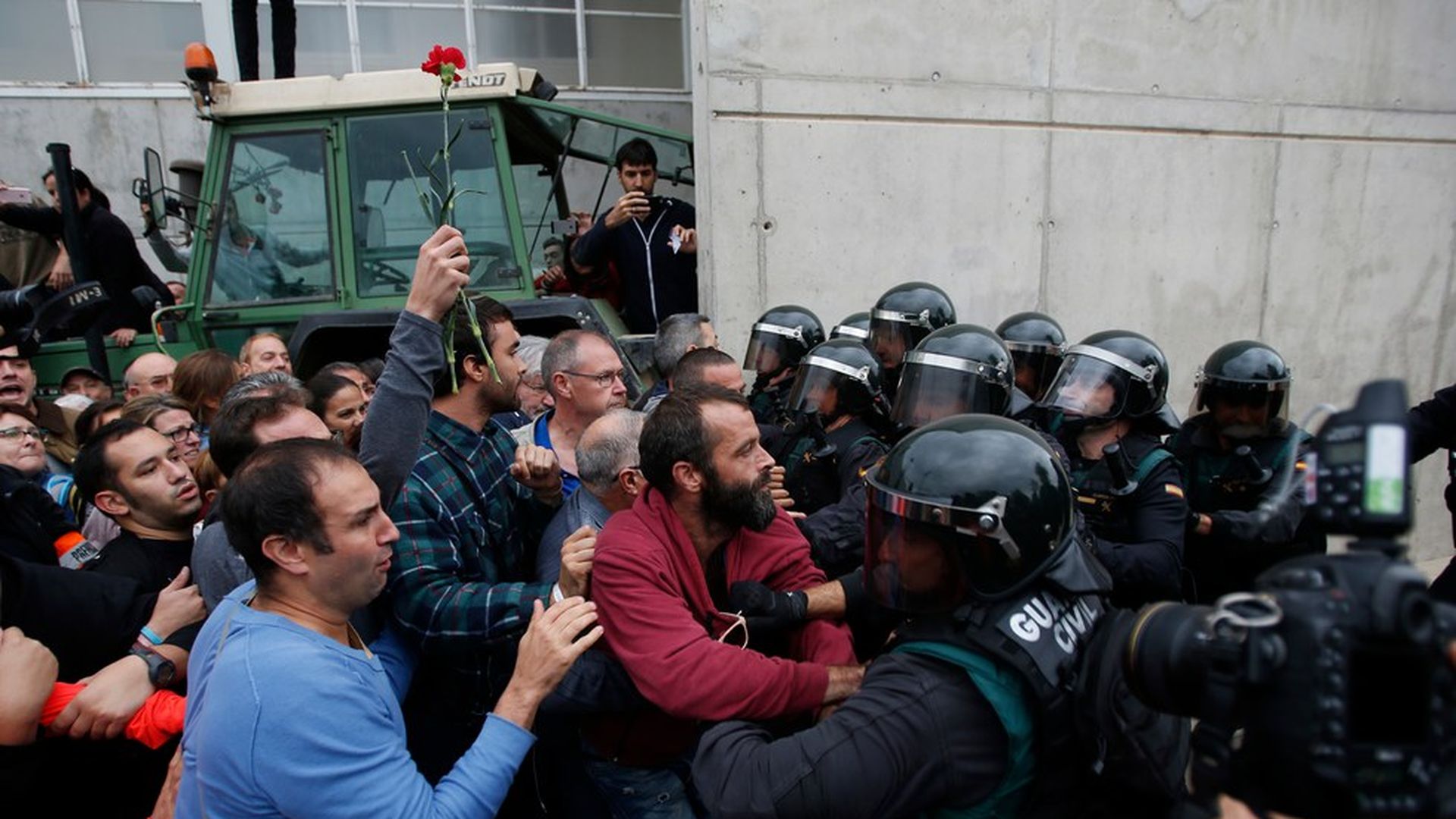 Officials in Catalonia say 90% of those who turned out to vote in a referendum declared illegal by the central Spanish government backed independence. Turnout was estimated at 42%, per the Telegraph. Clashes between voters and police officers turned violent and 761 people sustained injuries, according to the local health service.
Catalan leader Carles Puigdemont, per the FT: "My government, in the next few days will send the results of today's vote to the Catalan Parliament, where the sovereignty of our people lies."
Go Deeper: The clashes, in photos.
From the scene:
"At one voting station in Barcelona, in the Joan Miro school, applause broke out Sunday night after 8 p.m. as it was announced that voting had ended ...The 'yes' pile was many times bigger than the 'no' pile." — AP
"'Police brutality will shame forever the Spanish state,' independence-minded Puigdemont said as crowds cheered." — TIME
"The people seen in videos being hit, kicked and thrown around by police included elderly people with their dogs, young girls and regular citizens of all stripes." — TIME
"Electoral volunteers at polling centers... are unable to access census data because the website that hosted it is down, while internet service has been cut in some of the stations." — AP
"Technicians are working to set up new domains for the website where electoral managers need to register polling data." — AP
"They are relying on privately printed ballots, after millions of them were seized earlier this month by the police. To prevent a shutdown, the Catalan government changed the voting rules an hour before poll stations were due to open on Sunday, allowing Catalans to cast a ballot in any poll station, whether registered there or not."
"Overnight, Catalans had used tractors to block police access to some rural municipalities so that the vote could go on..." — NYT
"In other places, residents simply removed the doors of polling stations to ensure the police couldn't bolt them on Sunday." — NYT
The big picture from the NYT: "Catalans are voting not only without backing from Madrid, but also without any sign of support from the European Union or other important players in the international community, and in makeshift conditions, using a disputed census as the voting list."
Be smart: The aggressive tacts being used by police are unlikely to make people less inclined to support independence.
Go deeper