Buzzfeed takes on fake news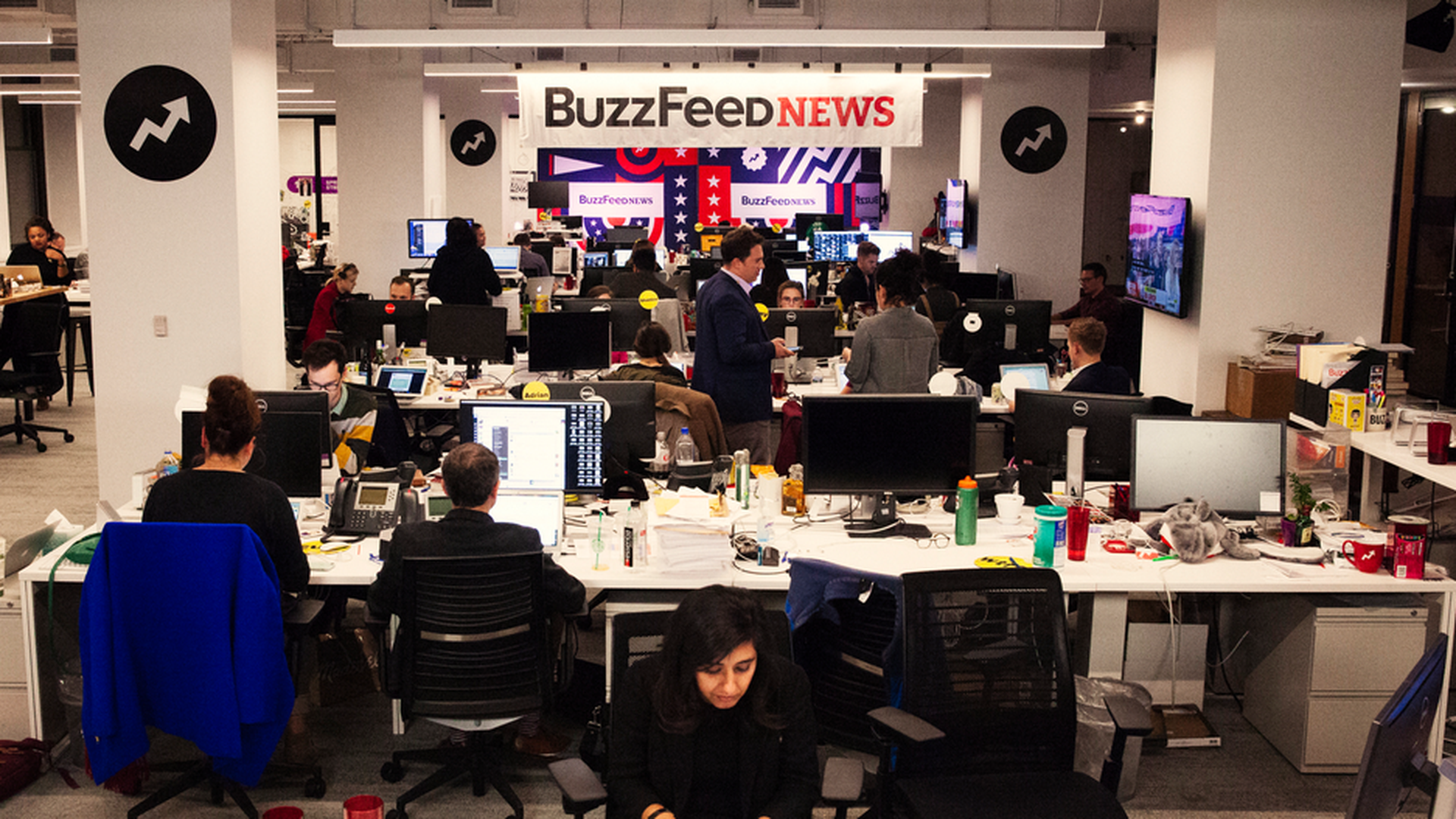 Over the past year, Buzzfeed has positioned itself at the forefront of covering fake news and disinformation online, and has become the go-to source for tracking right-wing media and propaganda machines. On Thursday, the viral publisher broke a story about how under former White House advisor Steve Bannon's leadership, Breitbart smuggled Nazi and White Nationalist ideas into the mainstream.
Why it matters: Buzzfeed has turned itself into a formidable source of hard news on digital media trends and viral news — topics the company understands better than anyone.
"BuzzFeed News has a mission to cover all aspects of the internet, and the reality is that rumors, hoaxes, propaganda, and all manner of digital deception are a part of the internet," Craig Silverman, BuzzFeed News Media Editor tells Axios. "So we've taken on a global effort to investigate and debunk the false stuff, as well as to try and reveal who's behind it, and what role platforms and other players have in this whole ecosystem."
InfoWarzel: The company has invested heavily in covering the right-wing media ecosystem. Buzzfeed Reporter Charlie Warzel authors an entire newsletter dedicated to the topic called InfoWarzel.
Fake News scoops: Buzzfeed now employs a half-dozen full-time media reporters and editors, focusing on everything from fake news to news economics to the right-wing media landscape. A few of the highlights:
A report on how Macedonia became a global hub for pro-Trump news was one of Barack Obama's favorite pieces last year.
A piece on how viral junk election news stories outperformed real news on Facebook shed light on how much Facebook Pages were being used to misinform biased audiences.
A report on how hyper-partisan news sites and Facebook pages are created by the same company in Florida provided an example of the economic incentives for fake news perpetrators.
Media and big tech: Buzzfeed has also invested in coverage of today's hottest topic: the growing rift between publishers and big tech companies.
Last week's deep-dive on how the rise of platforms has created a demand for cheap information to be created for Americans overseas was one of the first stories to explore fake news machines fueling micro-economies globally.
This week, Buzzfeed broke a big story about the Murdoch's charge against Google and Facebook's control of the media.
Earlier this month, editor-in-chief Ben Smith's piece on the growing frustration with Silicon Valley became an instant viral hit, shedding light on an ongoing backlash against big tech.
Go deeper