Britain's Conservative Party had a bad few days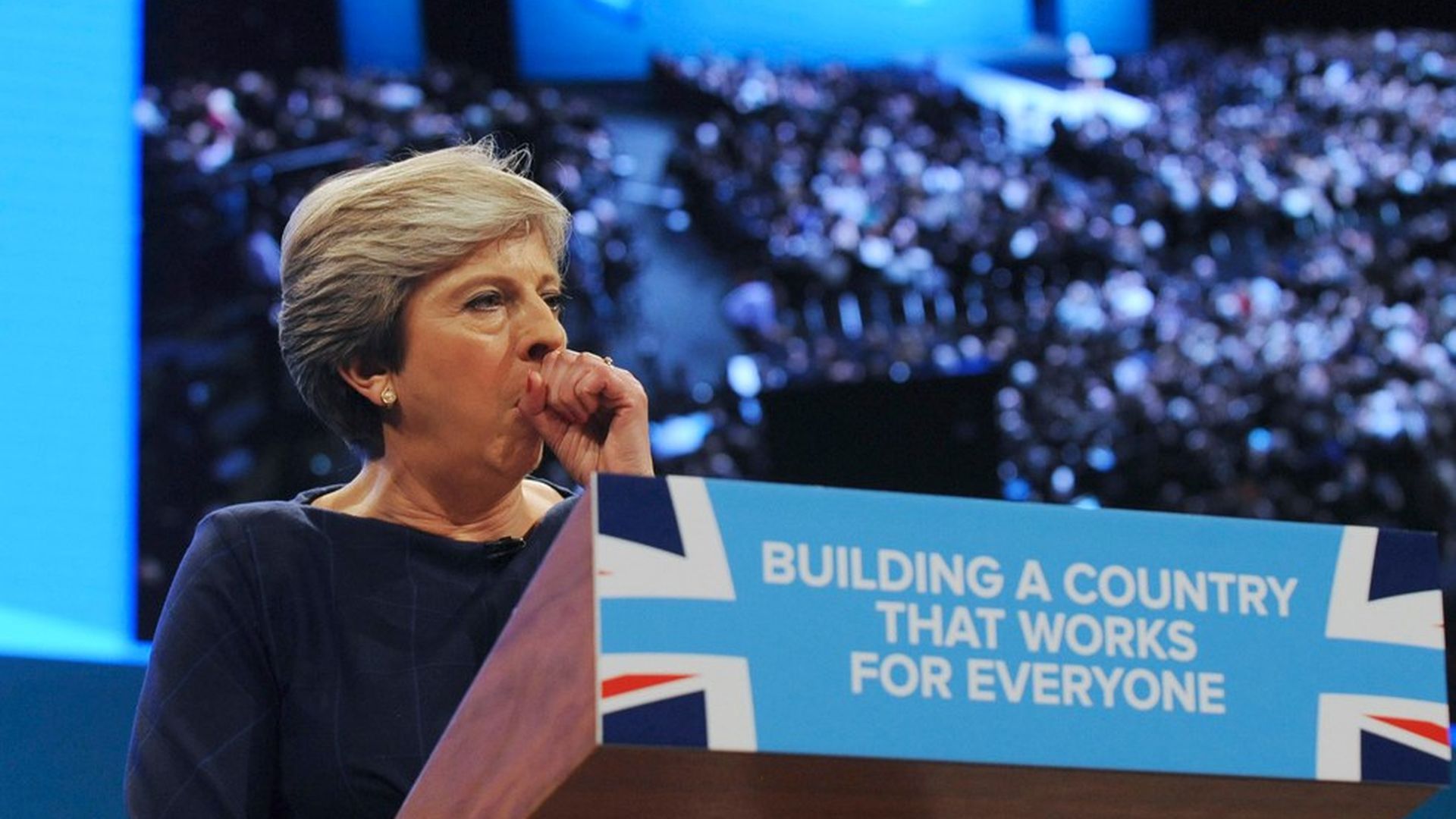 U.K. Prime Minister Theresa May endured what multiple international outlets branded a "nightmare" during her keynote speech at the Conservative Party's annual conference — as she talked through a prankster, a crumbling background set, and a persistent cough.
Why it matters: May's "British dream" speech was a huge moment for her to project strength and control to her party after her Tories disastrously lost their majority in June's snap general election. But the distractions stole the headlines, putting her already tenuous position as prime minister in further jeopardy and capping off a few days of terrible press for her party.
May's disastrous speech
May was handed a P45 form, the British equivalent of a pink slip, by a comedian in the audience, who managed to get just feet away from her before being detained by security. The comedian said, "Boris asked me to give you this," referencing Foreign Secretary Boris Johnson's oft-rumored desire to become prime minister.
The prime minister lost her voice and began coughing during her speech, prompting Chancellor Philip Hammond to run on stage and hand her a cough drop. She later joked about the moment on Twitter.
And there was an embarrassing background malfunction as the slogan "Building a Country That Works for Everyone" behind May started losing letters.
Boris Johnson's Libya comment
The conference was Boris Johnson's moment to shine and cement himself as a formidable challenger to May for the party's leadership.
Instead, it ended with calls for May to fire him as foreign secretary after he said that a Libyan city only needs to "clear the dead bodies away" before it can become a resort destination, per The Guardian:
"There's a group of UK business people, wonderful guys who want to invest in Sirte, on the coast, near where Gaddafi was actually captured and executed as some of you may have seen. And they literally have a brilliant vision to turn Sirte, with the help of the municipality of Sirte, to turn it into the next Dubai. The only thing they've got to do is clear the dead bodies away and then they'll be there."
Jacob Rees-Mogg takes aim
Jacob Rees-Mogg, a backbencher from the right wing of the Tories, is also seen as a potential challenger to May's position.
He took aim at her leadership and the Conservative Party as a whole by delivering a scathing rebuke of the conference, per The Express:
"It's now become like an American presidential convention where you're expected to just turn up and cheer the great and the good. It isn't even American but Kim Jong-un style – if you don't clap for long enough you'll get in real trouble."
Rees-Mogg under fire of his own
Rees-Mogg's arch-conservative views, especially on abortion, have garnered extreme controversy in the U.K., leading to his speech at a pro-Brexit event being disrupted by protestors who labeled him "disgusting" and "despicable."
He called the disruption a "glorious thing" and was later described by The Telegraph as "chatting to [the protestor] as calmly as if they were standing in a queue at the Post Office."
Go deeper