Brandless aims to lure millennials with flat $3 pricing on household goods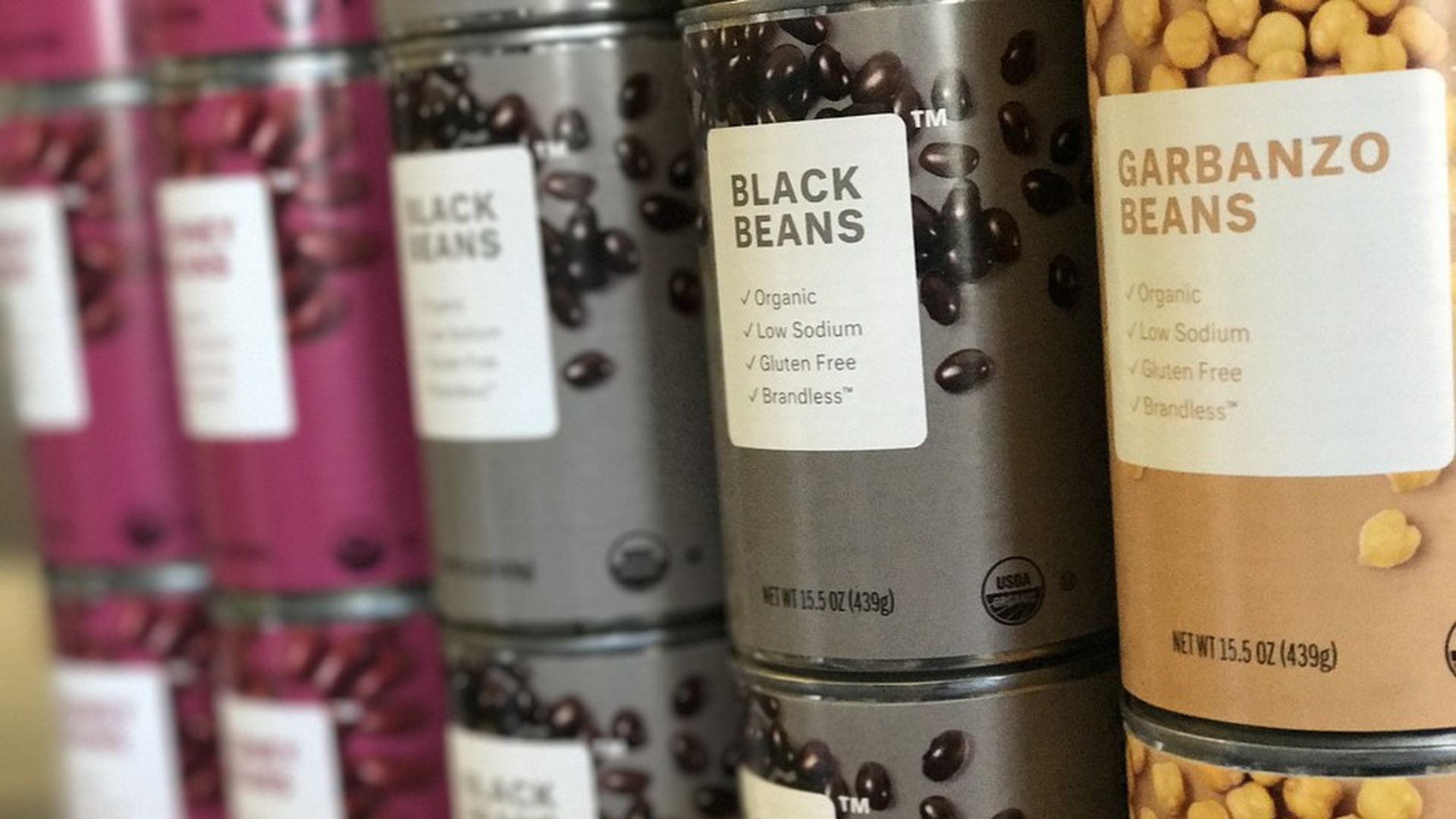 Tina Sharkey has been reinventing media for some time, having run both BabyCenter.com and NBC's iVillage before trying her hand at VC work at Sherpa Capital.
For the last couple of years, though, she's been working to upend the consumer goods space with Brandless, which launches today, charging $3 apiece for all manner of packaged food and household staples.
Think of it as an online Trader Joe's for the millennial set, with a little bit of Ikea's kitchen section thrown in. Rather than feature product brands, the front of each package lists the product's attributes, including details on whether it is organic, kosher, non-GMO, etc.
But make no mistake, Brandless is aiming to be a new kind of brand.
"We're a different kind of brand but we are unapologetically a brand," Sharkey told me last week as we toured the company's offices in San Francisco's Presidio.
Why it matters: Sharkey says that consumers buying goods on store shelves are paying a 40 percent "brand tax" and that going it their way can save money. Plus at $3 per item customers don't have to buy large quantities. But not all the products are an equally good deal as profit margins vary by product and flat $9 shipping fee can add up on small orders. (Orders over $72 ship free.)
What they offer: On the food side, it's everything from quinoa puffs to pasta sauce, peanut butter and crackers. Household goods include toothpaste, tampons and dish soap, but also things like colanders and can openers.
What's missing: There are no perishables. In addition, it's been tough to find away to sell some pricier items, like Almond butter. But Sharkey is still hopeful on that one, seeing single-serving packs as a possible solution.
Meanwhile: Brandless is using the launch to announce a $35 million Series B round led by New Enterprise Associates, with GV, Redpoint Ventures, Cowboy Ventures and Slow Ventures also investing.
Go deeper