Boehner on texts with Bush, drinks with Obama and leaving before Trump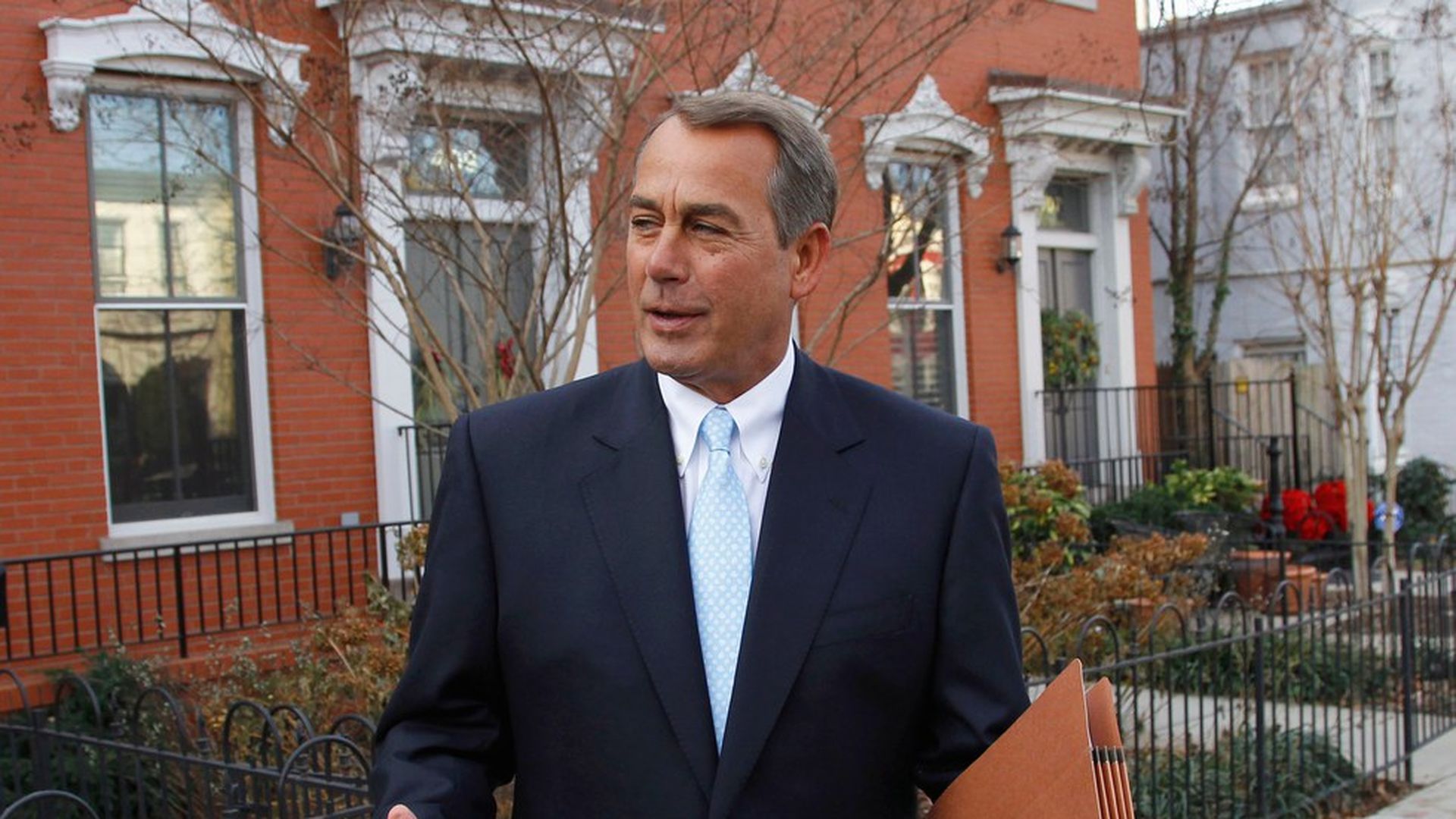 Politico's Tim Alberta is out with a lengthy profile of John Boehner that includes quotes from not only Boehner but Joe Biden, Nancy Pelosi and others. The whole thing is well worth a read.
Boehner says that ever since leaving politics he's been struggling to find a purpose, but while the future is uncertain, he was more candid than ever about the past.
Highlights
Boehner compares the ultraconservative House Freedom Caucus to "anarchists," calls co-founder Jim Jordan a "legislative terrorist" and chairman Mark Meadows an "idiot."
Boehner says he's never seen Barack Obama smoke because the former president is "terrified of his wife." More on Obama: "I'm smoking a cigarette, and they bring me a glass of merlot. And we're sitting there a little while, and here's the president drinking iced tea and chomping on Nicorette. What else do you need to know about the two of us?"
Boehner says Biden would have won in 2016. Biden says U.S. politics needs "some more John Boehners."
Pelosi was prepared to have the Democrats vote "present" to help Boehner survive a GOP challenge to the speaker's job.
Pelosi says Boehner could "practically never deliver his votes." Boehner says, "It's hard to negotiate when you're standing there naked."
Boehner on the failure to repeal and replace Obamacare: "Their gonads shriveled up when they learned this vote was for real."
Boehner on Trump's deal with Chuck and Nancy: "My guess is that he thought he was doing everybody a favor. He had no idea he was cutting off McConnell and Ryan's legs."
Boehner says many on the right argue Obama divided U.S. politics, but it was really partisan media. He singles out conservative talk radio hosts and Sean Hannity for particular criticism.
Two key quotes
"We've got some of the smartest people in America who serve in the Congress, and we've got some of the dumbest. We have some of the nicest people you'd ever want to meet, and some that are Nazis. Congress is nothing more than a slice of America."
"Donald Trump's not a Republican. He's not a Democrat. He's a populist. He doesn't have an ideological bone in his body. So who, I ask, is the leader of the party? There is nobody."
Two great anecdotes
After Harry Reid called him a "dictator" in a scathing speech, Boehner approached him and Mitch McConnell, confronting Reid in an uncharacteristic fury ("I thought McConnell was going to have a heart attack," Boehner says). Flash forward and, as Alberta writes, "Boehner visited in August and Reid tells me they went sightseeing together like an old married couple; he even put down the car window so Boehner could smoke as they drove."
"So I get a text from 43 about a month ago, maybe six weeks ago... So 43 says, 'Hey, are you talking to Ryan? Are you giving him advice?' I said, 'Yeah, if he calls I give him advice. And he texts me back: 'He needs to call you more.'"
Go deeper