Blue Apron CEO talks IPO, Amazon and profits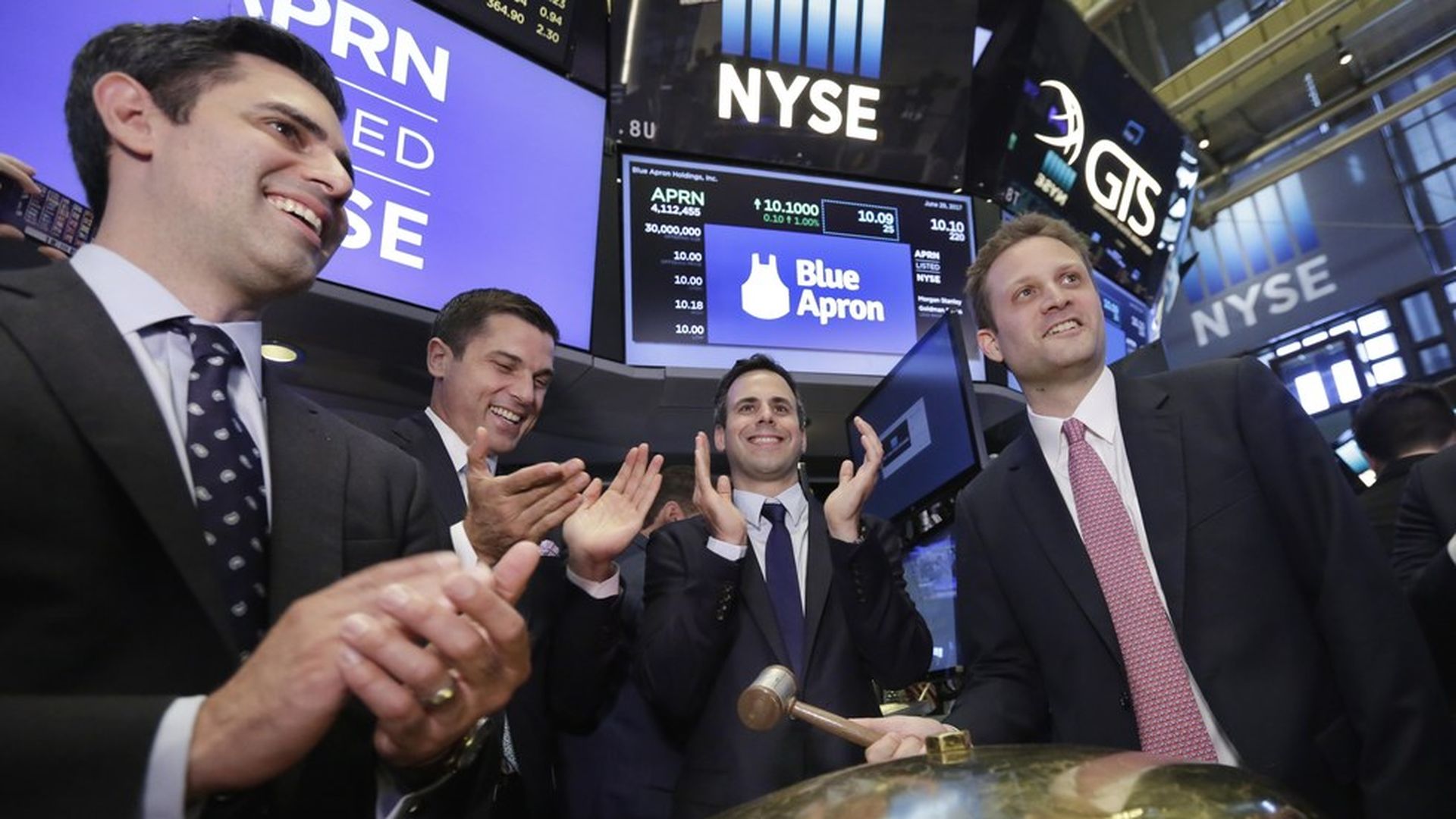 Meal-kit company Blue Apron began trading today on the New York Stock Exchange, after raising $300 million in an IPO that priced shares at $10. This was a pretty big disappointment for Blue Apron, which had originally filed to sell shares at between $15 and $17 (a difference that cut more than $1 billion of its valuation goal).
But Blue Apron co-founder and CEO Matt Salzberg was upbeat in a post-listing call with Axios. Highlights:
Competition from Amazon/Whole Foods
"What they do is obviously so different. Blue Apron is a products company. We create a new product every week and, while our channel is direct-to-consumer, we're very different than a distributor or an e-commerce company. Beyond that, in a lot of cases Amazon is actually our ally. What we're really competing against is offline grocery, because a new customer for us is usually someone who is already cooking at home but buying food at a grocery store. So we require some behavioral change when acquiring new customers and Amazon and others help to get people more comfortable buying food online. We do best in zip-codes with higher usage of online grocery purchases."
Why go public now?
"Since the day we incorporated we've been trying to build a company that can be public, so that we can be ambitious and address global opportunities. The public markets are the best place to continue to grow and attract resources… There was nothing particularly special about this specific timing, other than that we had invested in the talent and the process and were ready."
On the stock price:
"Honestly, I leave the valuation up to the bankers… We had conversations with investors and the market spoke for the value we could get done with the right investors. It's really important to get the right long-term oriented invested involved with the company, so we made certain decisions because we're focused on long-term value, not short-term value."
About flipping from Q1 2016 profit to Q1 2017 loss:
"The biggest part was that in the second half of last year we changed to a more seasonal marketing strategy, because customers tend to look less in the summer and around the holidays. So our market expenses were much heavier in Q1. On the margin side, we gave wage increases to our folks in our California fulfillment centers effective January 1. Also, in Q1 of 2016, we still had a number of empty management positions in our fulfillment centers, and we started filling those positions. If you think of what Q2 looks like for us, because of that seasonal marketing strategy, you could see an impact on profitability."
Go deeper