Big beer is drinking up craft brewers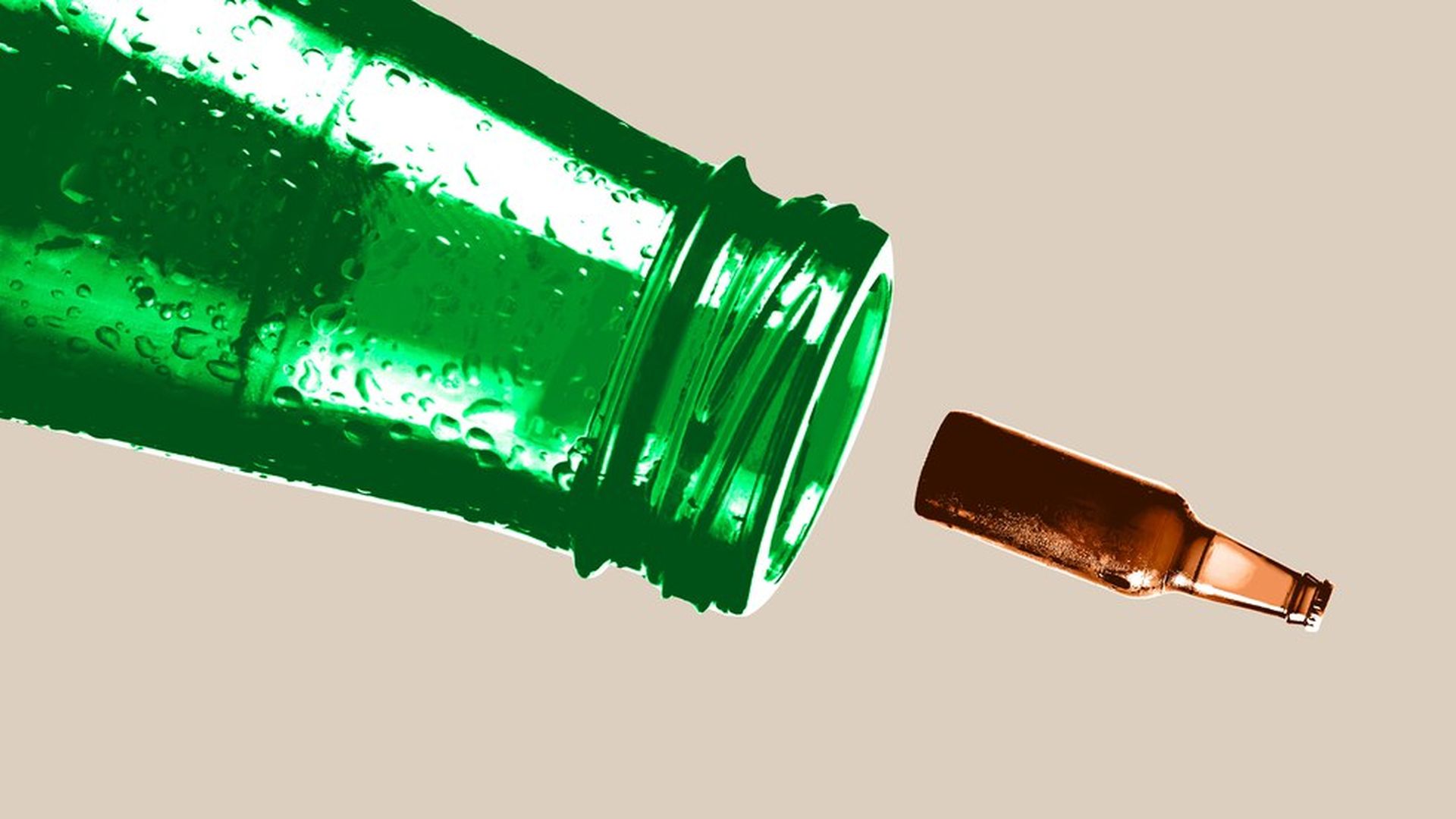 Earlier this week, the United Kingdom's Society of Independent Brewers hit back at the purchase of independent craft brewery London Fields by the Carlsberg Group, one of the world's largest brewing companies:
"[These buyouts] are made in the hope of capturing the original customers and target market of an established, previously independent craft beer brewery…Consumers deserve to know that what they are buying is a genuine craft-brewed beer as research clearly shows that most beer drinkers believe craft beer to be produced by relatively small, independent brewers."
Their request: That beers produced by truly independent breweries in the U.K. be granted a special seal so consumers know that they're not drinking "craft beer" that's actually produced by an international conglomerate.
Why it matters: It's a trend that's been happening on American shores, too, with a rash of craft beer buyouts in the U.S. — including massive purchases of some ubiquitous, popular craft brands to overseas companies. And, just like in the U.K., it's not immediately clear to the consumer where their dollars are going.
The rationale: An independent brewer selling to a global brewer isn't necessarily a bad thing — often, the same brewers remain in control of their product and get granted access to a conglomerate's massive production and distribution capability. That's often an easier move than soliciting outside investments to internally build out those capabilities. But it's still intensely controversial in the craft beer world where the global brewers are seen as an impediment to camaraderie and innovation.
The numbers: Though it seems like craft beer is everywhere these days, all craft breweries combined only make up 11% of the market share in the U.S., according to MarketWatch. AB InBev (the maker of Budweiser) holds 45% of the U.S. market while MillerCoors has 26%. And while import-focused companies like Constellation Brands and Heineken USA hold comparatively small 7% and 4% shares respectively, their Corona and Heineken brands are two of the most popular beers in the country.
Keep track: The world's biggest breweries have been acquiring craft breweries at a breakneck pace, a trend that started with AB InBev's 2011 acquisition of Goose Island. And Constellation Brands' 2015 purchase of Ballast Point for a staggering $1 billion led some to question if there might be a craft beer bubble.
So is your favorite craft brew actually owned by a big company? Find out:
AB InBev
Goose Island Brewery, Chicago, IL (2011, $38.8 million)
10 Barrel Brewing, Portland, OR (2014, estimated $50 million)
Blue Point Brewing Company, Patchogue, NY (2014, $24 million)
Elysian Brewing Company, Seattle, WA (2015, estimated $60 million)
Breckenridge Brewery, Denver, CO (2015, estimated $70 million)
Golden Road Brewing, Los Angeles, CA (2015, undisclosed)
Four Peaks Brewing, Tempe, AZ (2015, undisclosed)
Devils Backbone Brewing Co., Roseland, VA (2016, undisclosed)
Karbach Brewing Company, Houston, TX (2016, undisclosed)
Wicked Weed Brewing, Asheville, NC (2017, undisclosed)
MillerCoors
Saint Archer Brewing Co., San Diego, CA (2015, estimated $35 million)
Terrapin Beer Co., Athens, GA (2016, majority share, undisclosed)
Hop Valley Brewing Co., Eugene, OR (2016, majority share, undisclosed)
Revolver Brewing, Granbury, TX (2016, majority share, undisclosed)
Worth noting: MillerCoors also brews Blue Moon and Leinenkugel's in-house, two brands that are marketed as craft beers — but very much aren't.
Constellation Brands
Ballast Point Brewing Company, San Diego, CA (2015, $1 billion)
Heineken USA
Lagunitas Brewing Company, Petaluma, CA (2015, majority share, estimated $500 million; 2017, remainder purchased, undisclosed)
Go deeper