Behind the GOP opposition to Graham-Cassidy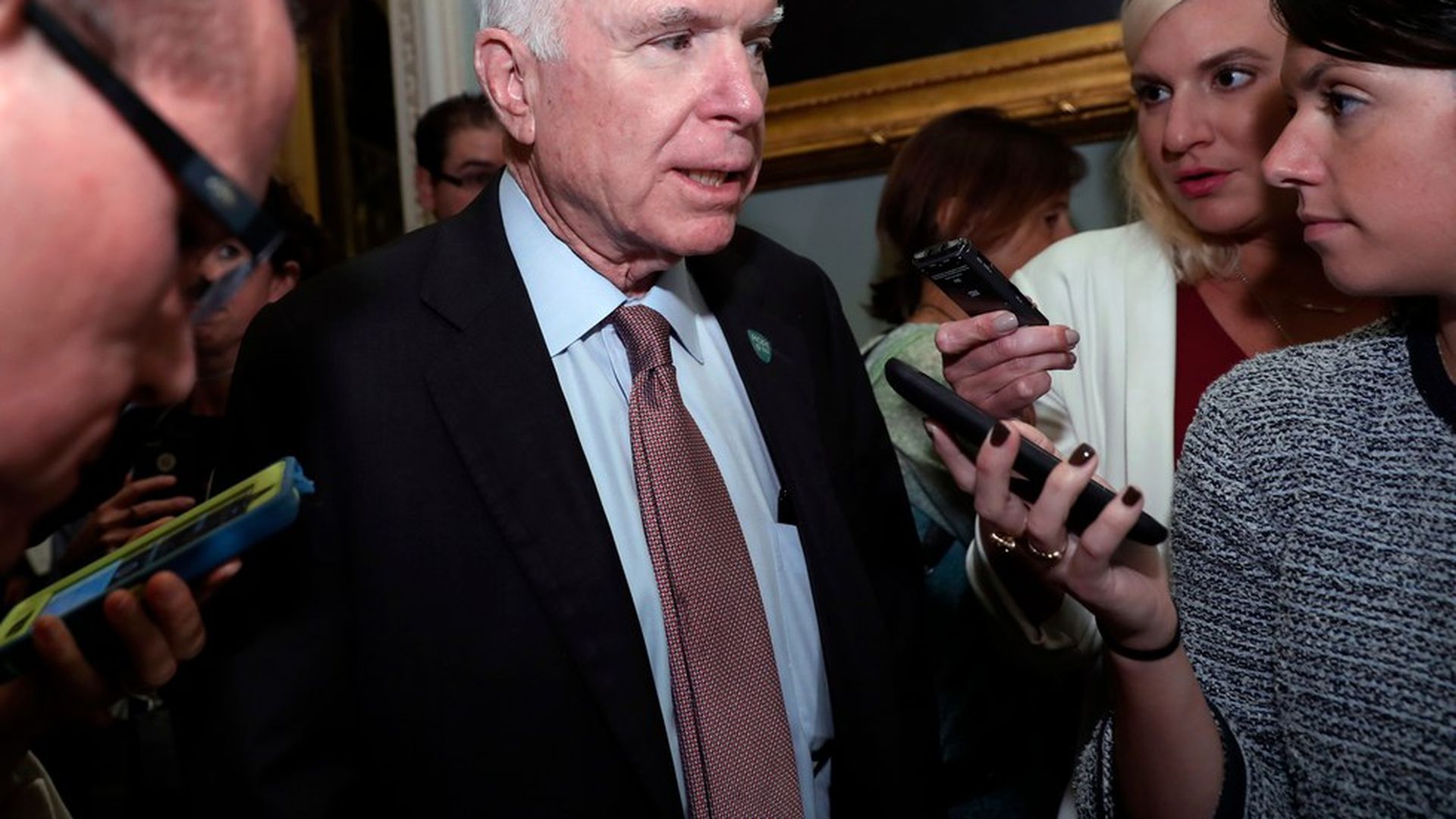 Although the opposition from Sen. John McCain likely killed Republicans' latest health-overhaul plan, President Trump tweeted this morning that there's still hope: "I know Rand Paul and I think he may find a way to get there for the good of the Party!"
Paul is counted as a solid "no," so flipping him could bring Graham-Cassidy back to life. That's unlikely, though, so Republicans expect the bill to be defeated Wednesday, if Senate Majority Leader Mitch McConnell goes ahead with the vote.
Trump also tweeted this morning: "John McCain never had any intention of voting for this Bill, which his Governor loves. He campaigned on Repeal & Replace. Let Arizona down!"The most important sentence in McCain's statement is: "I believe we could do better working together, Republicans and Democrats, and have not yet really tried."
A close McConnell ally told me the process was "ridiculously slapdash," with little input or transparency.
Axios Caitlin Owens tweeted: "If the past month taught us anything, it's that not many Republicans took McCain's message to heart last time around."
Why did Senate Republicans decide to die on this hill again? The best explanation may come from the N.Y. Times' Carl Hulse:
"As more than 40 subdued Republican senators lunched on Chick-fil-A at a closed-door session last week, Senator Cory Gardner of Colorado painted a dire picture for his colleagues. Campaign fund-raising was drying up, he said, because of widespread disappointment among donors over the inability of the Republican Senate to repeal the Affordable Care Act or do much of anything else."
"Republicans say the fund-raising drop-off has been steep and across the board, from big donations to the small ones the party solicits online from the grass roots. They say the hostile views of both large and small donors are in unusual alignment."
Be smart: The vote that counted most may have been Jimmy Kimmel's. The ABC late-night host's passionate, detailed opposition — with fact checkers calling him correct about potentially unaffordable premiums for people in poor health — put Republicans in a hole they were ill-equipped to dig out of.
Go deeper