Anita Hill: Biden did "opposite" of what women needed in 1991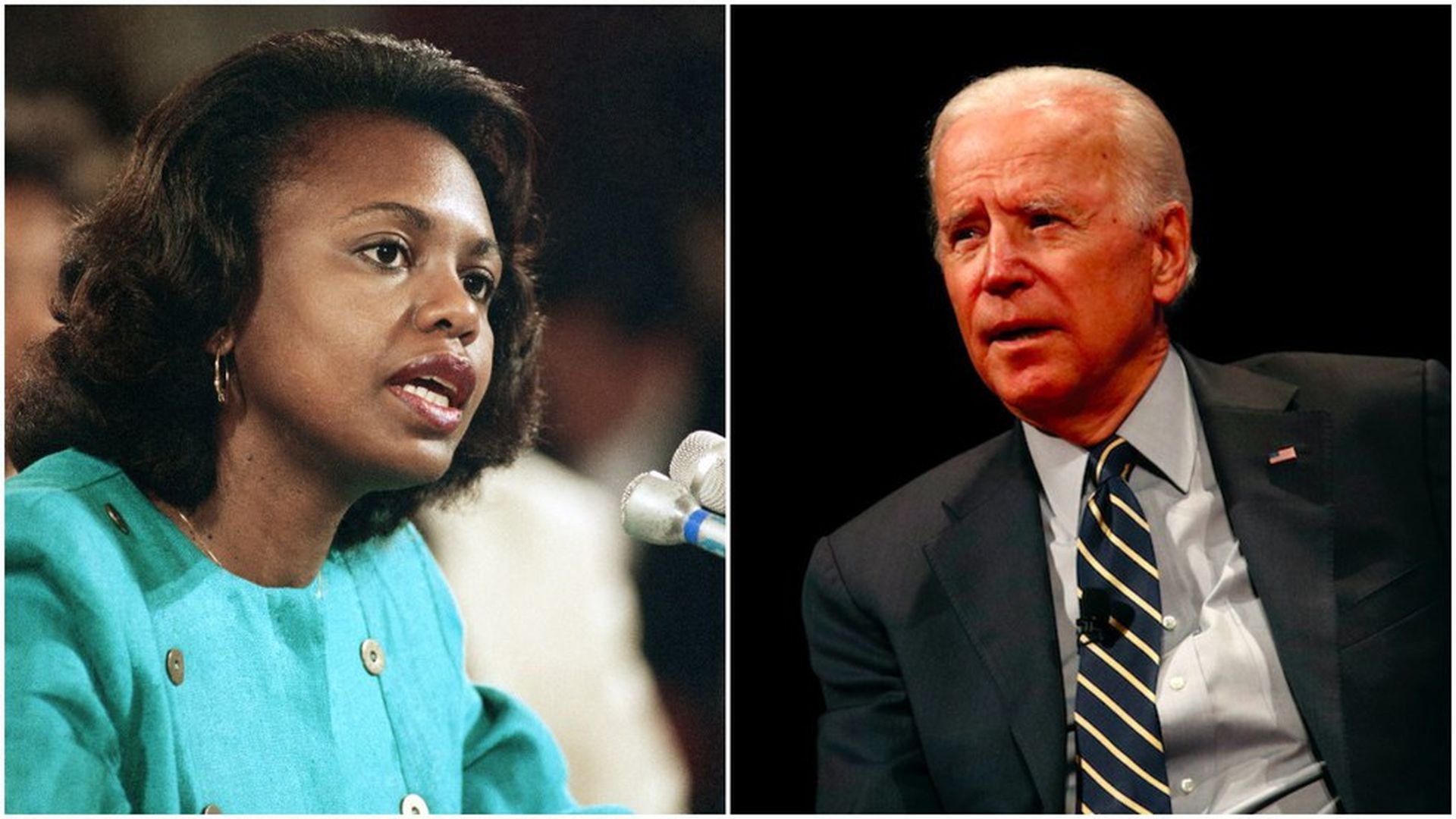 A new look at Anita Hill's 1991 testimony against now-Supreme Court justice Clarence Thomas puts a harsh spotlight on Joe Biden's handling of her allegations of sexual harassment. Biden was the chairman of the Senate Judiciary Committee at the time, and the Washington Post magazine reports that Hill believes Biden hasn't taken responsibility for how unfairly she was treated.
Why it matters: Here's what Hill told the Post: "[W]omen were looking to the Senate Judiciary Committee and his leadership to really open the way to have these kinds of hearings. They should have been using best practices to show leadership on this issue on behalf of women's equality. And they did just the opposite."
The bottom line: Biden apologized to Hill at a Glamour magazine event earlier this month, saying he was "so sorry" for what Hill went through. Hill said she still doesn't think his comment "takes ownership of his role in what happened," and said it was a qualified apology: "That's sort of an 'I'm sorry if you were offended.'"
Biden declined to be interviewed by The Washington Post and declined to comment on Hill's response.
On Biden's speedy process:
Then-Rep. Pat Schroeder indicated she wanted to slow down Thomas' confirmation process in light of the allegations. But Schroeder said Biden emphasized he wanted a fast process for the hearing.
When the lawmakers spoke with Biden about their concerns, Schroeder claims Biden said "that he had given his word" to Sen. Joe Danforth, Thomas' chief sponsor, "in the men's gym that this would be a very quick hearing," and "kind of pointed his finger and said, 'you don't understand how important one's word [is] in the Senate.'" Schroeder added "It was really, really ugly."
On Biden's lack of control:
Hill said Biden didn't control the hearing so that she could speak before Thomas did, as Biden had said would happen.
Instead, Hill was left with what non-voting Rep. Eleanor Holmes Norton called a "rebuttal before you hear the accusation," when Thomas went first. Hill called it a "preemptive strike."
On how the media covers sexual misconduct allegations:
Hill said the media "had a political angle" in 1991. "They were asking questions like, 'Who supported her? Who's behind her? What group is she associated with?' That was the way that they were telling the story." She cited the Republican senators and the White House "feeding" stories to the press.
"But then afterwards the media shifted to talking about sexual harassment in the workplace. And I think that was a segue into the year of the woman, because then that story started to be about women's experiences and how they were not being represented in Washington, D.C."
The aftermath, per WashPost: "In 1992, 24 women were elected as new members to the House and four to the Senate, more than in any previous decade. Many cited anger over Hill's treatment during the Thomas hearings as a reason for running."
Go deeper