Anatomy of a presidential attack on CNN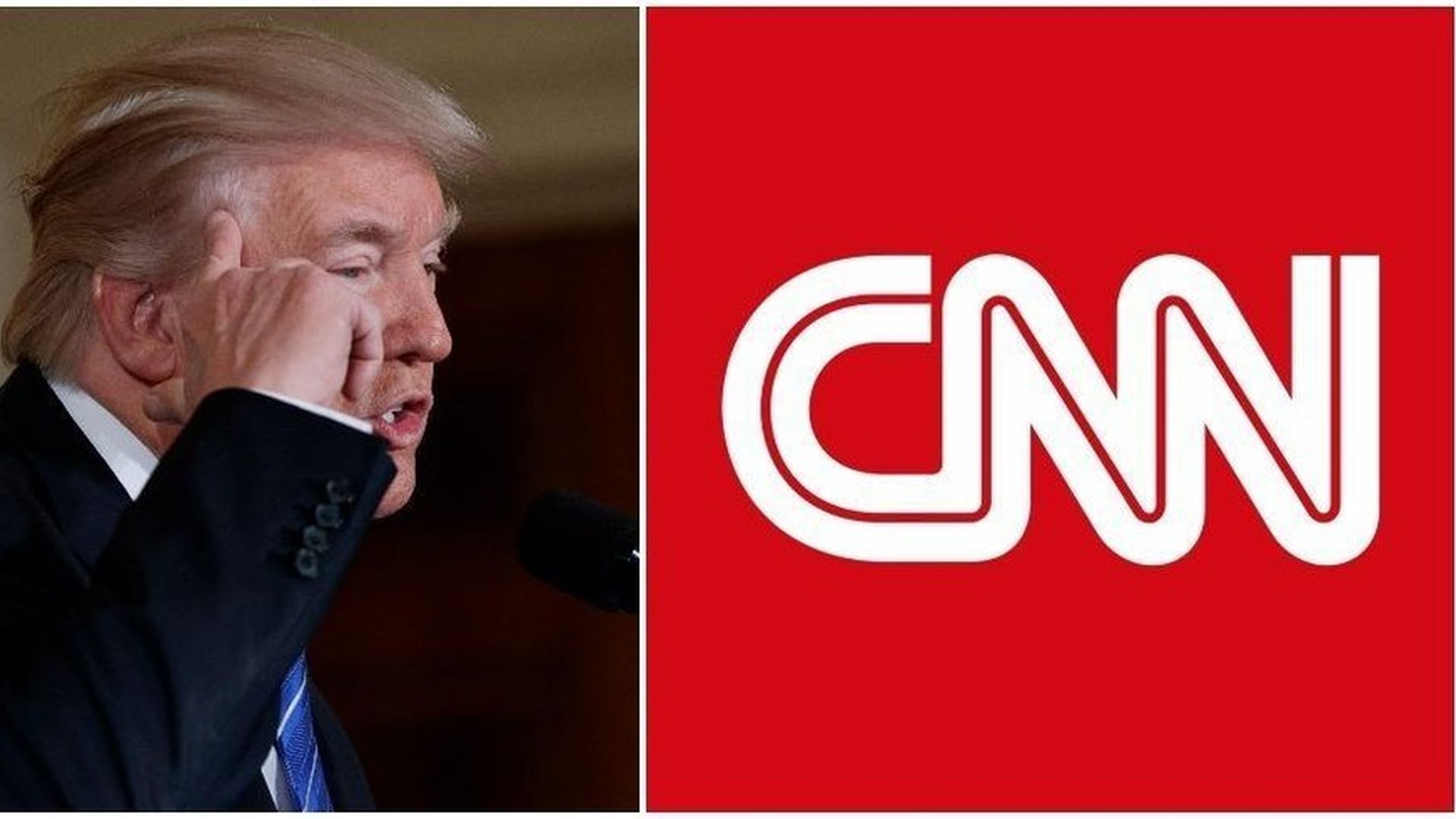 The President of the United States, his media allies and the most fiery right-winger in the Trump clan — Donald Trump Jr. — are going after a major media institution using tactics we've never seen before in presidential politics.
Trump tweeted Tuesday morning: "Fake News CNN is looking at big management changes now that they got caught falsely pushing their phony Russian stories." The President also retweeted a random guy on Twitter named Jeff who published a refashioned CNN logo — "FNN, Fake News Network."
Why these tweets matter: They follow four days of relentless and escalating attacks on CNN, bolstered by legitimate reporting:
On Thursday evening CNN's (now former) investigative reporter Thomas Frank published a story, citing one anonymous source, that said the Senate Intelligence Committee was investigating a Russian investment fund linked to business people close to President Trump.
On Friday, Breitbart's Washington Editor Matthew Boyle published the first story calling CNN's reporting into question. The lead to the story was peak Boyle — an unabashed supporter of Trump who specializes in hit pieces — and establishes the narrative that right-wing figures like Sean Hannity would reinforce over the coming days: "Another day, another very fake news story from the network President Donald Trump has identified as 'very fake news.'"
Later on Friday, BuzzFeed News editor Jon Passantino noticed that CNN had deleted the story that Breitbart brought into question. He asked CNN's PR team for an explanation and they issued an editor's notice saying the story didn't meet editorial standards. (The reason you can't read the story now is because CNN has taken the extraordinary step of removing it from the Internet and publishing both a retraction and an apology to Trump supporter Anthony Scaramucci, whom the report tied to the supposed probe into the Russian Direct Investment Fund.)
BuzzFeed had this ominous quote from a source close to CNN: the story was a "massive, massive fuck up and people will be disciplined." The website also broke the news that CNN President Jeff Zucker and the head of HR were "directly involved" in an investigation into how the story was handled.
By late Friday, the pro-Trump media was in a feeding frenzy. Boyle took his first victory lap, using the phrase "very fake news" eight times in this story published late that evening.
On Saturday, Fox News host Sean Hannity promoted Boyle's story to his 2.5 million Twitter followers: "Breitbart kicking ass by exposing @CNN VERY FAKE NEWS!!" A number of Trump-friendly Republicans, including operative Arthur Schwartz and Ric Grenell, a Fox News contributor who's been under consideration for positions in the Trump administration, began driving the anti-CNN storyline on social media. Don Jr. joined the pile-on, as did Fox host Kimberly Guilfoyle and Fox & Friends host Steve Doocy retweeting multiple attacks.
On Sunday, BuzzFeed reported that CNN was imposing strict new rules over its Russia coverage. Per Passantino: "The email went out at 11:21 a.m. on Saturday from Rich Barbieri, the CNNMoney executive editor, saying "No one should publish any content involving Russia without coming to me and Jason [Farkas]," a CNN vice president."
On Monday, news broke that three CNN employees involved in the retracted Russia story had left the news organization: Thomas Frank, Eric Lichtblau, and Lex Haris. It's an extraordinary response to a single story.
Still, Breitbart, Sean Hannity and other influential media supporters of the President say they're not satisfied and are continuing the attacks on CNN. Boyle got an "exclusive" statement from Donald Trump Jr. trolling Zucker. Don Jr. said the network boss should "do an on-camera press briefing about CNN's fake news scandal before the White House does any more of them."
On Tuesday, the right-wing undercover filmmaker James O'Keefe released a secretly-shot video of a CNN producer, John Bonifield, saying that CNN covers the Russia investigation mostly for ratings and without enough evidence to substantiate the storyline. Expect the same tightly-coordinated and carefully-choreographed network around Trump to pump this story for all it's worth.
Go deeper