Amazon's next targets: FedEx and UPS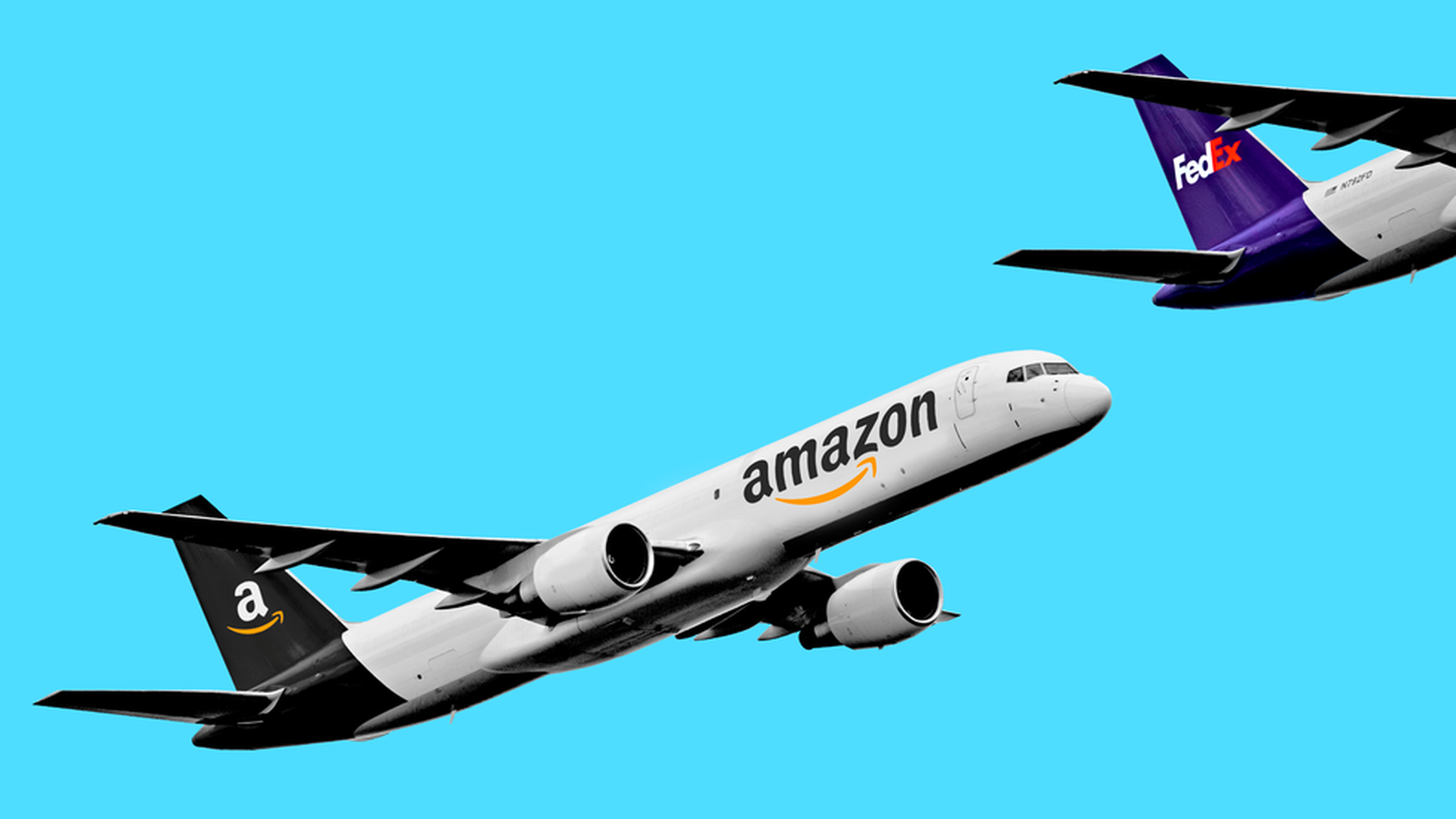 Amazon has gotten so good at moving merchandise that it now accounts for 43 cents of every dollar spent online in the U.S., according to eMarketer. An ebullient Wall Street last week sent the company's share price soaring after a record-breaking third quarter, and made CEO Jeff Bezos the richest man in the world.
What's next: Lost in this torrent of news are indications that Amazon's revenue formula is fundamentally changing: from a reliance on retail and cloud services, the e-retailer appears likely to power future growth with fulfillment and shipping services to third-party sellers.
This is highly lucrative stuff: Analysts and industry executives say new initiatives like Amazon Key and Amazon Seller Flex show the company's potential to siphon off a large chunk of the trillions of dollars spent globally on logistics and shipping. "This is going to be a huge business for them," says Cooper Smith Amazon, an analyst with business intelligence firm L2.
The background: Amazon's transformation into a company that generates 37% of its revenue from services has been a long time in the making. Amazon Marketplace launched in 2000: In exchange for a commission, this far-sighted service allowed outside sellers to hock used books right besides Amazon's own listings. Seventeen years later, third-party sales account for at least half of the transactions on the website. Then, in 2006, came "Fulfillment by Amazon": In exchange for handling fees, Amazon rented its storage and distribution infrastructure to outside sellers.That same year it launched Amazon Web Services: Outside businesses got access to Amazon's spare server capacity — again, in exchange for a fee.It's this pattern of creating state-of-the-art services for its own use, and then offering them to outsiders, that should have the logistics and shipping industry worried. "The logistics industry is only just now starting to wake to this threat," says Zvi Schreiber, CEO of the online shipping marketplace Freightos.
Amazon's latest offerings — Seller Flex and Key — are next in the line of this tradition.
Seller Flex launched last month: It's a new courier service that ships goods from outside sellers to customers' homes.
Amazon Key was announced last week: Using a smart lock and an indoor security camera, this program offers in-home delivery for Amazon Prime members.
"This is not an experiment for us": Peter Larsen, Amazon's vice president of delivery technology, tells WSJ, "We think this is going to be a fundamental way that customers shop with us for years to come."
It follows a familiar pattern: Cooper Smith argues that if Amazon Key catches on, it could make Amazon a necessary partner for any company wanting to deliver goods securely to households. Imaginative and potentially revolutionary experiments like this are why "Amazon is the biggest threat to FedEx that FedEx has," he told Axios.
FedEx declined to comment, but in the past executives have been dismissive of any threat by Amazon. UPS said Amazon is a valued customer and that it hopes to expand its relationship with the e-retailer. As for Amazon, a spokesperson repeats what the company has said previously, which is that changes to its logistics business are meant to supplement and not replace UPS and FedEx. Here is some of the case for skepticism:
Logistics cost a lot: Some analysts say it would be impossible for even a company with Amazon's deep pockets to build out the infrastructure necessary to compete head to head with FedEx and UPS.
Customers may be resistant: Michael Pachter, an analyst with Wedbush Securities, says that while stolen packages may be a hassle for customers, waiting for Amazon to send a replacement may be preferable to allowing strangers to enter your home.
The bottom line: The key to understanding Amazon is its monomaniacal focus on giving the customer what he or she wants, even before they know they do. Amazon is not going to wait around for FedEx and UPS to experiment with changes that could improve the customer experience, whether that means new products for home entry or faster delivery options. And history shows it would be wise to take notice when Amazon starts experimenting in your backyard.
Sign up for Axios newsletters to get our Smart Brevity delivered to your inbox every morning.
Go deeper