Amazon's London pop-up shows one future of retail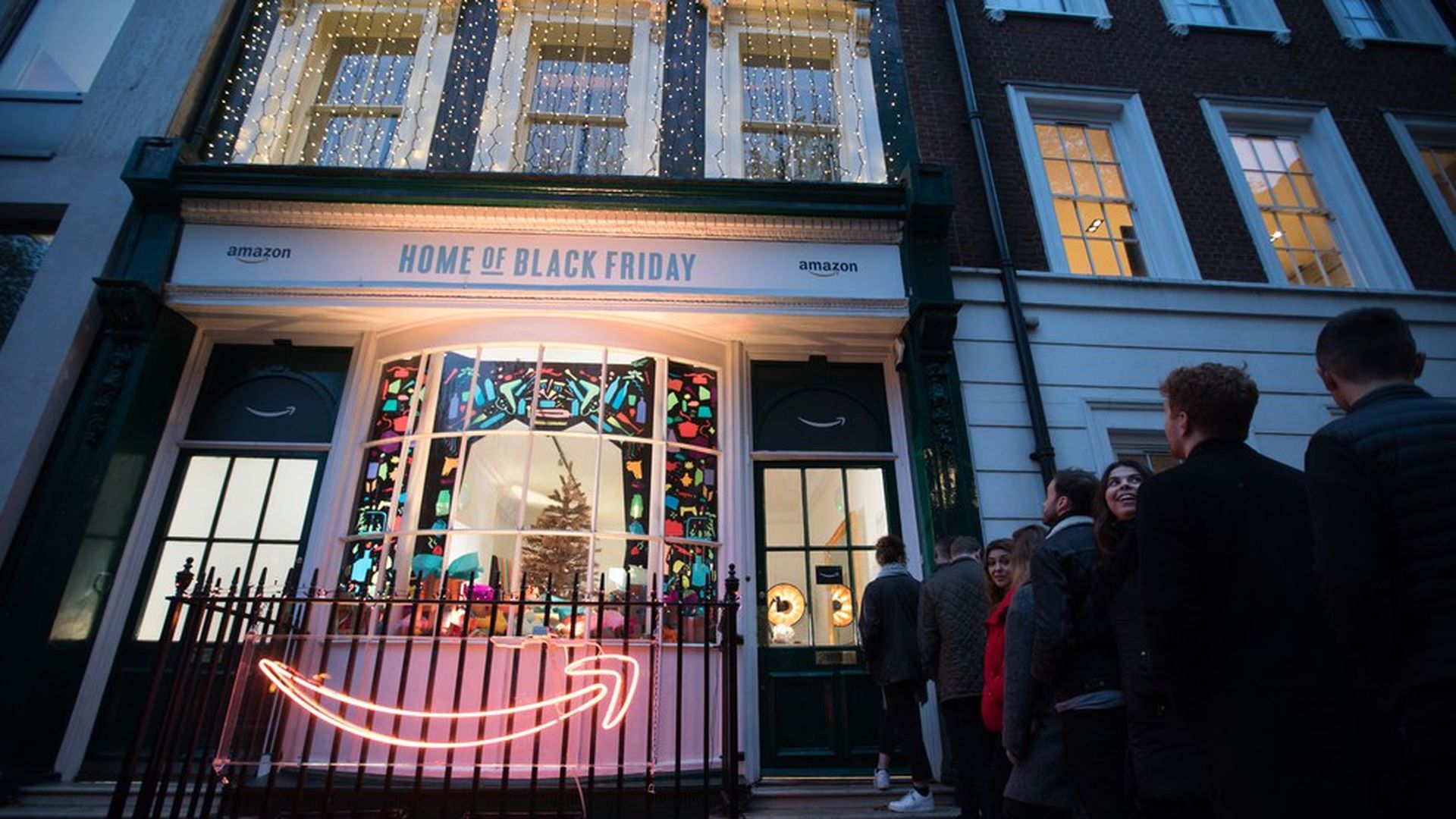 For a third-straight year, U.K. retailers celebrated Black Friday wildly, and Amazon dived into the spirit, deploying a five-room, 3,000-square-foot pop-up shop in London's Soho square.
Why it matters: Retail start-ups, e-commerce outlets, and brands are increasingly looking to pop-up stores as a means for driving sales and creating brand awareness. PopUp Republic, a services provider for the pop-up industry, estimates that broadly measured, these stores generate $50 billion in sales in the U.S. annually.
Amazon has opened dozens of smaller pop-ups across America this year, aimed at showcasing its hardware products, like the Kindle Fire. But this was the first in Europe, and, according to Alvaro Morilla, an analyst with Kantar Retail, it hints at a new model for how e-commerce companies will test products, learn about consumer tastes, and burnish their brands.
Amazon's London pop-up is not about capturing traditional retail sales at all.
Amazon furnished the entire townhouse to look like a family home, with Amazon products strategically placed in rooms where they would be used.
"With no checkout point at the store, Amazon was clearly trying to make this about having fun," says Morilla, who argues that Amazon's goal is not to generate in-store sales, but to "create retail theater and hospitality," and encourage shoppers to buy via its increasingly popular smartphone app.
"All the staff we spoke to were helpful, and more interested in creating an experience and guided shop over actually 'selling,'" says Morilla.
Why it may be the future of retail:
That Amazon tested this high-concept pop up in the U.K. makes sense, says Morilla, given that in the UK, more than 90% of population has a smartphone, versus just 77% in the U.S.
As smartphone penetration rises, and they account for a rising share of e-commerce traffic, on-line retailers will need to market to customers in the physical world to encourage them to make impulse buys on their devices as they go about their day.
In China, where mobile shopping is even more popular than in Europe and the U.S., Alibaba is testing a "New Retail" program, where it mimics its online revenue model in the offline world, charging third-party sellers for premium placement of products in pop-up stores and its growing stable of permanent retail spaces.
Go deeper