Amazon may get a multi-billion-dollar tax break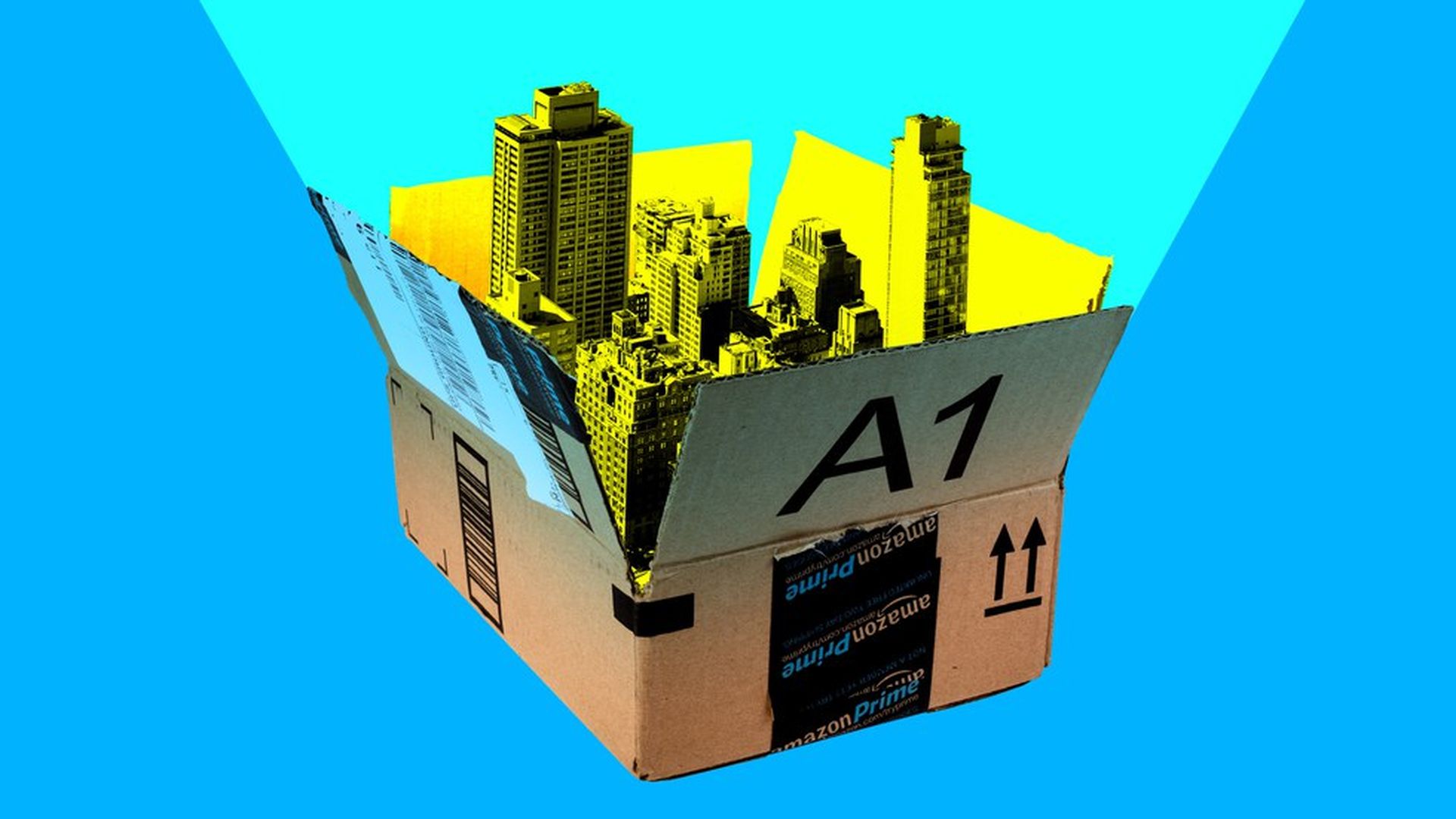 Amazon stands to reap billions of dollars in tax breaks and other incentives in what is shaping up as a feverish, sweepstakes-style contest among North American cities to host its second headquarters and up to 50,000 new jobs, experts say. Judging by other recent such competitions, the bids could reach $10 billion or even higher.
In the likelihood that the bidding does reach such rich sums, the contest could rapidly reduce the number of cities and states that could afford to compete.
A high price tag could hurt Amazon itself if it undercuts a locality's ability to fund good public schools, hospitals and infrastructure, the building blocks of both a successful business environment, and the high quality of life that attracts and keeps solid employees.
The announcement comes as Big Tech — Amazon along with Apple, Facebook, Google and Microsoft — are already under increasing scrutiny for how they exercise their outsized market power.
But Amazon's Sept. 7 call for bids explicitly encouraged suitors to think in just such stark financial terms, specifically describing the type of incentives that might be offered ("land, site preparation, tax credits/exemptions, relocation grants, workforce grants, utility incentives/grants, permitting, and fee reduction"), and asking for specific dollar amounts that their bid is worth. "Incentives offered by the state/province and local communities to offset initial capital outlay and ongoing operational costs will be significant factors in the decision-making process," the announcement says, noting that incentive packages could require the passage of additional legislation.
"I would think that there's no reason to do this open call other than it really helps maximize the incentive benefits," said Nathan Jensen, a professor at the University of Texas at Austin, speaking to Axios. He said, "It's not surprising that these companies are pushing really hard for as much financial help as they can get. The question is: do they need it?"
Amazon declined to comment for this post beyond the statement it released last week.
The big picture: Companies have been doing this for years — Jensen tracks back the first U.S. business subsidies to the 1790s and Alexander Hamilton, the country's first treasury secretary. More recently, American companies have closed around 20 "unicorn" tax deals — worth $1 billion or more — since 2007, according to a database produced by Good Jobs First.
Amazon's offer — the chance to be the site of the first headquarters of a top-five tech company not located in the Bay Area or Seattle, hosting what Amazon estimated will be 50,000 jobs earning an average of $100,000 each including benefits — seems to be by far the most attractive in memory.
But, historically speaking, such incentives haven't often tipped the scale as to where a company chooses to invest. Neither is it clear that they have often paid off in economic terms. In 2013, for instance, Boeing got $8.7 billion in incentives from Seattle to keep building its 777X airliner in the city. But as of last year, the aircraft maker had cut more than 12,000 jobs, 14% of its work force.
That hasn't stopped cities across the U.S. and Canada from pledging to bid on the Amazon project:
Chris Camacho, CEO of the Greater Phoenix Economic Council, whose city said right away it wants the deal, told me, "Part of the attraction of an Amazon, notwithstanding the economic fiscal impact and jobs, is that we're racing as markets to create global identity. And Amazon being the elite global technology firm in the U.S. that's disrupting innovation …, we're seeing many markets in the country that are going to be salivating over this opportunity."
Denver immediately jumped into the contest, too: In a statement to Denverite, Mayor Michael Hancock called the potential for landing the project a "mega prospect."
Numerous other cities and regions promised to bid, too.
But how much will it cost? Here are recent tax deals:
This year, FoxConn received $3 billion in incentives to build an LCD display panel plant in Wisconsin, employing 3,000 to 13,000 people, or $230,000 to $1 million for each job. Last month, Ohio gave Facebook $37 million in incentives to build a data center employing 100 people, and Iowa awarded Apple $208 million in breaks for a data center employing 50; respectively, that would be $370,000 and $4.2 million per job.
If you extrapolate from these agreements, and do the math, you get into the tens of billions of dollars for the Amazon deal, which "would be well out of the range for any state to compete," Jensen said.
Jensen said that the Amazon deal is different in that it's a company headquarters. More relevant comparisons, he said, would be GE's 2106 decision to shift its headquarters to Boston and Foxconn's Wisconsin deal. GE received $145 million in incentives for 400 to 800 jobs, or $181,000 to $362,000 per job.
Doing the math using the low end of both the GE and FoxConn deals, Amazon could get $9 billion to $11.5 billion in breaks.
Rep. Ro Khanna, a Democrat who represents some of Silicon Valley, lamented how such contests can end up undercutting a community and state that sorely need the business and jobs. "The challenge is that it shouldn't be done as a race to the bottom where you have massive tax breaks coming at the expense of public schools or public infrastructure when the top corporations already have record profits," he told Axios.
Many states and cities are no longer going in blind, but are evaluating the impact of past tax incentives, according to a May report by Pew Charitable Trusts.
And Jensen said that how the Amazon contest unfolds could shape the future. "It could inform other companies how to behave, and whether there's a blowback from Amazon from doing this or if it just gets them a whole bunch of incredible deals — that kind of remains to be seen."
This post has been updated to correct a figure related to Ohio's tax incentives for Facebook's data center, which are worth $370,000 per permanent job, not $3.7 million per job.
Go deeper