A timeline of how Trumpcare failed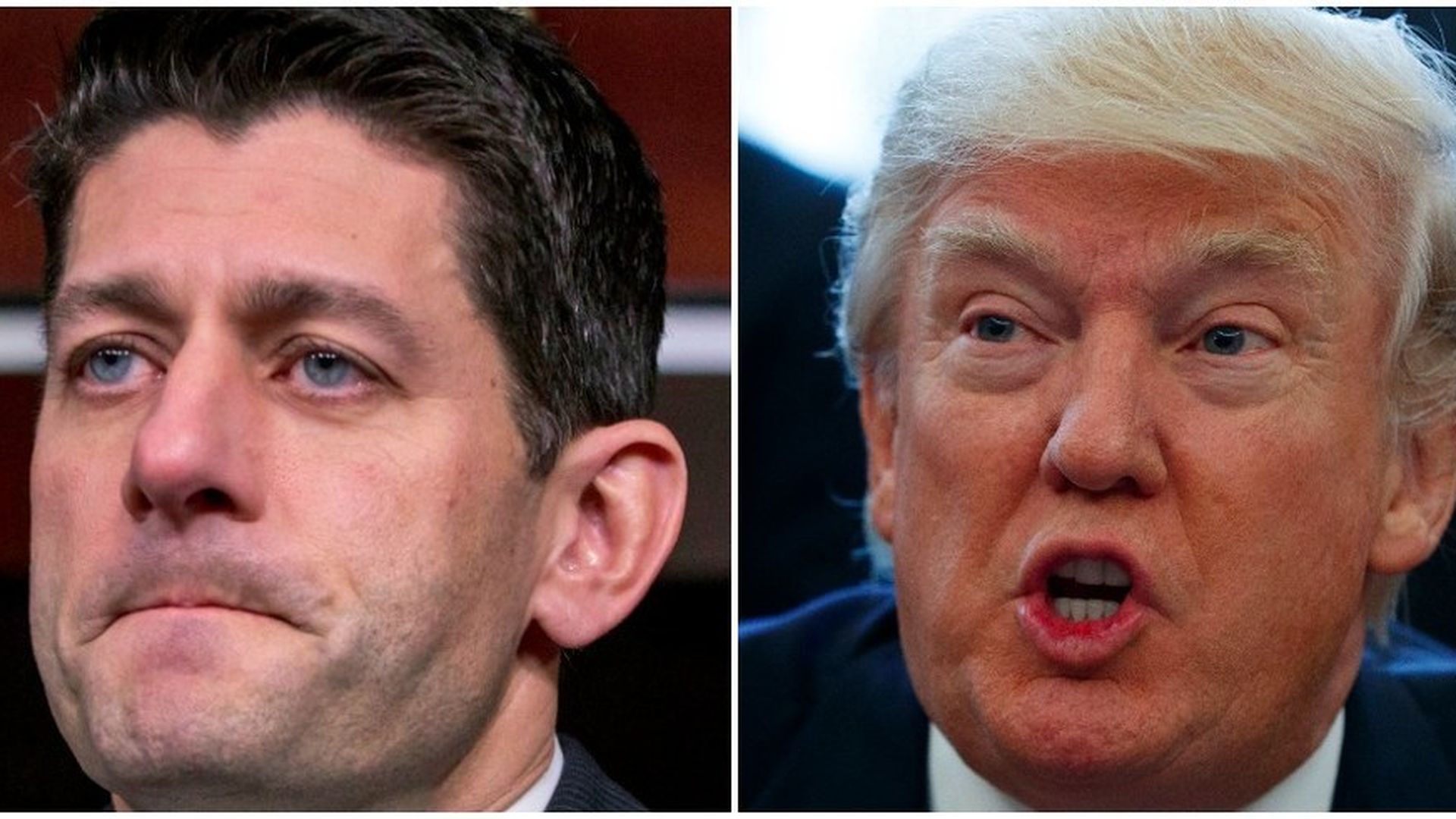 We've read the "inside the story" stories from Politico, the Washington Post, the Wall Street Journal, the New York Times and others, and combined them into a chronological account of Trumpcare's final days. Enjoy!
Earlier this month: Trump tells Ryan he doesn't like part of his messaging: "I don't like that word buckets. You throw trash in buckets. I don't like that word." Ryan agrees to use "phases" instead, per Politico.
March 8: Trump meets with conservative activist groups — AFP, Tea Party Patriots, Club for Growth — to win their support. Sources told WaPo it was like "a 'Saturday Night Live' skit," but the groups weren't sold.
Early last week: Freedom Caucus Reps. Mark Meadows and Jim Jordan secure a meeting with Trump to complain about Paul Ryan insisting the health care vote was a "yes/no" option. Trump agrees that further negotiation is possible, per Politico.
Last week: Trump cold-calls Rep. Dave Brat, per WaPo, opening with: "C'mon, Brat, what's going on with this thing?'"
Last weekend: Trump invites Mark Meadows to Mar-a-Lago, gives him an Oval Office welcome and has Bannon calling/texting him daily. (WaPo)
Monday: Pence hosts a dozen leadership chiefs of staff for dinner of chicken and asparagus, with desert of poached pears. (WaPo)
Tuesday: Trump meets with the GOP conference on the Hill, and singles out Mark Meadows, as Jonathan Swan scooped. Per a Freedom Caucus member quoted by Politico: "That was the biggest mistake the president could have made. ... Mark desperately wanted to get to yes, and Trump made it impossible for him. If he flipped after that he would look incredibly weak." (Politico)
Wednesday: Ted Yoho exits a meeting with Pence and gives a thumbs down to reporters (WaPo). Trump calls Rep. Joe Barton and gets a soft yes. Barton calls Trump "a political Rodney Dangerfield."
Thursday: Trump summons the Freedom Caucus to the White House, where he tells them to "Forget about the little shit," as sources told Politico's Tim Alberta. "Let's focus on the big picture here."
Thursday afternoon: Freedom Caucus Members meet with Trump staff, Ryan staff and Ryan (NYT). Over takeout Chick-fil-A, staff delivers the "final deal" ultimatum, Mark Meadows says they aren't on board. Vote scheduled for Friday AM (NYT).
Friday morning: Paul Ryan corners Mark Meadows, per the WSJ. "You said you speak for the Freedom Caucus... Are you a yes or a no?" Meadows was a no. Ryan heads to the White House, where he and Trump eat lunch of brussels sprouts, chicken, twice-baked potato (NYT) and Ryan begs him to agree to pull the vote. Trump isn't sold, per WaPo/NYT.
Friday afternoon: Sean Spicer then goes out before the press, saying "You guys are so negative! ... I'm still optimistic." Around 3pm, Trump eventually caves after Bannon sees the whip count. (NYT) He and Ryan agree to pull the bill. Before briefing the full White House, Trump calls WaPo's Robert Costa and the NYT's Maggie Haberman to spin the blame on Democrats.
Go deeper