A self-driving car startup is speeding up map data collection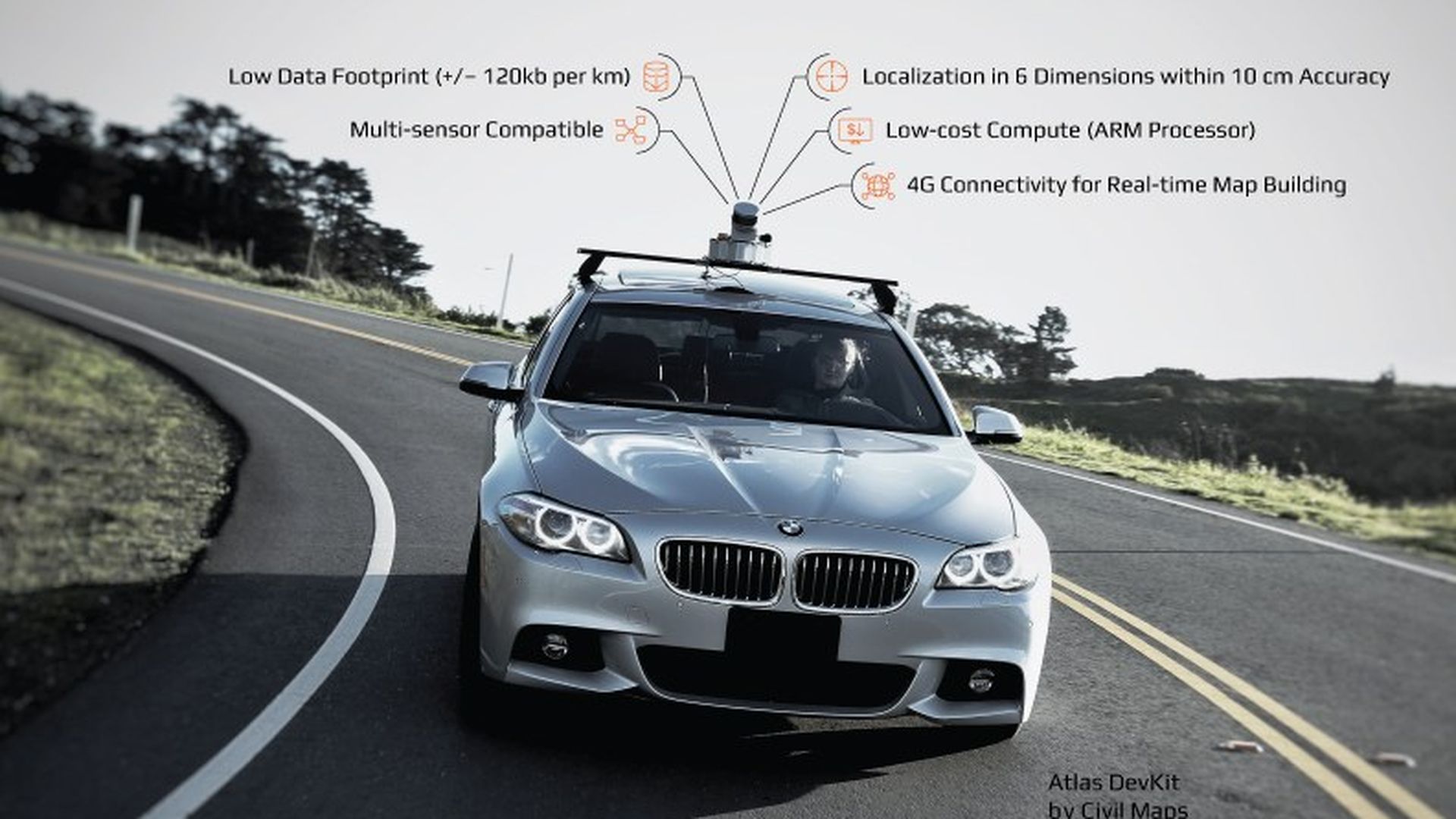 The race to build self-driving cars is on, and companies from major automakers to Google are rushing to cobble together sensors and teach cars how to drive on roads. Silicon Valley startup Civil Maps, in which Ford recently invested, is focused on a crucial layer: detailed three-dimensional maps that are constantly updated.
Accelerating tech: Civil Maps has built a kit, including a hardware unit with sensors and software for capturing and processing mapping data. It's now making that kit available to outside companies and teams working on self-driving cars as a starting point. These companies can then provide mapping data while they use the units for their own testing, while getting access to Civil Maps' constantly updating maps.
The company says that such collaboration will be crucial to self-driving cars because "we need a unified view of the world and a very precise view of the world," research VP Fabien Chraim told Axios.
Large automakers and other companies have been using Civil Maps' technology since last fall, and though the company declined to name them, it said they include many of the top names in the world. The company also has arrangements with ride-hailing companies Uber and Lyft, which are also working on autonomous driving, though it declined to share details about those relationships.
A self-driving car future: Chraim says that self-driving cars are fast on their way, though that doesn't mean they'll replace our cars tomorrow. Much more testing and developing still remains to be done. He's also not sure that consumers will own those cars. At the very least, car ownership won't look entirely like it does today, especially in urban environments.
What's next: By next fall, the company hopes to significantly bring down the cost of its hardware units, which currently run for $15,000 to $20,000. Down the road, it also wants to make its technology available to consumers so that anyone can attach a unit to their car.
Go deeper