The working homeless isn't just a tech bubble problem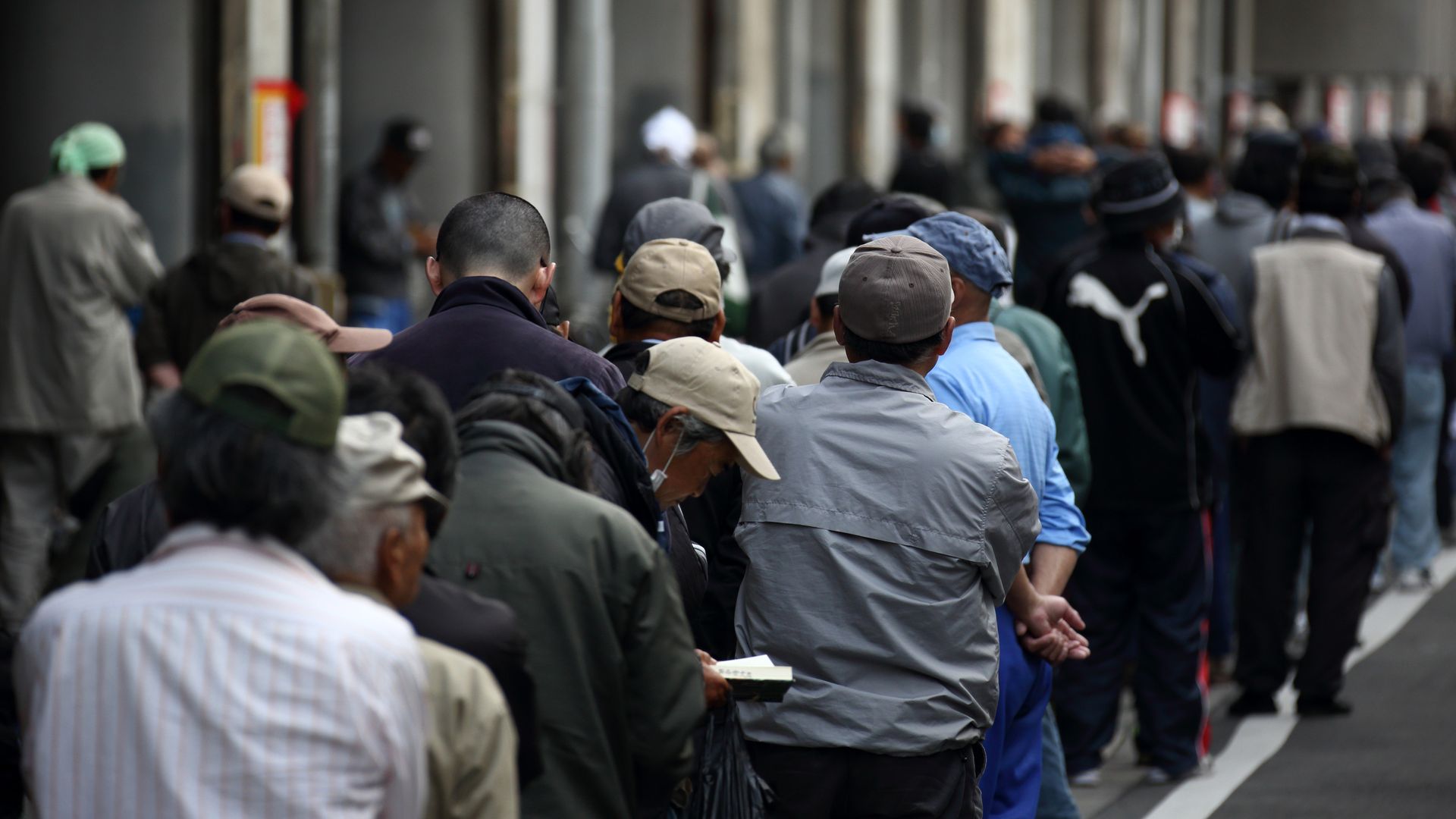 In big cities across the U.S., thousands of people trudge off to work in the morning but, lacking enough money for sky-high rent, are living at night in homeless shelters, cars, RVs, side streets and parking lots, often with their entire family.
Quick take: For a couple of months, we have heard about the problem of working homelessness in the tech hubs of Seattle and San Francisco. But there is a similar plight in Dallas, New York, Washington, D.C., and elsewhere.
An invisible problem: Cities only rarely keep track of their local working homeless, and the federal government does not collate raw data that could more sharply define the scale of the problem. To write this story, we called to agencies, shelters and experts around the nation.
Josh Leopold, a researcher at the Urban Institute, said the percentage of homeless people who work may be close to 25%, maybe a little more. Megan Hustings, director of the National Coalition for the Homeless, suggested higher percentages — 40% to 60% of the homeless float in and out of both part- and full-time work, she said.
Here are our top findings:
Washington, D.C.: 22% of homeless single adults and 32% of adults in homeless families are employed, according to a 2017 report by the Washington Council of Governments. The city has 11,128 homeless people, according to official figures.
New York: About 70% of the city's approximately 60,000 people living in homeless shelters are families, and 34% of the families include a working adult, Arianna Fishman of the city's Department of Human Services tells Axios. Women in Need, the city's largest provider of shelter, said that 53% of the homeless moms in its residences are working.
Baltimore: In a Point in Time count on Jan. 22, 6% of the 546 people who were not staying in shelters said they were employed.
Chicago: In a Point in Time survey on Jan. 26, 25% of the 4,100 homeless people in shelters said they were employed.
Dallas: The Austin Street Center keeps aside 50 of its 500 beds for the working homeless.
Boston: 42% of homeless people 18-25 years old in Suffolk County were employed, according to the 2016 Massachusetts Youth Count.
New Haven, CT: About a third of the 160 homeless families served by Melville Charitable Trust in New Haven, CT, are working, according to Becca Allen, a program officer; a quarter of them have some college education and 43% graduated high school.
Mariam Nek, director of the AimHire program at Friendship Place in Washington, D.C., said the working homeless range in former circumstances. One man she helped was a "very successful loan banker … [who] lost everything because of the financial crisis" and lived out of his car, she said.
Over time, Nek said, people who are homeless and working figure out "a way to deal with 'where do I go to shower? Where do I keep my stuff when I go to my job?'" because they have to when they can't afford to pay rent.
The Heartland Alliance offers housing and training programs so people can get on their feet. But Nancy Phillips, senior director of Heartland's Pathways to Success Initiatives, said "sometimes people won't even say that they're homeless on the first meeting ... because they're worried that we won't let them into the training program."
Sobering numbers: The National Low Income Housing Coalition (NLIHC) reports that to afford a two-bedroom rental unit in the U.S. in 2017, renters need to earn $21.21 per hour on average. That's $13.96 higher than the federal minimum wage of $7.25. It's $4.83 higher than the average hourly national wage, $16.38.
"In no state in the entire country can a family working full time at minimum wage afford an average apartment."
— Becca Allen of the Melville Charitable Trust
Editor's note: This article has been corrected to fix the spelling of Josh Leopold's name. The original version called him Jason Leopold.
Go deeper