FERC commissioner cautious on "lifeline" to coal and nuclear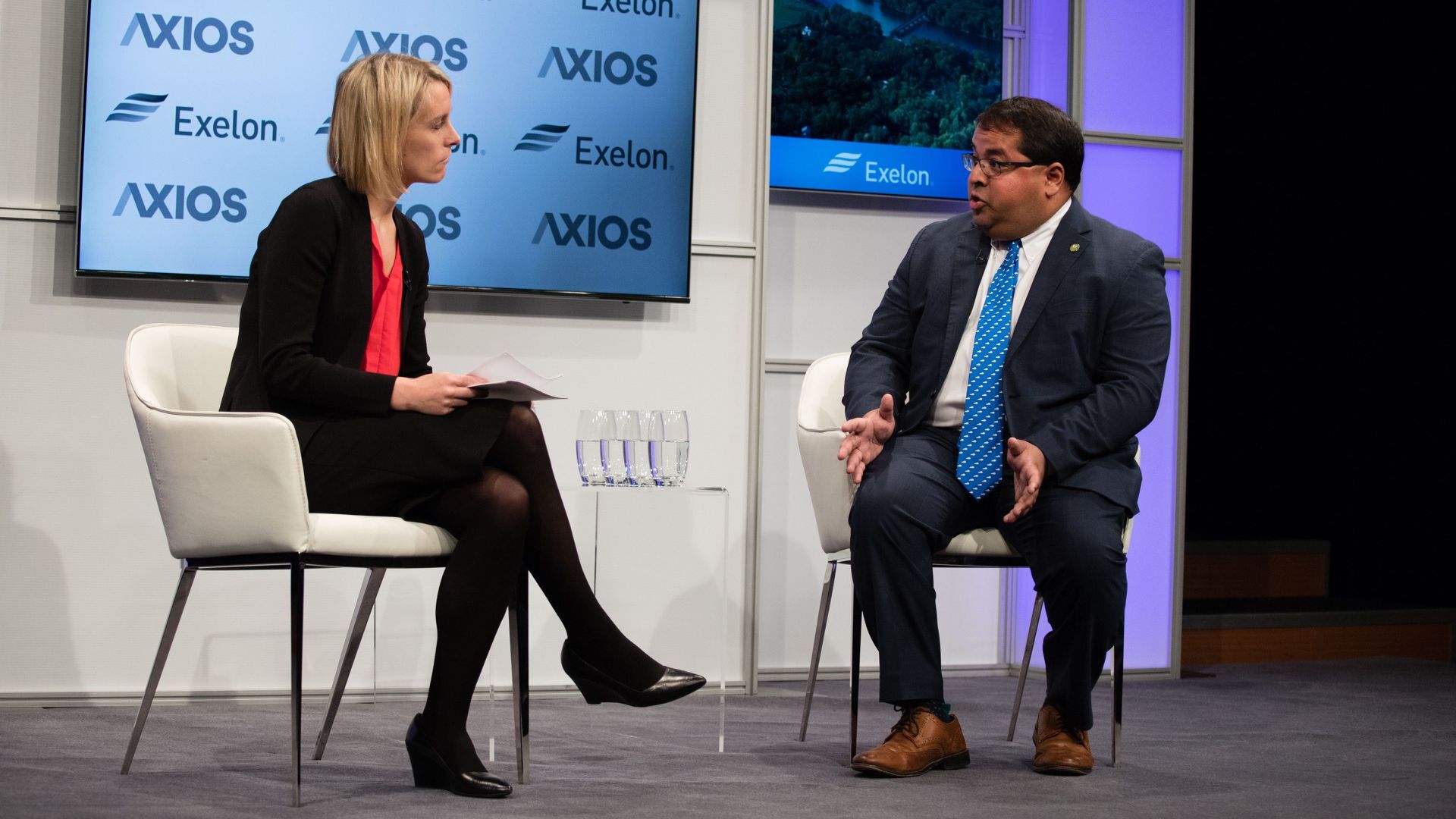 A top energy regulator downplayed his goal of throwing a near-term "lifeline" to struggling coal and nuclear power plants during a conversation with Axios' Amy Harder this morning.
Neil Chatterjee, a member of the Federal Energy Regulatory Commission, said he was still looking to do that, but emphasized that his "first priority" was a longer term analysis of grid resilience. He had been acting chairman of FERC until last week when the current chair, Kevin McIntyre, was sworn in.
Why it matters: Chatterjee's cautious comments about his push for quick aid to prevent plants from retiring signal the hurdles he faces getting colleagues on the five-member agency on board with the "lifeline" idea.
The remarks come as FERC, an independent agency, is more broadly weighing a sweeping plan from Energy Secretary Rick Perry to boost compensation for some coal and nuclear plants based on their "resilience and reliability" attributes. Chatterjee has been calling for an interim step while the commission works on Perry's proposal.
Yes, but: In remarks to reporters after the event, Chatterjee said he was not backing off his effort to find agreement on some kind of "lifeline" while FERC weighs Perry's proposal.
But acknowledged that "trying to land that is difficult."
Chatterjee also noted that two of his colleagues—McIntyre and Richard Glick—have only recently arrived at FERC, and that as of Monday morning he had not yet had the chance to meet in person with McIntyre.
What's next: Perry is pressing FERC for action on his proposed cost-recovery rule by mid-January. But FERC has the authority to interpret the deadline broadly and could take steps that effectively lengthen the process further.
More from Axios' energy event:
Chatterjee wants to see a more focused energy policy from Congress, saying, "Congress hasn't passed a major energy bill in more than a decade. Most changes made through tax code, spending bills or regulators. We need a national energy policy from Congress."
Rep. Paul Tonko (D-NY) addressed Rick Perry's infamous "cost of freedom" remark: "We can toss that word around but it's about having policy…Where do you want the government in good format to insert itself?…Do you insert that government so as to develop policy and a sound process, or do you come in at the end to ignore science and provide cleanup?"
Tonko said that energy should be addressed in the White House's forthcoming infrastructure package, stating, "When the president talks about infrastructure, I would hope grid infrastructure would be a part of that whole phenomenon." Tonko is the top Democrat on the Environment Subcommittee of the powerful Energy and Commerce Committee.
Tonko said he backed both nuclear power and natural gas as clean enegy resources, despite some grassroots environmental groups, such as the Sierra Club, opposing both.
Nick Loris, an energy economist at the conservative think tank Heritage Foundation, said the group supports reviewing scientific finding that concluded greenhouse gas emissions endanger pubilc health and welfare, and thus must be regulated. The group is influential with the Trump administration and could have influence in this area, though the Environmental Protection Agency, which issued the finding in 2009 during the Obama administration, hasn't indicated it will review it.
Go deeper